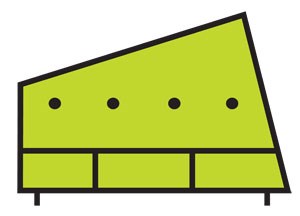 SCENE AND HEARD showcases the independent music scene here in Vancouver.
Green Couch Sessions is a live music video series - experiments in which GCS attempt to marry the artist with the environment.
The music fills the space and the various locations, inevitably producing a sound unique to the session, never to be reproduced, only to be enjoyed by you, the viewers.
VIAindie is excited to partner up with Green Couch to show YOU their latest and greatest videos of musicians and locations from all over the city!
Stay tuned! 
Artist: Hey Ocean
Song: 'Why Did You Make Me Care' from Beck's latest album 'Song Reader'
Way back in January we attended BECKstravaganza, a really cool event put together by Noah Walker of local band The Broken Mirrors. The fantastically curated concert featured 20 local musicians each performing a tune from Beck's latest album 'Song Reader'.
'Song Reader' was uniquely released entirely on sheet music in December 2012, which prompted musical Beck fans all over the world to read the notes and learn the tunes. The Beckstravaganza concert let us not-so-musically-inclined enjoy his melodies, beats and lyrics, performed by some of our favorite musicians.
The moment we heard Hey Oceans!' rendition of "Why Did You Make Me Care" we knew we needed to capture it on the Green Couch in a truly special location. The very fine folks at the Vancouver Aquarium where happy to help us out and to host this special session ... we just needed to keep the volume low for the sharks.
Hosted by: The Vancouver Aquarium
Special Thanks to Christopher Matei, Ranza Recording and Brian Ceci