Vancouver Public Library and V.I.A. have teamed up to help you discover new reads, hidden book gems and surprising literary finds. Check back every couple of weeks for the latest reading recommendations from the experts at Vancouver's library.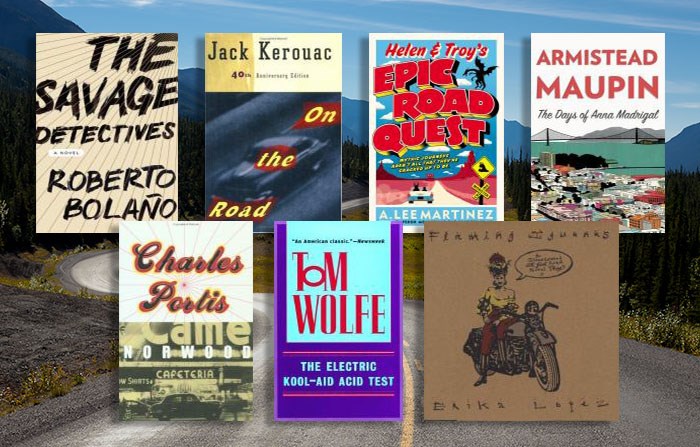 What makes a summer road trip so special? Is it the open road or endless skies, wind in your hair or the warm sun on your skin? As summer winds down, you might be thinking one final road trip adventure is exactly what you need before Labour Day hits. To help you get psyched, VPL's reading experts bring you this list of (road) trippin' reads:
The Savage Detectives by Roberto Bolaño
The Savage Detectives is an original story following two Latin American poets, Arturo Belano and Ulises Lima, and their complicated road trip to track down a missing poet. In a span of three decades and told through the people whose paths they cross during their globe-trotting journey, Roberto Bolaño shares a richly layered, literary masterpiece.
On the Road by Jack Kerouac
This is arguably the road trip novel embodying 1950s American counterculture. As a fictionalized biography, On the Road chronicles the journey of Sal Paradise – the alter ego of author Jack Kerouac – and his longing for freedom. Fuelled with jazz, sex, drugs and the hunger for individuality, Kerouac's novel has become an influential classic text in American literature.
Helen and Troy's Epic Road Quest by A. Lee Martinez
When Helen and Troy narrowly escape being sacrificed to a hamburger-like god, they set out on an epic road quest across an enchanted America in order to prove their worth. Part road trip, part mythological expedition, this is a story of how Helen and Troy must maneuver the magical landscape one creature at a time.
The Days of Anna Madrigal by Armistead Maupin
Celebrate the lives of the lovable, eccentric characters that were introduced in Armistead Maupin's beloved Tales of the City series – including Anna Madrigal, the most memorable transgender landlady of 28 Barbary Lane in San Francisco. At the age of 92, Anna returns in this final instalment of the series to embark on a road trip that will take her back to her Nevada hometown so she can reconcile with her past.
Norwood by Charles Portis
Nordwood Pratt is an ex-marine workingman whose road trip adventures and misadventures from Texas to New York find him befriending a host of interesting characters along the way, and finding love on a bus. A charming and endearing read.
The Electric Kool-Aid Acid Test by Tom Wolfe
Tom Wolfe details an as-is account of Ken Kensey and the Merry Pranksters, as they travel across America in a psychedelically decorated bus. Written during a time when journalism and news writing were emerging as a literary style, this book represents a vivid celebration of the hippy subculture in all its glory.
Flaming Iguanas by Erika Lopez
Follow the adventures of Tomato Rodriquez, as she embarks on a motorcycle road trip across America in search for the meaning of life, love and the perfect post office (yes, she visits as many post offices as possible). Flaming Iguanas is an unconventional and hilarious novel with prose and illustrations that can only be described as sassy and irreverent.
For more great reads, visit vpl.ca and find us on Facebook and Twitter @VPL.