V.I.A. is co-sponsoring the amazing Vancouver Sometimes Plays Itself film series that's screening at the Waldorf Hotel! It's the first comprehensive showing of some of the earliest, most ambitious and strangest films shot in Vancouver and it has happened every Monday at 7 PM for the last few weeks. The series is presented by local arts researcher Elvy Del Bianco, who has spent the last year and a half identifying and acquiring Vancouver-set films, and has featured notable guest speakers. Michael Turner's On Location 1 (Elvy Del Bianco's Annotated Film Collection) \ screened weekly before each film, and we've primed it here on the blog by offering Elvy's thoughts on that week's title.
This week's film is The Squamish Five, and it's the last in the series so you'd better get out to it! Here's a clip:
http://www.youtube.com/watch?v=w9_SRVC3NsA
And some thoughts from Elvy:
The Squamish Five
(1988)
"The days of the peace march are over!"
Early on in The Squamish Five a news item on a television depicts Pierre Trudeau extolling a crowd to give a warm Canadian welcome to a visiting Ronald Reagan; the Great Communicator's subsequent speech is met with low-grade jeers.
Not everyone responded so timidly. In the early 1980s, Direct Action –dubbed the less overtly political and print-friendly "Squamish Five" by the media- were a faction of local political dissidents that took their cue from contemporaries such as Italy's Red Brigades, Germany's Baader-Meinhoff, France's Direct Action (from whom they also took their name), and others; a West Coast manifestation of the dogmatic radical left, enthusiastically growing political power out of the barrel of a gun, or a blue van packed with explosives. Following some impressively directed actions, they were caught and imprisoned.
The Squamish Five doesn't really shed much more light on the Squamish Five. It's not exactly an "objective" retelling of events –if that were even possible with this kind of history. The narrative unfolds from the point of view of Julie Belmas: young, idealistic, and caught in a vortex of armed insurrection, she comes across far more sympathetically than her comrades, a sort of voluntary blue-collar punk Patty Hearst.
At best the film only hints at the milieu of Vancouver's factional, far-left, early '80s politics -you know, the good ol' days when CPML cardholders would show-up at rival events with two-by-fours.
What this film does have is smart direction by Paul Donovan, a good script by Ken Gass and Terrence McKenna, great performances -especially Nicky Guadagni as Ann Hansen- and mood to spare. Vancouver is all Worky Joe grey, grim and cold, where even sunny scenes are drained of colour and ideals are crushed by The Man.
Despite winning a best movie award at the 1989 Geminis, The Squamish Five was broadcast only once by the CBC (its co-producer).
Unavailable on DVD.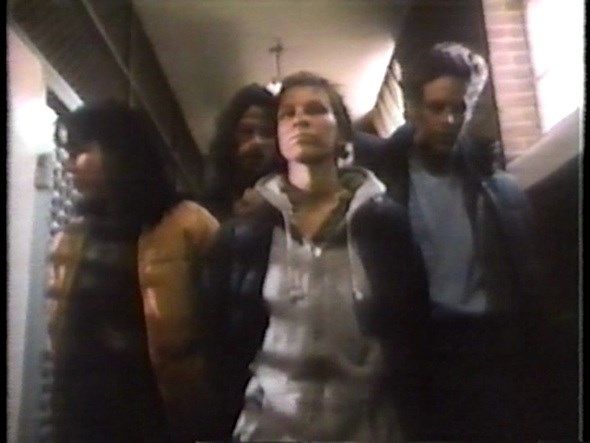 Vancouver Sometimes Plays Itself series screens every Monday, Admission is by Donation
7pm—Doors
7:30pm—Introductory Presentation by Special Guest Speaker
7:50pm—Screening