The founders of the SIDEWALK supper project share their stories as they connect with people living on the streets. This week, meet some of the people who prove that kindness still exists.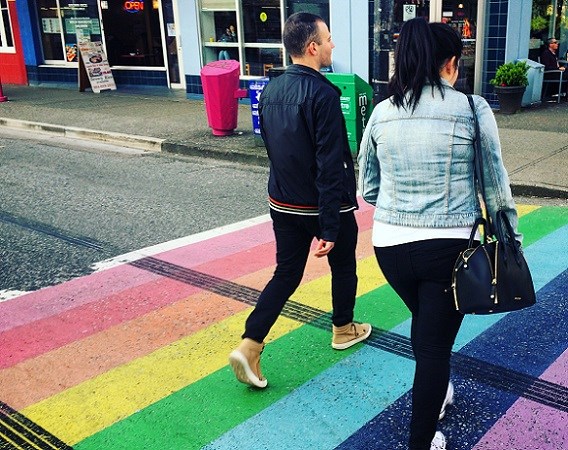 The man looks like a record producer to me—probably because he looks a lot like the only record producer I've ever met. He's in his mid-40s, but could pass for much younger. His clothes are cool, but casual—the hem of his pants are rolled up slightly to reveal a red plaid lining. He's leaning against the window near the front of the bus, scrolling on his iPhone.
I play this game while out in public: I observe a random person and imagine what their story is. This man is definitely a record producer. It's the weekday morning commute, so he's probably off to the studio. I imagine a whiff of self-importance, perhaps a tendency towards intern abuse.
Another man walks onto the bus. He's disheveled and looks as though he hasn't bathed in a long while. I think he must be homeless. He takes a seat near the record producer.
My mind wanders as I look out the window. Then I hear the homeless man say, "No, no, no. You don't have to do that."
He and the record producer are looking at each other. At first, I sense that there may be some drama in the works. Then I realize that the record producer has taken off one of his shoes. And that the homeless man isn't wearing any shoes at all.
The record producer is actually giving his shoes to the homeless man.
"I have so many pairs in my office," the record producer says. "Please, take them." He kicks off the other shoe.
The homeless man looks at him, beaming with disbelief. It looks like he doesn't really know how to respond, but he gratefully takes the shoes and says, "Thank you!"
I step off that bus feeling good about humanity. And I need it. With the constant reminders on the news and in our feeds about how dreadful the human race can be, I need this little gesture of compassion.
Since Andrea and I launched the SIDEWALK supper project, we've been meeting people living on the streets who repeatedly express how invisible they feel. We hear about how uncaring and sometimes abusive people can be towards them. But we also hear about the good ones—the people who show compassion and spread a bit of kindness.
There's the woman we meet as we interview Adam, a young man from Ontario living in Stanley Park. He is telling us about how cold people in Vancouver are when she shows up out of nowhere with sandwiches and soft drinks to give us and a warm smile on her face.
Then there's the woman who put a roof over Ricard's head. Ricard had been living on the streets for over 20 years after he lost his entire family. A woman finds him at his usual corner one day, picks him up off the ground, and gives him a home to stay in until he's able to apply for government-assisted housing.
This week we interview a familiar face we've been passing for years on the streets of the West End. Based on appearances, it doesn't look as though life has treated him well. He struggles to stand on crutches, he's missing most of his teeth, and he's living on the streets. Despite this, he greets every passerby with a kind smile and wishes them a good day. He tells us about how he doesn't want to be a burden to his family. His father passed away while his mother is ill, being looked after by his younger sister. Despite the difficult circumstances, he relies on his common sense to avoid bad situations and on the kindness of people to get by.
"I'm actually housesitting this guy's apartment right now," he says. "The guy works in the oil industry in Alberta every few weeks, so he asked me if I want to stay at his place while he's away. He trusts me and I take good care of his home. It feels so good to take a bath in his tub and cook a warm meal." Upon request, Andrea and I pick up some beef for him. He's going to use it for a nice stew.
People aren't so bad after all, and sometimes we forget about the good ones. They're not heroes. They're not saints. They're just humans showing some kindness towards other humans.
As I watch the record producer step off the bus onto Granville Street with only his socks—the cuffs of his pants still fashionably rolled up—I make a promise to myself that I will be one of the good ones.
About SIDEWALK supper project: We're a group of young West Enders bringing the warmth of our kitchen to the streets, feeding the homeless with home-cooked meals and sharing their stories along the way. 100% non-profit. 100% love.