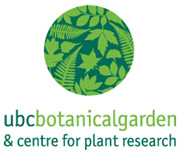 UBC Botanical Garden is Canada's oldest continuously operating university botanical garden. The original mission of the garden was research into the native flora of British Columbia. Over the past nine decades, our mission has broadened to include research, conservation, teaching and public display of temperate plants from around the world, particularly Asian, alpine and native plants. We're also home to the Greenheart Canopy Walkway.Come visit us - we're located at 6804 SW Marine Drive, Vancouver, BC. You can find more info at botanicalgarden.ubc.ca
Mayor Gregor Robertson has proclaimed this weekend "Garden Days" in Vancouver and it is also National Garden Days.

In celebration of National Garden Days and the Mayor's proclamation, join us and visit 5 spectacular gardens in 3 days for as low as $25! "Take 5 with the Vancouver Gardens Pass" gives you access to Vancouver's 5 best gardens.
Experience an exhilarating combination of plants, history and architecture in the UBC Botanical Garden, Nitobe Memorial Garden, VanDusen Botanical Garden, Bloedel Floral Conservatory and Dr. Sun Yat-Sen Classical Chinese Garden.
When: June 19 - 21, 2015
Where: Bloedel Conservatory, Dr. Sun Yat-Sen Classical Chinese Garden, Nitobe Memorial Garden, UBC Botanical Garden and VanDusen Botanical Garden
Find out more on our website.
This is an official Garden Days activity. Canadian Garden Council Garden Days website: www.gardendays.ca | All featured gardens are proud members of Gardens British Columbia.
In addition to the Garden Pass special programing for the weekend includes:
Dr. Sun Yat-Sen Classical Chinese Garden – " Dedicated-to-Dad"
June 20 & 21 is dedicated to dads - garden style. Come decipher what "type" of dad you have and create a special gift just for him! Is your dad strong and flexible like the bamboo or steadfast like the pine? Is your dad noble like the peonyor enduring like the ginkgo?
VanDusen Botanical Garden –  "Garden Day Tours at VanDusen Botanical Garden"
Visitors can take self-guided and guided tours (including cart tours for those with mobility challenges) of VanDusen's beautiful 55 acre grounds.
UBC Botanical Garden – "Pollinator Fun for Garden Days"
Participate in a family-friendly pollinator-themed scavenger hunt as you explore our botanical collection with wild-collected plants from around the globe. UBC Botanical Garden curates a collection of ca. 50, 000 accessioned plants representing approximately 7,000 taxa from temperate regions around the world. Temperate forest plants of British Columbia, eastern North America and Asia are curated in woodland gardens, while a classic alpine garden displays the diverse flora of high-altitude regions of the world.
You can also stay up to date with UBC Botanical Garden by following us on Instagram, Facebook and Twitter.