If this rain storm weather keeps up, we're all going to need some really great reasons to go outside. Well, we've got 10 amazing ones right here! Best thing is, once you're in, you'll get dry, and forget all about the weather once the brilliant music starts up.
We recommend catching Coastline Pilot and Pigeon Park at their respective last shows ever - both bands, coincidentally, are calling it quits after a decade each of creating, playing, and touring their fantastic musical careers.
Let's jump right into this puddle of shows - the talent is deep! Thanks to our city's #knowfun Selectors at Do604 for these quality choices:
Ariel Pink
Fri Oct 20 at Venue
The work week has come to an end, it's time to relax and unwind. And who best to help us slip in that mood then the king of chillwave himself Ariel Pink, with his unique, groovy and vibrant take on Psychedelic and Hyp pop, It's time to relax your body and free your mind to the wonders of the night.

GRiZ
Fri 20 at PNE Forum
Time to get dancing party people; GRiZ is in town, a multi talented electro- funk and soul DJ and producer, with a unique specialty of blending live saxophone, guitar riffs and vocals into his sets "WOWW". Do not miss out on a chance to let your hair down and get groovy.

Hey Ocean!
Fri 20 at The Biltmore
For a more intimate Friday evening, why not join Hey Ocean at the Biltmore, as part of their intimate clubs, Canada tour. With their energetic, vibrant yet deep twist on west coast pop and rock, you can bet the night will be full of energy and good vibes.

Broken Social Scene & Belle Game
Fri 20 & Sat 21 at the Commodore
This weekend, indie rock and ethereal pop sensations Broken Social Scene & Belle Game will be performing live, combining uplifting, groovy, energizing rock with, soulful, funky ethereal pop, you can bet they will have you dancing all night long.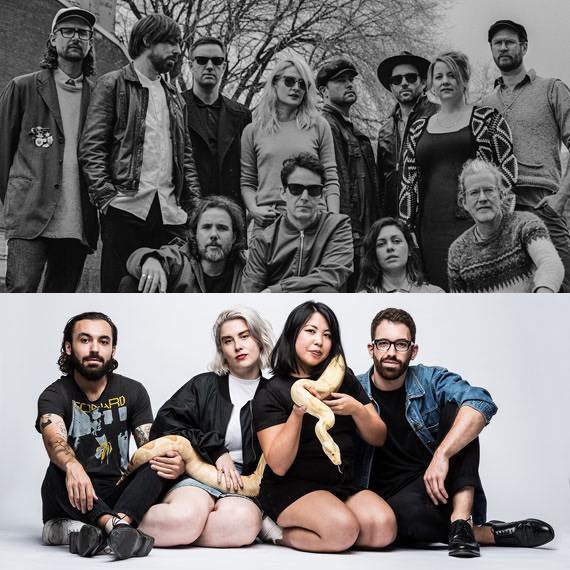 Zola Jesus
Sat 21 at Venue
Venue is bringing the spirit of Halloween a bit early with Zola Jesus. The multi-talented singer, songwriter and producer exhumes a deep, beautiful darkness. With her unique twist on Synth-pop and dark wave pop, it will be an amazing experience filled with dark wonders for your mind to explore.

Terence Jack
Sat 21 at The Fox
A little treat for indie rock fans, Terence Jack is back and he is bringing with him his funky, energetic and soulful sound, with song from his most recent EP "Never Get Back", he will make your heart sing, and your hips sway.

Coastline Pilot – Final performance
Sat 21 at The Railway Stage
Local indie rock legends Coastline Pilot will be taking a bow this Saturday, after amazing Canada and the rest of the world for nine years with their wickedly fantastic live shows and four part harmonies, their feel good vibes will be missed, but not before they blow us away one last time.

Pigeon Park – Final performance
Sat 21 at The Biltmore
This Saturday will also see us saying goodbye to Pigeon Park, after ten years of giving the world a taste of their incredible electrifying blend of classic and modern Rock N Roll, they will be ending with one last powerful performance at the Biltmore.

Boobyball
Sat 21 at The Imperial
It's time to get physical, all in the name of Cancer. Strut, shake and Shimmy your way back to the 80's with Boobyball 2017. Teaming up with Rethink Breast Cancer Organization, they aim to promote regular physical activity through awesome activities such as the aerobics dance-off ("Whattt…"), Time to get groovy for a good cause.

The Black Angels
Sun 22 at the Commodore
Dive deep into the unknown and surreal world of psychedelic rock with The Black Angels, their deep, yet vibrant style of Rock will have you exploring deep in your mind and heart, a great way to end your weekend.

Have an awesome weekend checking out these shows! You can always head to our Vancouver Events calendar, powered by Do604, for a full list of our recommended things to see and do in Vancouver.