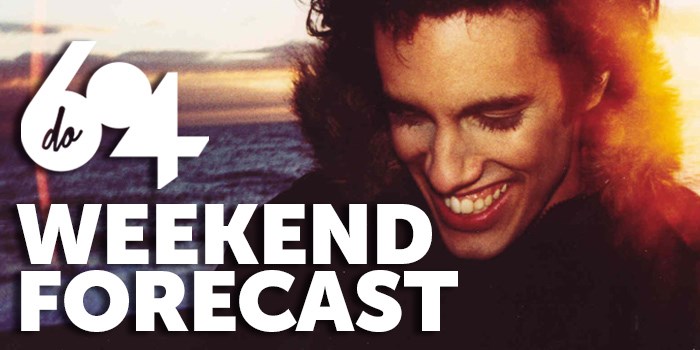 Starting tonight, the next four days and nights in Vancouver are packed with throwback film, punk rock, slam poetry, dream pop and dance parties of international calibre, like Four Tet, playing the Commodore on Sunday.
Dig in: Here's the new Weekend Forecast, presented to you by our #KnowFun city champions, Do604.
Thursday April 28
7 p.m. Canadian Individual Poetry Slam Bouts #1 & #3 @ Cafe Deux Soleils

8 p.m. Bleached @ Biltmore

8 p.m. Anti-Flag @ Venue

8 p.m. Andrew Lee, Perpetual Gong Machine of Peace @ Centre A
8 p.m. Tortoise @ Imperial
9 p.m. Zhu @ Commodore
Friday April 29
7 p.m. Aidan Knight @ Biltmore

8 p.m. Years & Years @ Commodore

9 p.m. Johnny De Courcy, Dada Plan, Painted Fruit @ Rickshaw

8:30 p.m. Goodwood Atoms @ The Juniper Room
10 p.m. Tokimonsta @ MIA
10:45 p.m. Sign 'O' The Times @ Vancity Theatre
Saturday April 30
7 p.m. Bombino @ Imperial

8 p.m. Beach House @ Vogue

8 p.m. Blackbird Blackbird @ Alexander

7 p.m. The Sunday Service present Saturday Night Stand featuring Greg Behrendt @ Fox
8:30 p.m. Jack Mercer & The Whiskey Bandits @ Pat's Pub
10 p.m. Chris Lake @ Celebrities
Sunday May 1
8 p.m. Four Tet @ Commodore

8:30 p.m. Viva @ Vancity Theatre

10 p.m. DJ Bonics & Deejay Theory @ Republic

6:15 p.m. Too Late @ Vancity Theatre
7 p.m. Wacken Metal Battle Vancouver Final @ Red Room
8 p.m. Tree of Life @ Waldorf
Today's tip: do you know, in addition to the Weekend Forecast and our Vancouver Events calendar, we also release a new playlist every week, comprised of bands coming to Vancouver? It's published every Monday. Listen to our past playlists, and come back this Monday for the newest.
Have a great next few days in Vancouver!