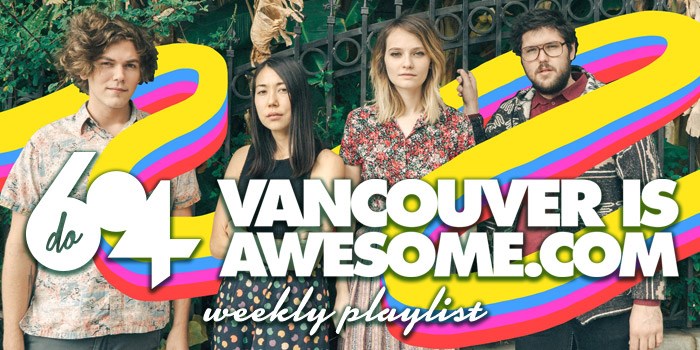 We're into the full swing of festival season, and with that comes an incredible diversity of artists, from City of Bhangra's DJs and Festival d'été francophone de Vancouver's playful partiers, to Levitation's psychedelic rockers, like Cherry Glazerr. Plus many more! Enjoy our 20 song playlist, packed with the top recommended shows, as picked by our city's #KnowFun champions, Do604.
https://open.spotify.com/user/do604/playlist/3JZh1e5yI2WQI5zTZPLZ9s
Together Pangea "Looked In Too"
Kick it off with the awesome energy of TP.

Matthew Azrieli "Chloe"
There's a great classic Paul Simon vibe to Azrieli's music.

Plants and Animals "No Worries Gonna Find Us"
P&A put their personal spin on "Everything's Gonna Be Alright"
Seven Nines and Tens "Thermocapsulary Dehousing Assister"
Epic. Think "300" level, "the fate of the world hangs in the balance" level of epicness.

Phaeleh "Remember"
Get lost in the hypnotic vocals, the glitchy beat.
FIDLAR "Punks"
Need to screeeeeeeeam?
Com Truise "Battlecry"
A future where the air is light and the skies are bright, CT remixes Digitalism.

Suuns "Mortoise and Tenon"
Trippy. But more beat driven than wtf upside down rhythms.

Kill The Noise "Mine"
Driving beat with UNKLE-style cascading echoing vocals to wrap it up.

The Katherines "Tomorrow"
Something out of a late 90s movie, think Baz Luhrmann's Romeo & Juliet.

Thundercat "Them Changes"
Funky as f**k.

Cherry Glazerr "Had Ten Dollaz"
A song with so much sass, it warrants the "z"

Yann Perreau "Momonna"
Festive song for a festive event: Festival d'été francophone de Vancouver

DJ KSR "New Punjab"
Toronto-based DJ is gonna light up FIVESIXTY this Saturday.

Scenic Route to Alaska "Ghost"
On the way to Alaska, or just to work, this is perfect commute music.

Holy Wave "You Should Lie"
Fuzz rock at its best.

The Prototypes "Is It Love"
Fast rhythms, patient vocals, this is drum n' bass all the way.
Jerry Folk "Where I'm Going"
Funk and groove.

Radiation Flowers "Run"
There's rarely a reason to rave about the rain in June, but when music like this fits so perfectly…

Pale Dian "Pas De Deux"
Ease out with high note keys and a tempo change last minute. Enjoy!

Have an awesome time listening, and an awesome week seeing these bands live! Come back next Monday for another Do604 x Vancouver Is Awesome Weekly Playlist, the best way to get a sneak peek into the hottest bands coming to our city.
And at any time, check out our Vancouver Events calendar to see the best of what's coming to our city. Never miss another great show!