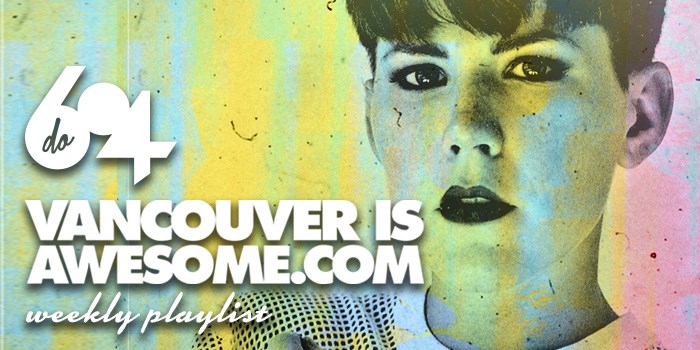 This is a great week to see our city's hottest rising talent, like Kaylee Johnston (pictured), playing at Guilt & Company on Tuesday. Also, don't miss the Fox on Thursday, where Youngblood will be playing all new music at their EP release party.
There's also big names like Saint Motel, Pete Tong, and James Zabiela to rock out to, so let's get listening!
This week's Spotify playlist, curated as always by our city's #knowfun Selectors at Do604. It's a sweet 19-track playlist, let it play!
https://open.spotify.com/user/do604/playlist/3JZh1e5yI2WQI5zTZPLZ9s
NAO "Inhale Exhale"
Love 90's R&B like TLC? Get yerself to the Biltmore this Saturday.

Beaty Heart "Raw Gold"
Bummed, it was just announced this morning that this show has been cancelled, but no reason you can't still enjoy the sounds of Beaty Heart...

Del The Funky Homosapien "Before This"
Kickin' it since the 90's, Del's got more cred than nearly anyone. Catch the legend this Monday at Alexander.

Saint Motel "Move"
Flat out celebration! Tuesday at the Commodore.

Pete Tong "Aurora (with John Monkman)"
He's made thousands upon thousands (okay it's probably millions by now) people ecstatic over his career. Be one of the blessed. This Saturday at Celebrities.

Terra Lightfoot "No Hurry"
We're absolutely loving Lightfoot's sound. Dig Alabama Shakes? You'll wanna be at Guilt & Company on Monday.

Skratch Bastid "Limoncello (with Shad)"
This is sunshine. This is cold drinks. This is dancing with friends. Get it all, this Sunday at The Waldorf.

Youngblood "Feel Alight"
This has been our jam all summer, can't wait to hear Youngblood's new tunes at their EP release party this Thursday at The Fox.

Petunia & The Vipers "Runaway Freight Train Heart"
Love Johnny Cash? aka cool country? See Petunia & The Vipers perform it live at The Rickshaw this Saturday.

Antwon "Club"
This rapper's on fire. Don't miss Antwon at Fortune this Friday.
Coast Modern "The Way It Was"
Great vibes and singalong songs. Join the Coast Modern tribe this Wednesday at the Commodore.

We Hunt Buffalo "Comatose"
Rock n roll all night Saturday at Fortune.

Goldensuns "Give It Up"
Get spaced out at The Imperial this Tuesday.

Cyril Hahn "Open"
Dance your ass off good times at Bodyroll this Friday at the Biltmore.
James Zabiela "Blame"
An absolutely crazy, dream come true lineup. Zabiela + Tong. Don't miss it. Saturday at Celebrities.

Party Favor "Give It To Me Twice (feat Sean Kingston)"
Hell, just twice?! You'll wanna give it over and over once Party Favor starts lighting the Harbour Event Centre this Saturday.

Kaylee Johnston "Getting Over You"
We can't wait to hear when Kaylee Johnston brings her upbeat party to Guilt & Company this Tuesday.

St Paul & The Broken Bones "Sanctify"
Get soulful with St Paul this Sunday at Commodore.

Ester Drang "Golden West"
On Saturday at The Commodore, Ester Drang will take you on a trip far from your workweek worries.

Have an awesome time listening, and an awesome week seeing these artists, DJs, and bands live! Come back on Monday for the newest Do604 x Vancouver Is Awesome Weekly Playlist, the best way to get a sneak peek into the hottest bands coming to our city.
And at any time, check out our Vancouver Events calendar to see the best of what's coming to our city. Never miss another great show!