The Enlightened Nerd is a column designed to enlighten the inner nerd in all of us through local whimsical and intellectual events, people, and places. Know a nerdy person, event, place, or thing in Vancouver? Send it in here or tweet it to @karolinathecat (#theenlightenednerd)
If you've ever wondered what it would sound like if your favourite video game characters got together and formed a band, it would probably sound something like the Runaway Four.
The Runaway Four is a Vancouver-based band that plays video game medleys from all types of game genres and generations. Made up of Allan Heppner on drums, Chris McKnight on bass, Chris Doughty on keys and vocals and Josh Pendlebury on guitar and vocals, The Runaway Four are finally releasing their first studio album titled Chaos Theatre on January 20th, 2017. The album will be available to fans on The Runaway Four bandcamp.  The album features five different tracks of different themes (like ice, fire, and battle).
The plucky, happy-go-lucky songs are varying, taking inspiration from tons of video games. The fast-paced songs feature both analog and electronic instruments like guitar, bass, and drums. Their final song is a slowed-down blissful tune of airy synths, amply called "Your Sanctuary," ending the 45 minute sonic journey.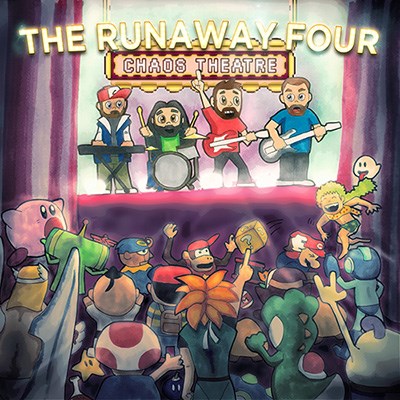 Video Game Inspired Track Listing:
1. This Game is Baroquen  (Final Fantasy IX: Intro, Act Raiser: Birth of the People, Super Mario RPG: Margerie Margerita, and more) 
2. Borreal Bedlam (Donkey Kong Country: Ice Cave Chant, Kirby's Dream Course: Iceberg Ocean, Super Mario Kart: Vanilla Lake, Banjo-Kazooie: Freezeezy Peak and more) 
3. Magma Mayhem (Final Fantasy VI: Wild West, Earthbound: Scaraba, Kirby's Air Ride: Magma Flows, Diddy Kong Racing: Hot Top Volcano, Super Mario RPG: Barrel Volcano, and more) 
4. Battle Royale (Chrono Cross: Ancient Dragon Stronghold, Final Fantasy VII: Fighting,Bahamut Lagoon: Sub-Battle, Pokemon R/B/Y: Rocket Hideout, Mega Man 2: Intro and more)
5. Your Sanctuary
They'll be hosting a listening party and performance at the Seven Dining Lounge on Friday January 20th, as well as streaming live via Twitch. Their live shows are just as engaging as the band concept itself, featuring cosplay and vibrant timed visuals so it's sure to be a blast.