What can we say. This week in Vancouver is out of control with how much good music is happening: Westward Music Festival kicks off, so does Albatross. Paul Oakenfold, Bonobo, Fleet Foxes, and Mac DeMarco are all here. And the good times keep coming every night on Granville Island, too, where top notch local musicians like Sarah Jane Scouten, Rae Spoon, and Bend Sinister play Fringe Bar!
Free live music at Fringe Bar on Granville Island, every night
Keep an eye on the Fringe Bar calendar to check out all the incredible local musicians who are playing these free entry shows! Great names like Rae Spoon, Bend Sinister, and many more! Every night of the Fringe Sept 7-17!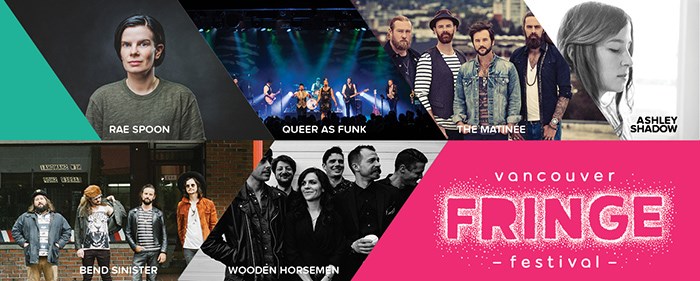 TOPS - Tuesday Sep 12 at Imperial
Indie rock group from Montreal just released Sugar at the Gate. Come hear their sweet sounds.

Mac DeMarco at Vogue (Tues & Wed)
Mac DeMarco could play here every night of the week and the shows would sell out. Hope you got tickets, he's here Tues & Wed night.

Fleet Foxes - Wed Sep 13 at Malkin Bowl
Everyone's favourite beautiful music makers have returned from their hiatus and we couldn't be happier.

Frank Turner & The Sleeping Souls - Wed Sep 13 at Commodore
Frank Turner hasn't released an album since Positive Songs for Negative People, but it's so damn good it's energy is still high.

Westward Music Festival - Thurs through Sunday
Westward kicks off Thursday with Bishop Briggs at Vogue, Watsky at Imperial, Grandson at Biltmore, and Gang Signs at The Fox, and it keeps going strong through to Sunday night with A Tribe Called Red, Hannah Georgas, and Gov't Mule!

Bonobo - Fri Sep 15 at Malkin Bowl
Although Migration is not as energized as previous Bonobo albums, his live show is still a transportational experience that must be seen.

Netsky - Fri Sep 15 at Celebrities
Young Belgian DJ who's been taking the world by storm.

July Talk - Sat Sep 16 at Malkin Bowl
Canadian group whose sexy yin yang tag team of lead singers is one of our favourites to see live.

THRIVE - Sat Sep 16 at Malkin Bowl (early)
Support AIDS Walk and rock out to incredible local musicians featuring Humans, Mu, I M U R, and Desiree Dawson.

Paul Oakenfold - Sat Sep 16 at Celebrities
The DJ legend is back to school y'all in trance and breakbeat.

Raleigh - Sat Sep 16 at Railway
Let's all give experimental indie rockers Raleigh a warm welcome! They're here from Calgary this weekend.

Woodhawk - Sat Sep 16 at The Astoria
Also from Calgary, riff-rockers Woodhawk bring their Strikes Back Tour to town. Get loud!

RAC - Sun Sep 17 at Imperial
Soak up the majestic sounds of Grammy Award winning producer RAC in the Imperial's immaculate space.

Raiel with Indigo District - Sun Sep 17 at Alexander
One of our favourite local bands Indigo District are supporting emerging RnB talent Raiel at his album release party.

Bonus: Get Out of town!
In Whistler:
Whistler Village Beer Fest - Sat & Sun
Band of Rascals headlines the two main events, putting this five day beer extravaganza over the top.

On The Island:
Rifflandia
Features Zeds Dead, a DJ set by Moby, and much much much more. It's this incredible urban festival's 10 year party, and they're pulling out all the stops! If you were considering going to the Island this weekend, or have friends who are there, don't delay get your passes you won't regret it!
This Week's Playlist - listen to who we're recommending!
https://open.spotify.com/user/do604/playlist/3JZh1e5yI2WQI5zTZPLZ9s
Subscribe to the playlist, or return back at the beginning of every week to hear who's the best of the best playing Vancouver.
At anytime check out our Vancouver Events calendar, powered by Do604, to see the best of what's coming to our city. Never miss another great show!