| | | |
| --- | --- | --- |
| | | THE OPENING is all about introducing the fascinating, quirky and wonderful people working in and around the visual arts in Vancouver. Each week, we'll feature an artist, collective, curator or administrator to delve deep into who and what makes art happen! |
Art about the body and about nationhood can be separate, but the ideas are so synonymous that often an artist who deals with one also deals with the other. Vancouver and Toronto-based artist and writer Francisco-Fernando Granados (b 1985) regularly explores the idea of the body and his own Guatemalan heritage in his art. He has curated an exhibition along the same themes at 221A Artist Run Centre called I <3 CANADA & CANADA <3 ME for Swarm 12, featuring the multi-disciplinary work of Roya Akbari, Golboo Amani, Chun Hua Catherine Dong, Manolo Lugo, Pirouz Nemati, Emilio Rojas, and Ikbal Singh.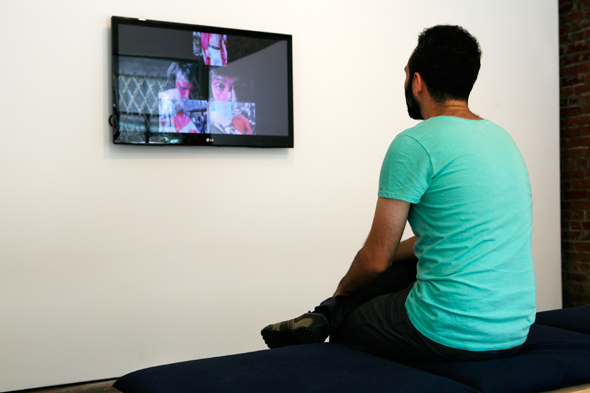 Granados watching a video work by Emilio Rojas at 221A Artist-Run Centre (Photo by author)
Many of the works have a relationship to the internet, hence the typed heart <3 symbol. Golboo Amani's project began as a blog. Ikbal Singh's began as a performance shared on a blog. Manolo Lugo's drawings of the two cities of Naco were made in Photoshop from Google Maps. Chun Hua Catherine Dong's husband search was carried out over Craigslist. In a broad sense, Granados was looking at translating the things we do that manifest themselves on the internet into a gallery setting, and each of these artists were only too happy to oblige.
Fittingly, the first work encountered in the space is Amani's neat stack of posters on the floor, entitled Others. Based on a blog she created, the poster is a grid of pictures supposedly representing nationalities. She searched each nationality in Google and the first image that appeared in the search is the one printed – a grid of our stereotypes as found on the internet. The results range from hilarious (a search for 'Danes' returned a picture of actress Claire Danes) to horrifying ('Iraqi' brought up an Abu Ghraib image). Granados considers Amani's work "the stone from which I began looking out," the grounding point for the whole exhibit. It's a work about stereotypes, "our stereotypes," he elaborates. "I think it's very poignant that it's a take-away poster because these are ours to own." It is a thoughtful entrance into an exhibition taking on some powerful themes.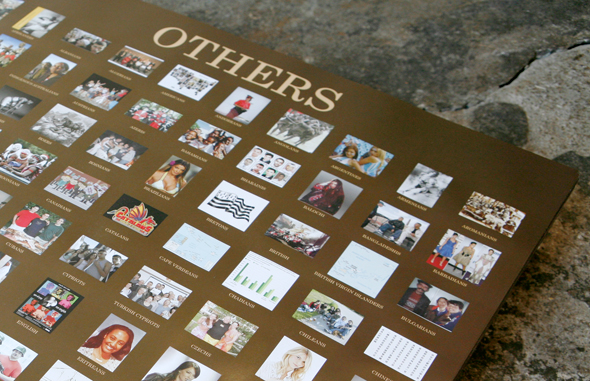 Detail of Golboo Amani's 'Others' at 221A Artist-Run Centre (Photo by author)
Dong's project involved soliciting men (and one woman) on Craigslist to be her husband for a few days, and all that idea entailed. The resulting video at first appears to be an intimate look at how differently that relationship is undertaken - not only husband and wife, but in this case also artist and subject. As the video goes on though, Dong begins to engage in pillow talk about 'rice kings and potato queens' (relationships between Caucasian men and Asian women), which Granados feels "highlights a particular erotic dynamic in Vancouver," that while also present elsewhere is very prevalent yet hardly spoken about in Vancouver. He is very interested in that kind of site specificity, calling it "a work for Vancouver, dealing with Vancouver."
For Granados it was important to curate a show of works and artists who spoke to his own interests. So it is no surprise that his work as an artist would have fit in seamlessly with much of this exhibit. Up until recently his art often used gold leaf or occasionally another gold substance as a symbolic gesture representing his geographical journey. Originally from Guatemala, his family moved to Canada in 2001, ultimately settling in New Westminster. He began to think about Canadian-based mining companies that operate elsewhere including Guatemala, many of them with their home offices in Vancouver. These mining companies can sometimes create problems in the countries they mine in, on some occasions driving indigenous populations out of their communities. Granados thus sees gold as "a material that stands at the intersection of Guatemala and Canada, and Vancouver and Guatemala." Also in that intersection is his own body, which is important to how he uses gold in his work.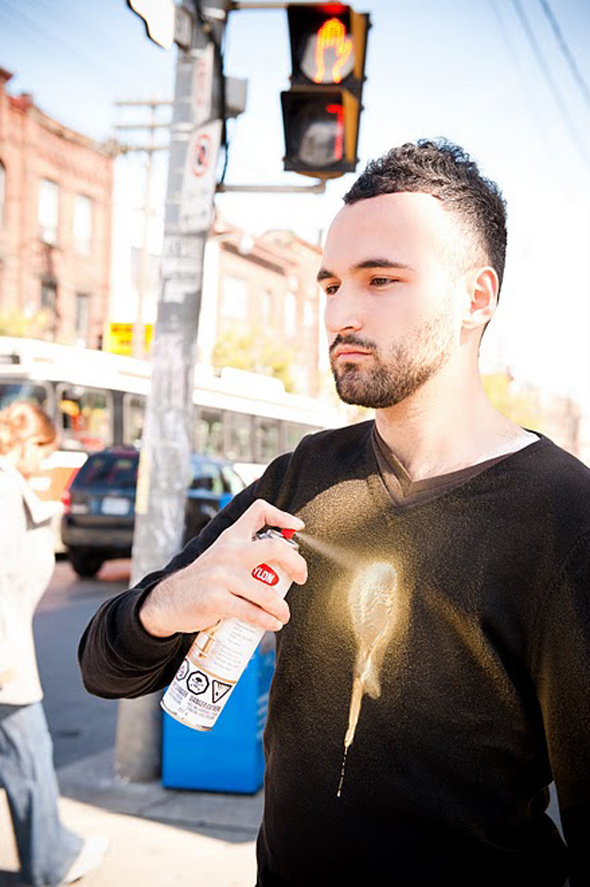 With Glowing Hearts (Toronto), 2009 (Photo: Tara McMullen)
At the beginning of his use of gold he was dealing with male queer mourning rituals, having experienced his own loss. He felt a need to "signify my loss, to publicly mourn." Out of that period came With Glowing Hearts, a short intervention that later became a performance for the camera. Originally performed in Toronto at the location where the person he was mourning passed, he re-created it again in Vancouver during the 2010 Olympics. It paralleled the nationalist gesture of placing your hand over your heart with his gesture of mourning – spray-painting a gold heart over his own. While in Toronto he was publicly lamenting the loss of a personal relationship, in Vancouver he seems to lament a loss of belonging in a sea of optimistic Olympic tourists and bureaucrats.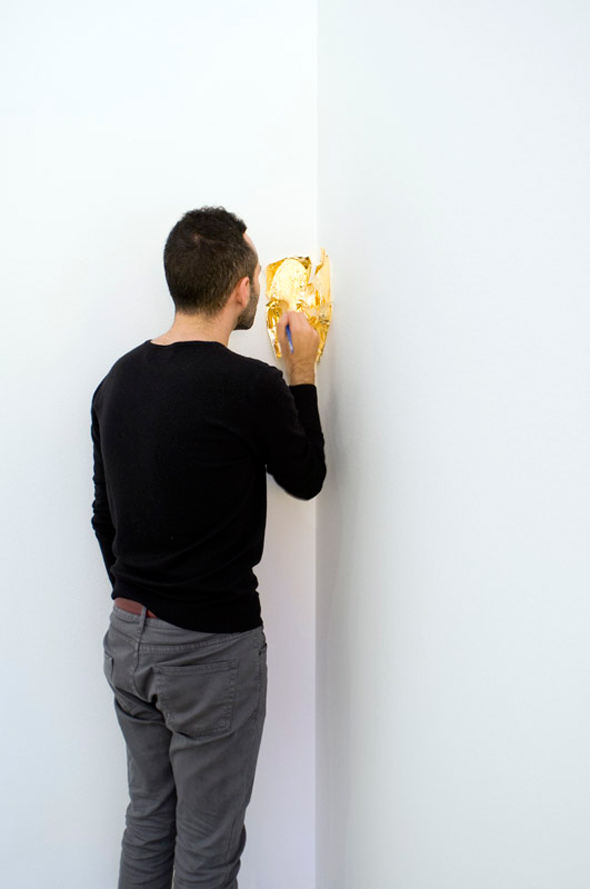 untitled, from the Contact Studies series. Performed as part of 'Everything Everyday' at the Vancouver Art Gallery, October 12, 2010 (Photos: Rachel Topham, VAG)
Recently Granados engaged in an untitled Contact Study at the Vancouver Art Gallery for Everything Everyday. The end result were 3 patches of gold leaf in various points of the exhibit. To create them, he greased his face and stood for an hour with his face against the wall in two different corners and under a stairwell. After, he covered each grease spot in gold leaf. These spots became phantoms of his presence in the gallery, signified by that Vancouver/Guatemala intersection. But it wasn't important to him (and still isn't) that everyone understood what it meant. He feels as artist duo Allora and Calzadilla do that "in their work they don't want the work to make sense, but they want the work to create a sense."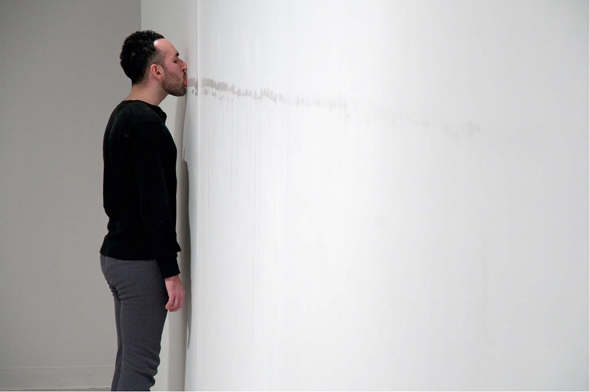 untitled (I have only ever been a lover in English), from the Contact Studies series. Performed as part of 'Revisiting Ephemera' at ArtLab Gallery in the University of Western Ontario, January 10, 2011 (Photo: provided)
Granados is spending most of his time in Toronto these days, working towards a Masters of Visual Studies at the University of Toronto. Oddly enough, he doesn't feel inclined to create work with gold in Toronto; instead, his most recent work Untitled (I have only ever been a lover in English) involved a line of his own saliva on a wall. He never really considered his work to be so geographically-responsive in the past, but perhaps that is now the case. This fall he will be creating a site-responsive and site-specific work for Queen Elizabeth Theatre here in downtown Vancouver called Crown that will use his body to create a crown in the courtyard. It will be in gold.
--------------
For more information on Francisco-Fernando Granados, please visit his website here. I <3 CANADA & CANADA <3 ME is on at 221A Artist-Run Centre from 19 August - 19 September 2011. There will be a reception as part of Swarm 12 at 8pm on 9 September, and and artist talk at 2pm on 17 September.