How timely, an exhibition exploring happiness just days after Vancouver ranked the lowest for life satisfaction of all major Canadian cities to much media buzz. The Happy Show, a travelling exhibition of work by New York based designer and typographer Stefan Sagmeister, opened this week at Museum of Vancouver and is frank, humorous and touching in its exploration of the nature of contentment.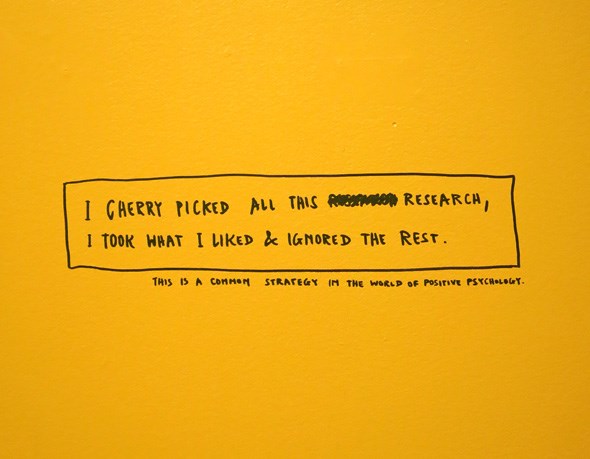 Photo: Bob Kronbauer
The exhibition was borne of Austrian-born Sagmeister's curiosity about whether or not he could train his mind toward well-being in the same way that he could his body. Years of research into psychology, neuroscience and sociology (albeit, in his words "cherry-picked" to suit his purposes) culminated in a show that combines video, installation, sculpture, design, typography, infographics, and music. The works address upon social interaction, relationships, money, doubt, self-worth, work and creativity. Though a handwritten disclaimer warns visitors that the "exhibition will not make you happier," I suspect that a visit to the yellow-coloured show is one of the more enjoyable forms of self-analysis. Wit and secret jokes run through it. Each of the four rooms are interactive, immersive and unabashedly fun. Surely one of the most popular works will be a stationary bicycle that illuminates a large neon sign when a rider pedals (I won't give away the message, though it is an disarmingly honest meditation on productivity.) Another installation on the floor becomes alive with undulating colour and light when the viewer smiles into a facial recognition sensor. It's nearly impossible not to laugh with delight when one realizes what's happening - and the work responds accordingly.
Phrases and truisms on happiness that Sagmeister fixated on in his research are spelled out in inventive ways and presented as photographs or video projections that encompass entire walls. My favourite installation was a series of ten numbered gumball machines that asked visitors to take a piece from whichever number best represented their level of contentment at the time. At the end of the exhibition, the amount of leftover gum will be measured as an indicator of the city's happiness. I chose nine as a preemptive assumption that I'd be feeling pretty good with a piece of yellow candy in my mouth. Rumor has it that Toronto has ranked happiest so far.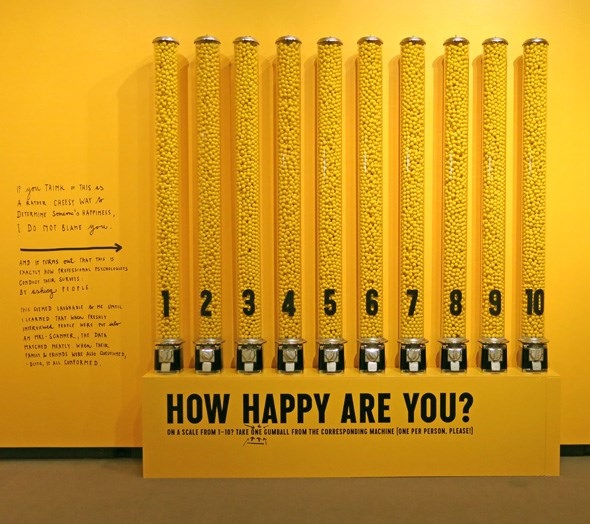 The entire exhibition is charming in its honesty and subtle wisecracks. Though it decidedly makes no claims to make visitors more joyful, the mood at the opening was high; visitors were laughing out loud. Go check it out, Vancouver, and consider taking a 10 gumball to counter recent claims about our city's cheerfulness.
The Happy Show is on view at Museum of Vancouver until September 7th.