Vancouver based designer Anita Sikma has spent the last ten years developing a cult following of her jewelry line. References of Art Deco architecture, doom metal, and Aztec mythologies are presented within her handmade silver, gold and bronze designs. From her Clark Drive studio Sikma has created a signature line of timeless pieces. Using a traditional process of lost wax casting Sikma bridges the past with contemporary elegance. Her androgynous classics can be found adorning the bodies of dedicated collectors across the country. Once you have one you desire another. Her collections compliment one another in a succession of thoughtful assembly. An eclipse of futuristic geometry the Sikma line delivers perfect symmetry to any style.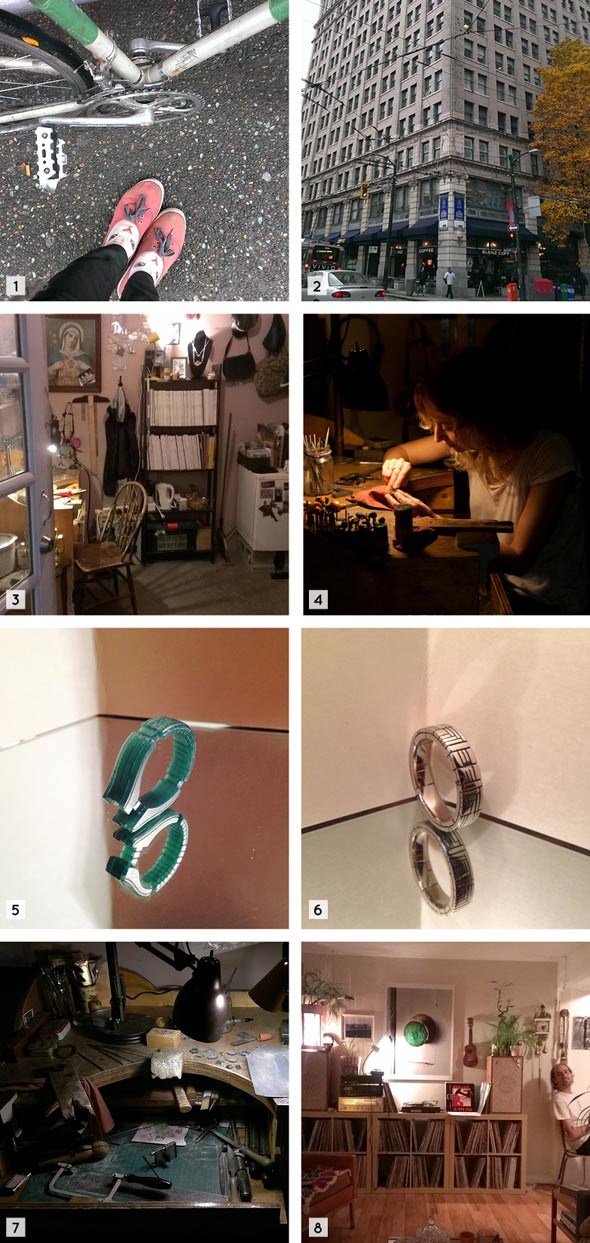 THE PROOF
1. My sweet bike, my cat socks and new bike peedles. This bike is my savior, gets me in and out of downtown in a jiff!
2. One of the few buildings I frequent when downtown. This is the Standard Building, where I take most of my wax's for casting, get my master molds made and wax injections. I prefer to take everything I make to Corvus Casting, I've been going to him for the past 6 years, in my opinion and many others..he is the best mold maker in this province.
3. This is my cozy studio space, situated in a large garage in the industrial area off Clark Drive. Its always noisy, busy and vibrating with either bands jamming or metal fabricating. I feel so lucky to have this place.
4. My girlfriend and talented photographer Angela Fama popped by last week to pick up a ring and take some pics of me for an upcoming feature..she let me have this one for VIA. Thanks Angela :)
5. This is a wax i'm working on. I start with a few sketches of a ring, a proposed design for my client, then I draft it all onto a flat piece of green jeweller's wax. Its almost 2D till I saw out the shape and start removing wax, sculpting and filing..it's a very delicate procedure. I've dropped a few wax's in my time, last month I had a beautiful ring all carved and was intending on showing it to the client that afternoon..I dropped it and it shattered. Sometimes starting over is your only option.
6. Once the wax is complete and the design is approved by the client and I'm happy with it's ready for casting. This is a men's wedding band I just finished yesterday. It's cast in 10K White Gold, a thick ring and heavy, weighing 14 grams. I love the weight of it.
7. My work bench in action. This is where I spend most of my hours, thinking, drawing, cutting, filing, heating..melting..it's a great bench. It's covered in random notes, scratches, burns and my cat used to sharpen his claws on the side of it. Its got history.
8. Me casa! This is where I like to relax with my guy, cooking, listening to records, having vino..max'n out!
THE QUESTIONS
1. What neighborhood do you live in?
I've been living in East Vancouver since I moved to Vancouver in 2002. I lived in the Belvedere on Main and 10th for about 9 years. I had a large studio apartment, hardwood floors, high ceilings and six big windows that faced Main and lit up my place everyday the sun shined. That suite suited me quite well for a long time. I could be loud, have parties, walk around in heels all day if i wanted ha! The rent was so cheap! But all good things come to an end right, we have to make room for more great things..and that place was falling apart. I had started seeing this amazing guy and we decided to move in together this past June, which meant I would be getting studio separate from my home. At first I was sort of nervous, since I had been working from home for so long..but it all worked out way better. I love going to work and being at work, and then leaving work. We moved into a cute 1 bedroom apartment just off Commercial Drive, close to all the produce markets, parks and a great bike route that takes me to my studio. I really love it, Commercial Drive has served me well. I'm a big fan of the guitarist's that peddle outside of the BC Liquor store and really love the bold ethnicity, the Italian community and deli's..and its got some pretty awesome people watching patios.
2. What do you do and where?
In theory, I'm a Jeweler/Jewelery Designer..that's what I got the paperwork for at least. But I see it as more a practicing jeweler, jewelry designer/artist. I have an excellent work space just off of Clark on east 2nd. It's large warehouse with motorcycle shops, welders, Ora bags, lots of jam spaces, custom carpentry...its a happening spot. Mostly I'm just trying to stay creative, focused and hard at work. I want every time that I sit at my desk to be an entirely new experience. Most of my designs are improvised, I do have an idea of what it is I'm making but still it can take numerous designs, waxes, attempts/fails and even casts to get exactly what I wanted. I'm sure that's common practice with many artists.
3. What are you working on?
So many things. At this very moment I have 14 new designs that I just got back from Corvus Casting today. I made 11 semi small earring studs and 3 rings, gearing towards a new line focused more on earrings and rings and less on pendants. So this weekend I will be cleaning them up, like filing them, sanding them, polishing them and soldering sprews onto them for their rubber molds. I'm planning on getting those in for molds Monday with Corvus again, then I will need a lot of wax injections and casts. I'm also restocking my current line, I reworked/cleaned nearly 120 wax injections..so there are a lot of casts to complete. Hopefully I will have about 200 pieces ready by Christmas and for Toque 2013 @The Western Front Dec 6-7.
Oh, also I'm working on 3 wedding bands that need to be completed by December 1st. I'm working with 17 designs from my current Collection, and 14 new pieces..so that's a lot of cast when you think of it. I like to have stock of 3 silver/3 bronze of each piece so that's 208 pieces. I think I just vented a bit, hahhaa. I would love to have an assistant, at least someone that could help with all the finishing. Yes, that's a call for submissions!
4. Where can we find your work?
Never a doubt of finding me on line anitasikma.com, and I'm always posting on my Instagram. I also showcase at Cavalier in gastown, that place is beautiful if you haven't been down there already, do check it out. Eugene Choo on Main Street is another place you can find some ASD and I just signed up a few sale items with Garmentory.
5. Who are your role models?
I admire women that are fearless and driven. Any willing person can be a role model to me or you, in the simplest ways too. I've admired my cousins, Aunts, girlfriends, mom...all these people are female. Not to say that I couldn't be inspired by the actions of a man or that a man does not encourage me to do better or work harder. I say 'women' because I am a woman and take drive from the talent, focus, integrity and honesty I find in the women that I have close to me. Over the years I've had so many 'role models' that are famous and I will probably never meet them. So I'd rather just leave their names out and say that any of my ladies in my life or in passing that challenge themselves in anyway and everyday challenge me too, those are my role models.
6. What keeps you going in this industry?
I love it. I can't stop making things, or thinking up new designs. I dream of work, in great ways though. If someone took this away from me, or if I couldn't use my hands for this or my eyes for this I know that I would resource other ways to keep at it. I do also love that it's a very female dominated industry, and there are lots of new designers popping up all the time. Its so fun to do this, I never really thought I would take it this far or that I would be that starving artist. I invest a lot of my time and not to mention finances, but all of what comes in goes back out and vice/versa. But I'm okay with that for now. I'm just doing the best I can today, and I have to be happy about that.
7. If you had a chance to start your career all over again, how would you do it differently?
I'm gonna answer this in point form
-Now that I have a separate work space from my home, I think I would start with that. It keeps me more focused.
-This may not apply, but I think about how I use to be able to buy an ounce of fine silver for $9..so I would've maybe invested in some metal.
-I would keep better organized paper work, accounting etc.
-Giving yourself time is so important, for instance..working and taking breaks. But also being kind to yourself in the sense of not putting too much work on yourself
8. What advice do you wish someone would have given you when you were young?
I think I was given lots of great advice when I as young, but maybe I didn't always listen. I remember my dad telling me that he would be proud of whatever I did, to be more specific he said "even if you were a cashier at Safeway". My parents are both laborers, they work damn hard everyday. My dad is a mechanic of 40 some years and my mom a cashier at Walmart for 20 years. I think the best advice I ever got was to always, always, always be myself and I always was and I stood out for it. The only advice I wish I ever got when I was young was to not react, but rather to try to understand before you get upset or stressed..to breath. Take a deep breath, came much later in life..hahah.