To me, Armin is enjoying discovering his narrative. He knows what he wants; he is not "lost", but continually exploring new forms of expression with the intention of sharing with others. If his life were a film it would definitely be a romantic comedy. Armin, the protagonist is thoughtful and playful. To set the scene, he is the guy seen reading a cookbook in a cafe in Mount Pleasant, sketching a greeting card at Kitsilano beach, or playing soccer in Chinatown. His heritage apartment is filled with ceramics, a disco ball glimmering in the corner, and a chalk wall covered in silly doodles.
Armin is a co-founder of Board of Trade Co. shop in Chinatown and clothing line, Priory, in addition to designing greeting cards for Lost Boy. He's the guy you could ask to cook, DJ, and decorate at your next house party. Don't waste your breath listing out his many accomplishments in his presence as he quickly becomes bashful. Armin sees the value of his work as a creative outlet and a means for connecting with others but beyond that he doesn't want a fuss.
Before I make Armin out sound too gentle, I should say that he can also be mischievous – always with good intention – but he loves to jump on an opportunity for a prank when the moment presents itself. His laugh is very distinct. He is the most hopeful hopeless romantic.
Dawn Moore, PR Coordinator at Kit and Ace / Close Friend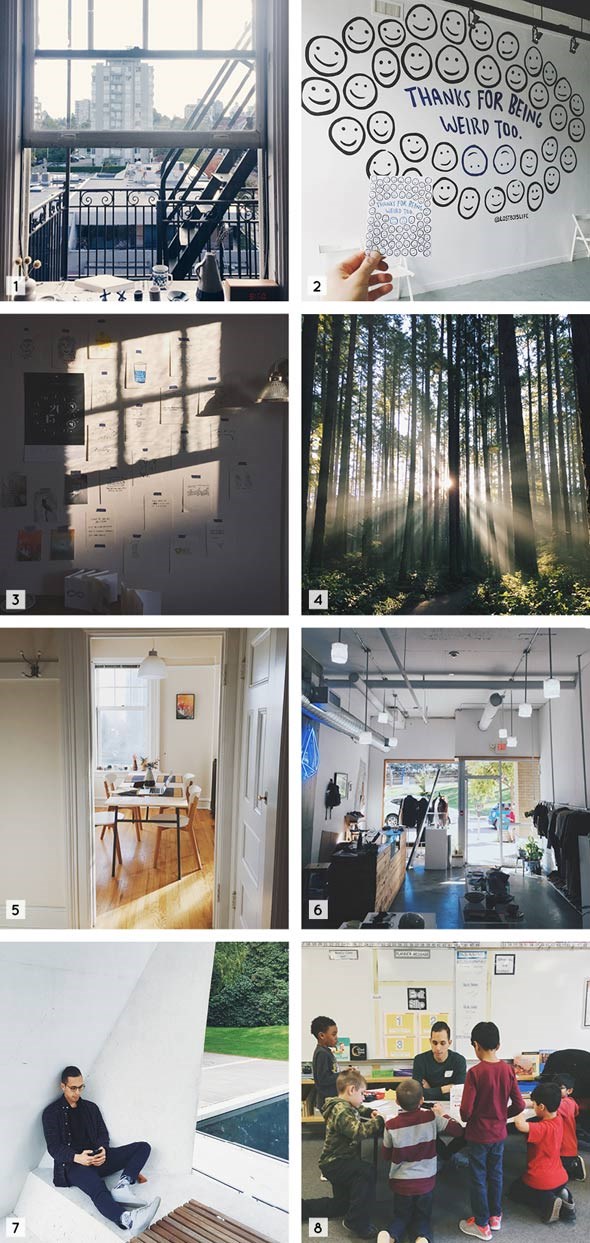 THE PROOF
1. I pretty much spend every morning (unless it's rainy) on my fire escape, reading a book and drinking tea. Lots of ideas come alive here.
2. From doodle to card to mural. From our 1 year anniversary event at ThisOpenSpace.
3. My inspiration wall. I post all my doodles on here and some of them turn into greeting cards.
4. I go for long runs 3-4 times a week in the morning. Pacific Spirit Regional Park by UBC has some of my favourite trails.
5. My dining table is my primary workspace. This is where I spend hours folding and packaging greeting cards.
6. This is my shop Board of Trade Co. located at 227 Union Street in Chinatown. We carry mens, womens, and accessories. Make sure to check it out!
7. This is me probably typing out some ideas for a new card. Either that, or I'm on Instagram.
8. Making greeting cards with some talented third graders.
THE QUESTIONS
1. What neighborhood do you live in and why?
I live in South Granville and I absolutely love it. There's a lot of great old architecture and the vibe is very relaxed, with some amazing restaurants/shops/cafes nearby. It also helps that I live in a century old red brick building with a fire escape.
2. What do you do and where?
I own a clothing store and women's line called Board of Trade Co. and Priory, respectively. It is based out of Chinatown. I have two amazing business partners that I share every single process with behind both ventures.
3. What drew you into designing greeting cards?
I've loved to doodle since I was a kid and I'm always in the middle of daydreams. Somehow, I turned that into something where I could express my thoughts on paper to share with the world. On top of that, there have been a few special people in my life who have done a great deal to inspire me and give me ideas of how to translate feelings of love into these card designs.
4. How would you describe your drawing?
A five-year-old boy doodling up a card for the girl he likes. Meanwhile, that girl is across the playground probably thinking about what to eat for dinner. That's the Lost Boy "style".
5. When do your best ideas come to you?
When I'm with someone who makes me want to be a better person. My brain is flooded with card ideas in those moments.
6. Do you have a favourite card?
I do. 'Thanks for being weird too". I just think it's just an easy card to give to people, whether it is a lover or a close friend. Everyone is 'weird' in his or her own perspective and it's nice to have someone who shares that weirdness that only the two of you understand.
7. What are 3 things you can't live without?
Acai bowls, my small leather notebook, and denim shirts.
8. Is there anything else you would like to share with us?
I've been going into elementary school classrooms lately and talking to kids about subjects of friendship and emotions, mixed with art activities that are inspired by feelings of love. If any teachers or anyone who knows a teacher who might be interested in having me come in, please contact me at hi@lostboyslife.com. :)