When I first met Blake I saw in him a spark that is very powerful. He had always shown his incredible leadership skills, vibrant personality, and musical creativity. What was not readily apparent was his kind, gentle nature that is rooted in a deep inner wisdom within himself. I am happy to say he is tapping into his inner truth and passions: comic books, toys, and photography. Through his toy photography instagram account and (new!) pop-up work shops in Vancouver, he is revealing his incredible sense of humour and respect for nostalgia. Sharing his inner truth and values has been a freeing experience for him so much so that it is inspiring others and giving them the confidence to express their joys and passions they may have previously hid from others. Blake's new ventures are something bigger than just toys and photography. They are a means of bringing individuals together to create a community in which everyone is welcome to be simply who they are. As he reveals his inner truth more and more, I know he will inspire others to live from a place of love instead of fear in their lives, and that is a very powerful thing.
Samantha Soles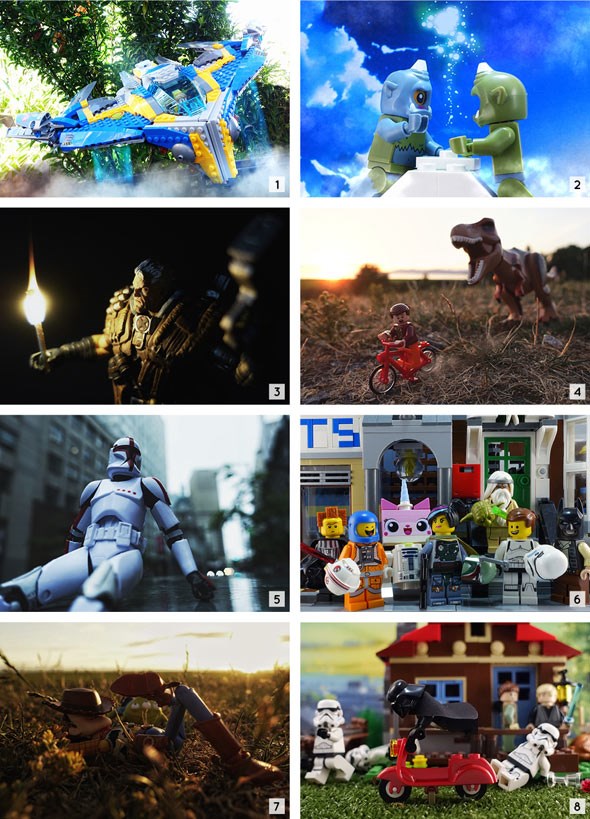 THE PROOF
1. Coming in for landing.
2. To be a Cyclops in love.
3. Through the darkness, you can always follow Cable.
4. Peddle Faster! (This is a picture of my sigfig – a Lego representation of me – getting away from the T-Rex in pursuit).
5. Oh Captain My Captain.
6. Lego Movie Cos play.
7. Woody Relaxing (This is my favourite photo I have done).
8. Just a turnt up day at the Skywalker retreat.
THE QUESTIONS
1.What neighbourhood do you live in?
I live in the Steveston Area in Richmond. It is the area I grew up in, and I am very found of nostalgia (as you can see from my interaction with toys as an adult), so getting to partake in the activities I did growing up in the area is very enjoyable.
2. What do you do?
I am a music producer, and I also do social media marketing for local businesses, focusing on creating content for their various platforms. As a music producer, I work with local artists, as well as recording artists from the United States, mainly in the Hip-Hop and R&B genre, under the producer name BLVD Blake. I also provide compositions for background music, either pre-made or custom made depending on the project for visual media, such as promotional videos & background music for You Tubers. My music work can been seen at www.blvdblake.com
3. What are you working on right now? Where can we find your work?
I don't usually plan what I do in advance, I wait till something inspires me throughout my day, and then create a scene. A new idea that just came to me recently is "Sad Boba", which will be a series of Boba Fett looking down and dejected getting encouragement/support from other various actions figures. This is a play on the Sad Batman, and Sad Kanye memes. I post at least one toy photo a day on my instagram page @blvdbricks, that is the best place to find my work at the moment.
4. How did you come to be a toy photographer?
About a year ago, I got back into building Lego, and started doing photography at the same time. I made the effort to do one post every day, and with this I learned more and more about photography in general. I had a lot of support from my friend Luis Valdizon of #WhenTheyFindUs. He helped coach me on my photography, as well as let me know what he liked most about what I was posting. This in turn helped me identify what was my strong points, and gave me encouragement towards what I was doing to get to the point I am at today.
5. What inspires your photography?
Most of the time, I just use my imagination and think of fun ways to combine different toys, but I also get inspiration from graphic novels, TV shows, and movies where the characters I shoot are from, as well as from other toy photographers. On Instagram, there are toy photography groups that have photo challenges with a specific theme, this can also dictate what I'm inspired to shoot, and which toys will be getting some love that week.
6. What is your favourite toy?
I don't even know how to answer this, hahaha! There really isn't just one, I really like a certain one for a period of time, and take lots of shots of it, and then another toy will be in the spotlight. This approach is really great for me since I get to cycle through all my toys this way, and no one toy stays forgotten.
7. What is your favourite camera to work with?
I only have a Sony RX100 III, which I purchased last September. I will also use my iPhone 6 if I don't have my camera with me. I almost always will have a couple toys with me in case a great situation arises for a photo op.
8. Is there anything else you would like to share with us?
I just finished my first toy photography pop-up workshop this past Sunday at Revolver Coffee in Gastown, and I had a great response from the people who participated. It was great to connect like-minded adults who still like to play with toys, and see everyone interact with each other, as well as the their toys in a creative group setting. It was very rewarding, and I look forward to the next event!