Artist, gallerist, designer, and videographer Chris Bentzen is single-handedly changing creative culture in Vancity. His gallery, Hot Art Wet City, works less like a conventional gallery space and more like a community gathering place, playing host to yoga classes, comedy shows, DIY workshops and seminars in tandem with a fun and accessible exhibition mandate. On top of it all, Bentzen turns out an interview almost every week with a Vancouver artist, always shot beautifully and presented with an earnest interest in documenting and promoting all the idiosyncratic ways art is made in our city. It's a lot to juggle, but Vancouver is better for it — Bentzen's welcoming approach to art and art-making demystifies it for the public at large, making those essential but often overlooked connections between our world-class creative community and its curious observers.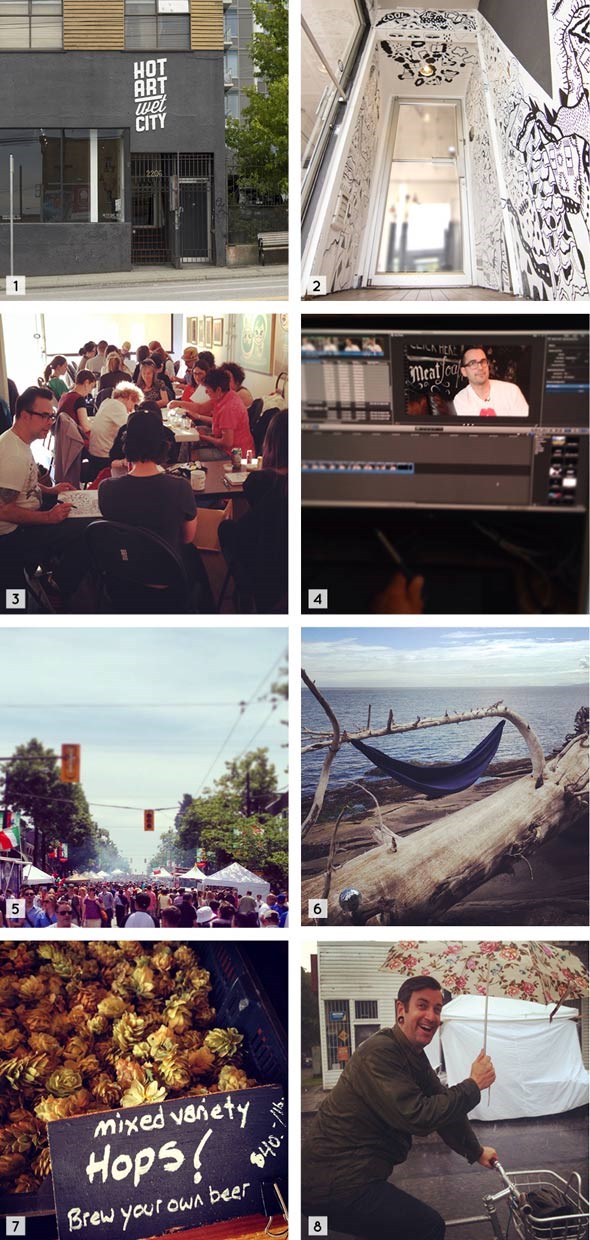 THE PROOF
1. Hot Art Wet City at 2206 Main in Vancouver. It's where I am most of the time (although our regular hours are only Wed-Sat, 12-5)
2. I'm lucky enough to know some very talented people. This mural by Ali Bruce is in the entrance to the gallery. It's great, she's great, check out her work.
3. We do fun things at the gallery that bring groups of people together. The monthly Art & Craft Social is one of them.
4. I also interview, shoot and edit video interviews with local creative types and post regularly to hotartwetcity.com -- over 100 of them so far!
5. Car free street festivals are great. I look forward to them every summer.
6. I also look forward to camping by bike on the gulf islands. And hammocks. And camping with hammocks.
7. Beer of course. So many great breweries opening lately I haven't been homebrewing as much as I'd like.
8. I ride my bike everywhere in all types of weather. I usually don't carry an umbrella while I ride but this rainstorm was ridiculous, the umbrella was pointless, and I couldn't stop laughing. If anyone asks, I'm wearing a helmet.
THE QUESTIONS
1. What neighborhood do you live in?
Fracking (Fraser/Kingsway). I've been here for the past few years and Mt Pleasant in general for about a decade. I'm a little too close to Earnest Ice Cream's shop.
2. What do you do and where?
I run Hot Art Wet City, an art gallery at 2206 Main St in Vancouver. I'm also the co-producer of Hot One Inch Action and CARDED (interactive art events) and a freelance graphic designer.
3. What are you working on?
Keeping my art gallery open and convincing people to spend money on art instead of something else.
4. Where can we find your work?
Here at Hot Art Wet City, online Hot Art Wet City, and on all of the social medias (Instagram, Tumblr, Twitter, Facebook as @HotArtWetCity or @bentzen)
5. Who are your role models?
No one in particular. I'm inspired by people that make shit happen in this city. I'd also say Gallery 1988 in LA or Spoke Art in San Francisco or Roq La Rue are my gallery role models.
6. What keeps you going in this industry?
All the talented artists here in Vancouver and all the supporters that buy art, attend shows and tell me they like what I'm doing. It's also fun.
7. If you had a chance to start your career all over again, how would you do it differently?
I am who I am because of the experiences I've had over my life. Starting again probably wouldn't work. But ask me again in 3 years when the gallery lease expires and I'm looking for a new career.
8. What advice do you wish someone would have given you when you were young?
Don't worry about life so much. Just get out and make stuff happen.