Christina Luo, 23, runs Fox and Flourish, a studio providing creative services with a focus on calligraphy, lettering design, and workshops. She was completing her BA in Communication and Publishing when she first began her calligraphic journey, and has since worked with brands like Aritzia, Kit & Ace, and Nordstrom as well as many lovely small businesses and individuals. Her most notable project to date was helping to compose a letter to the Pope on behalf of Vancouver's spiritual leaders.
Milk tea, sun showers, ramen, naps, and puppies are among her favourite things in the world. A trip through Scandinavia this year inspired Christina to pursue Fox & Flourish with full force after witnessing the thriving art and design-based communities in Stockholm and Amsterdam. With her work and the regular calligraphy classes she teaches, Christina hopes to introduce the lost art of cursive and penmanship back into Vancouver with a fresh and modern approach. Hopefully the words written will weave a little poetry along the way.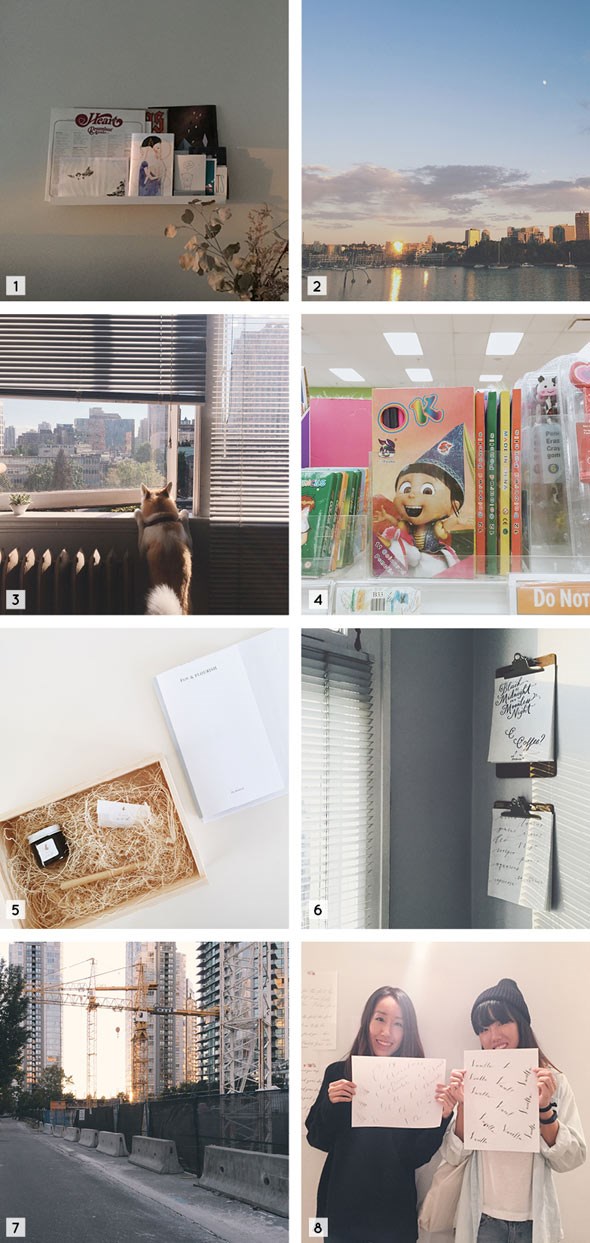 THE PROOF
1. My rotating shelf of collected paper goods like vinyl album covers, cards from friends, and artwork.
2. View from David Lam Park, or what I like to call my "backyard" where I take my dog for a walk every day.
3. Margot likes to people-watch from the studio window.
4. I often find myself wandering the aisles of Yoko Yaya (the downtown persona of Daiso) for work supplies and snacks.
5. Packing up an order of our new retail calligraphy kit.
6. The fleeting light in the studio. It's mostly too dark or too bright but sometimes it's perfection, like in this photo.
7. My true backyard, the alley behind my apartment building. I find calm in urban landscapes.
8. Two of my workshop students with their first calligraphic works. Lots of proud moments!
THE QUESTIONS
1. What neighborhood do you live in?
Yaletown, land of puppies and parks, because my best friend also happens to be my dog, a Shiba Inu/Eskimo cross named Margot. We walk along the seawall most days, and all that good Vancouver stuff.
2. What do you do?
I'm a calligrapher and designer, running a little studio called Fox and Flourish in Gastown. We're in the business of creating beautiful words, often in the form of logos, event stationery, chalk signage, and even tattoo designs! We also teach calligraphy workshops at fun venues like Juice Truck, Cartems, and now our studio space.
3. What drew you into calligraphy?
The precision and technique in the positioning/movement of the pen that need to be refined before a letter comes out looking even halfway decent. Actually, that's a nicer way of saying that using a pointed pen was way harder than I expected it to be, so I became stubborn in trying to conquer it.
4. How would you describe your overall aesthetic?
Raw but refined. I'm extremely sensitive and a bit of a romantic/dreamer, which visually comes out as moody pastels and snagged pen strokes. I'm also very unorganized and a bit of a hoarder, so my work ends up being more minimal and stripped down in an attempt to control that part of me, I think.
5. What are you working on right now?
Our last workshop of the year just finished so naturally I'm planning next month's classes, as well as new course offerings. Wrapping up a couple of branding projects and a winter wedding.
6. What is the story behind Fox & Flourish?
In my third year of uni, I was working my first full-time gig as an design intern. It was a weird sensation to not have essays to write after 5pm, so as a hobby I taught myself calligraphy. F&F was born mainly as an Instagram account for all my attempts at it. At the time, there were only a couple of calligraphers operating in the lower mainland, so starting with the wedding industry, it has grown into what it is today!
7. If you were't a calligrapher, what would you want to be?
My dream has always been to own a part stationery, part bubble tea/snack food shop. This combines my two favourite things.
8. Is there anything else you would like to share with us?
I'll try not to sound like a motivational quote for this one, which are my least favourite type of quotes. Something that has stuck with me is how much I enjoy the quiet and mundane parts of being a designer and business owner, and how I really don't want it to end. At first, the Communication major in me was extremely fed up with how inconsistent and slow moving freelancing was, and I got really caught up in comparing myself with other artists in my field who were blowing up. But just a couple of years in, I'm realizing that it's a blessing to not become an overnight success and get a million followers all at once. If you have just enough work to do every day, aren't too stressed out, and enjoy all the small pleasures in between the challenges, it's totally worth it.