Dan Climan was born and raised in Montreal. He moved west to pursue an education in art at Emily Carr University of art and design, and sample what the City of Vancouver had to offer in the way of living.
Dan now possesses his diploma stating he knows more than you about art, and remains living in this beautiful town we all call home.
Dan's work has been described as having a "grungy New York City skate- punk aesthetic" but I would disagree. Dan's work does not anchor itself to any static location, or evoke notions of action sport
Sub-culture, but allows itself to blossom and change from one mood to another.
If Dan is not grinding away in his DTES office, cooking up the aesthetic of the soon to be reopened legendary Save-On-Meats, you will find him wild in the Vancouver streets with his fellow Gnashionals.
Dan Is an up and coming force in the world of things visual in Vancouver and the horizon has never looked better. Keep up the good work Dan.
- Calen Knauf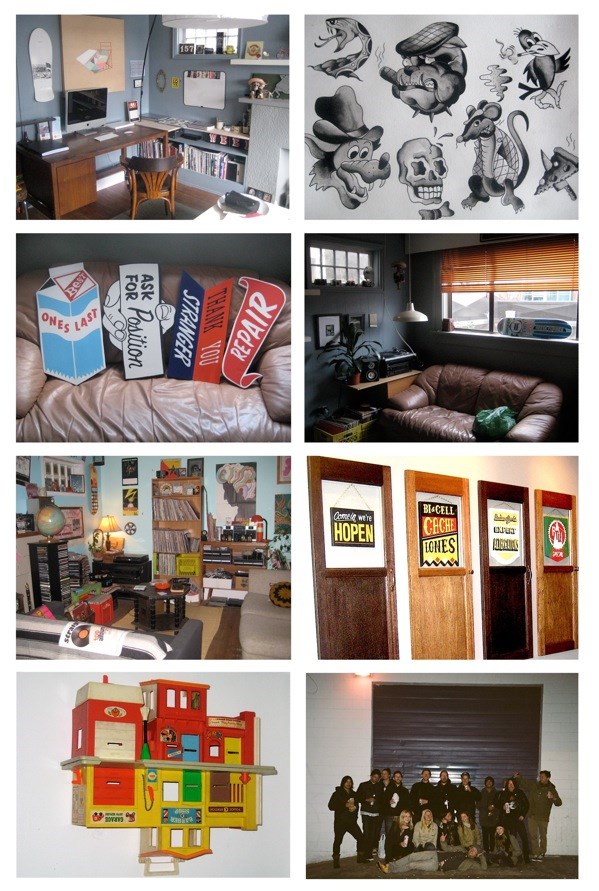 The Proof
from right to left:
My desk in my living room / office / studio
Watercolor and ink flash sheet
Recent works on my leather couch
The other side of my living room where the records are played
My neighbor Malcolm's living room
Hand built doors and hand painted signs from my solo show at JD's barber shop in Gastown
A new ready-made artwork
Lurkin in the alley with some homies.
The Questions
What neighborhood do you live in?
I currently live in Kits, close to Vancouver's oldest and best skate shop Skull Skates. When I moved here from Montreal I was lucky enough to fall into an amazing living situation with great people and cheap rent, so I've been here ever since.
What do you do and where?
I am a full time artist working from home and my office in Gastown. For the last couple of years my work has been based on the re-appropriation of signage focusing on a history of images that is slowly disappearing.
What are you working on?
I am currently working on artwork for the re-opening of Save On Meats on Hastings Street and have recently started an apprenticeship with one of Vancouver's most talented tattoo artists.
Where can we find your work?
Right now my work can be seen at JD's Barber Shop on Abbott Street.
Also on the Internet: