Daniela is a warm, kind and imaginative entrepreneur and mother, who calls Mount Pleasant home. With a gift for both silliness and quick-wittedness, great taste that leans toward the colourful & modern, and a knack for chic yet uncomplicated, she can channel her aesthetic and charm into any medium. Her indie gift boutique The Pleasant, her children's magazine Small Wonder, her wardrobe (primarily dresses & statement jewelry) and even her inventive Halloween costumes, reflect her personal lens on the world: fun and engaging. Daniela notices little details that might escape the casual observer, and it is always a treat to witness her and her wildly creative 10 year old son Milo together, spotting the funny, the intriguing, the inspiring. Daniela values family & community; she doesn't just talk the talk, she loves to walk the walk. Teaming up with other parents to throw school fundraisers at Heritage Hall, catching up with neighbours during the annual summertime block party, or enjoying a margarita with her husband Dean at their local watering hole El Camino, she is always involved in any Main Street happenings. Her innate sense of style, generosity of spirit, and way of putting people at ease make her great company and a sought-after collaborator. She knows herself, and is herself a joy to know.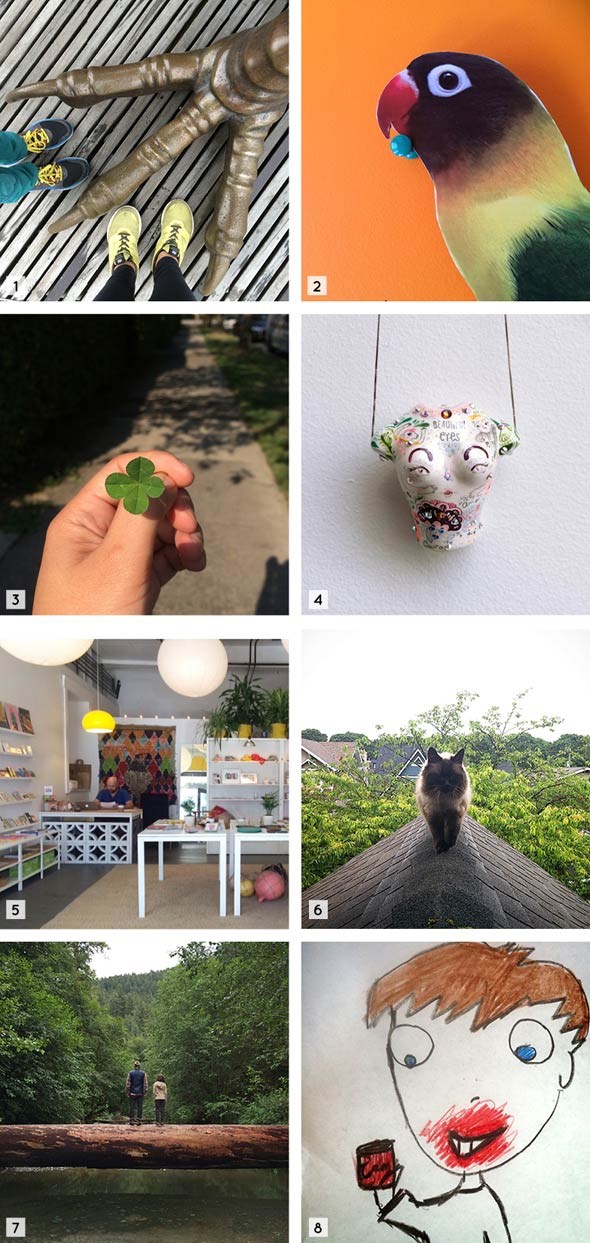 THE PROOF
1. One of my favourite ways to start a day!. A morning run with a friend or in this case with my kiddo Milo.
2. A detail of one of the We Are Local Artists' Window Projects — this one by Ricky Alvarez— now hangs in Milo's bedroom.
3. If I were a super hero I would be called Lady Luck… since childhood I have been finding four leaf clovers without even trying. I inherited this trait from my Uncle Milton. This one I found yesterday morning on a walk to the coffee shop.
4. This necklace is one of my favourite pieces of jewellery. It is by the artist Tania Orozco who also did the cover image and illustrations for the main story in issue three of Small Wonder.
5. The Pleasant Gift Shop, also home to the studios of We Are Local and Small Wonder Magazine. Where it all happens… the magic, the stress, the joy.
6. Our sweet Dinah.
7. My guys on a recent trip to Tofino. All the mushy, lovey stuff.
8. My son Milo is a prolific drawer. This one is about a year old but it is one of my favourites. I mean who doesn't like to eat jam straight from the jar?
THE QUESTIONS
1. What neighbourhood do you live in?
I live and work in Mount Pleasant which is known for its strong sense of community. I love that I know all my neighbours by name. It's truly lovely to share food from the garden, a glass of wine or even just a quick chat with those who surround us.
When I recently opened a shop up in the area it was heartwarming how many neighbours came by to welcome me to their block. Every now and again a neighbour will pop by with some rhubarb from their garden or some ribs off their bbq. I often say that it's small gestures like these that make for a strong community.
2. What do you do and where?
I run three business. The first, We Are Local — a printed guide to indie businesses in Vancouver and Victoria, I began in 2004 with my husband, Dean Philp. More recently, I launched Small Wonder — a quarterly magazine for kids and their grown-ups. Both businesses run out of my shop The Pleasant — an indie gift shop at 197 East 17th Avenue (just off Main St.).
3. What is Small Wonder Magazine?
Small Wonder is a quarterly magazine for kids and their grownups.
Small Wonder encourages wondering. Be curious, ask questions.
Small Wonder provides a sense of wonder. Be amazed, be inspired.
4. Why did you start Small Wonder Magazine?
I love magazines. L-O-V-E, love them. When looking for a magazine to share with my son, Milo I couldn't find anything that spoke my ideology or my aesthetic. The magazine stands were saturated with hyper-commerical, brand-driven, disposable magazines full of obnoxious adverts. I wanted something of quality we could enjoy together, that offered a variety of visual styles and meaningful content. So I decide to make it myself.
5. How is it different than other children magazines?
Printed in Vancouver on premium quality uncoated paper, the aesthetic is fresh, fun and modern. Each issue of Small Wonder contains engaging segments for readers big and small that are tied together through a theme such as, the dark or fruit. The pages are filled with beautiful illustrations by a wide range of artist that accompany original stories, poems, and activities. Readers will also find recommendations for books, apps and products, engaging arts and craft activities, delicious recipes, and much more. Small Wonder is the kind of magazine that readers want to hang on to.
6. Where can we get the magazine?
Small Wonder can be found in Vancouver at Ainsworth, Collage Collage, Dilly Dally, Much & Little, The Pleasant and in New Westminster at Brick and Mortar. Subscriptions and single issues can also be found online here.
7. What advice do you wish someone would have given you when you were young?
If you have a creative idea that truly inspires you, that stays with you, that excites you just thinking about it… then do it. Nothing is as daunting as it seems. You can do it.