If you only know Emanuel Smedbøl through his @secretcities Instagram account he probably comes across like a protagonist from old fiction, seeming in many ways just too good to be true. From his quality sartorial choices, to his epic beard, the amazing adventures he goes on, it's hard not to mythicize this man. But the fascinating and rare thing is, the hype does not do the reality justice. Thankfully, he is not suspended in an analog past or some scribbled fiction as we see for ourselves in his success on Instagram or his chosen profession as a self-employed graphic designer.
His free and determined spirit is invariably connected to his smalltown upbringing and his slow city meanderings reveal this: he searches for the wild, the unhurried, the overlooked in everything he explores. Sometimes finding reward in the banal (#eastvanalleys), humour and spirit in the inanimate (#iseefaces), or aching beauty in the stunning landscapes that Vancouverites all too often take for granted, Emanuel has a way of making us slow down, and deliberately observe all the things that daily we overlook.
E's wonder and fascination permeate everything he does. He'll deconstruct anything to try and grasp its workings and methods. He'll take a few months off to bicycle from Vancouver to Mexico. He'll suck the poison out of your leg when you're stung by a scorpion. Emanuel isn't a fiction, he is a bright reality, and all that call him a friend are so very fortunate to be able to.
K + M McLellan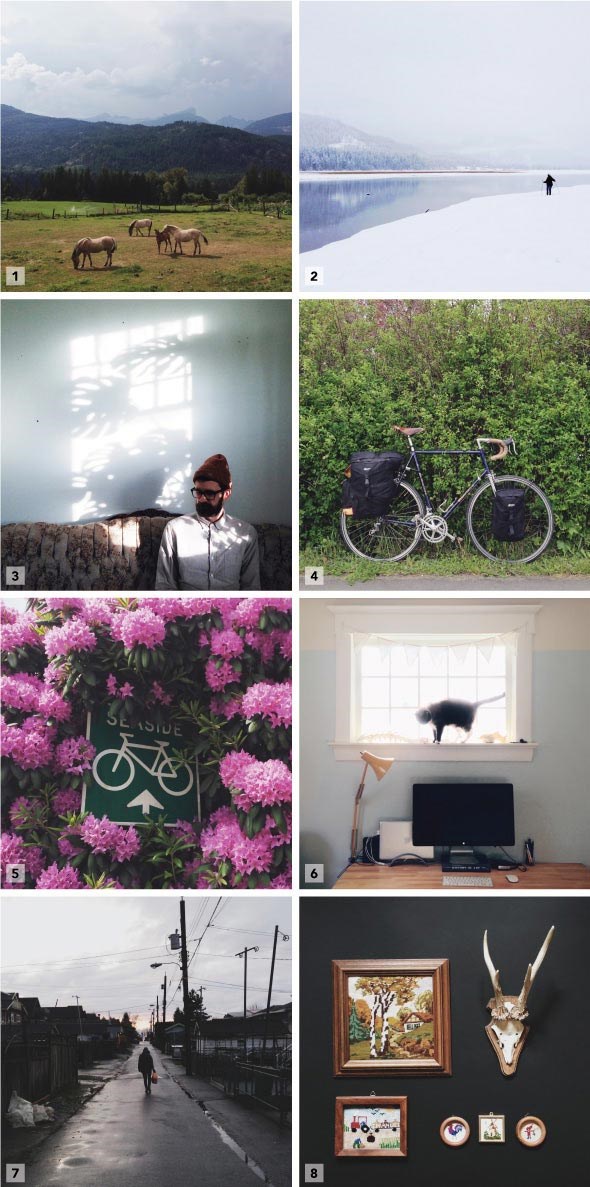 THE PROOF
1. This is the mountain valley where I was born and raised.
2. This is the river where I spent most of my days.
3. This is me in my living room in cold winter light.
4. This is my bicycle loaded up and packed tight.
5. This is a route sign hidden deep in a thicket.
6. This is my computer, I found the on switch and flicked it.
7. This is East Vancouver, through whose back lanes I wander.
8. These are some memories of my grandparents from the pale yawning yonder.
THE QUESTIONS
1. What neighborhood do you live in?
Grandview Woodland.
2. What do you do and where?
I'm a freelance graphic designer working out of my living room, though I'm better known for my mobile photography, which I kinda try and do all over. I like to spend my winters wandering around the back lanes of Vancouver and the summers hiking, camping, and canoeing in the reaches just beyond.
3. What are you working on?
Currently working on a website for a London UK-based creative agency. And collaborating on a book! (Soon soon soon)
4. Where can we find your work?
Online!
photos: http://instagram.com/secretcities
design/other: http://emanuel.smedbol.ca
5. Who are your role models?
Alice Munro. Fred Herzog. Anyone that can turn everyday moments into deep wells of majesty and mystery. And of course anyone who has had the good sense to bring pie to a picnic.
6. What keeps you going in this industry?
There are always new things to learn, new things to see. And even if you think you've already seen something a thousand times, some days the veil of the everyday lifts and you can approach it afresh. Those are the best days.
7. If you had a chance to start your career all over again, how would you do it differently?
I don't really know... I've fumbled a lot and will continue to fumble, but I think that's the way its supposed to be.
8. What advice do you wish someone would have given you when you were young?
Always approach things as a beginner.