Emily Döhler-Knox is an animator, artist, toy designer and photographer.  She grew up in Toronto and lived in California for 3 years before moving to Vancouver during the Winter Olympics.  When she's not seeking out Vancouver's best restaurants or cheering for the Terminal City Rollergirls, she can be found designing + producing her own plush toy line, painting limited edition designer vinyl & resin figures, and taking her Canon DSLR or her Holga out for a photo shoot.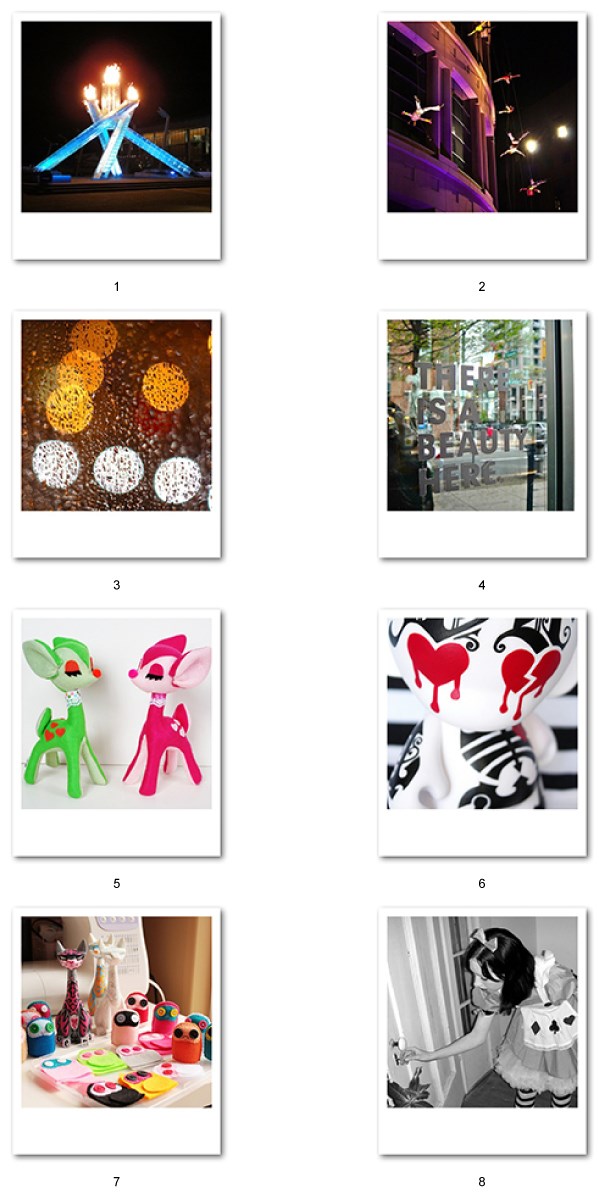 The Proof
1. I arrived in Vancouver during the Winter Olympics.  It was very memorable and the best introduction to a new city I've ever had!
2. One night Aeriosa was doing a performance on the library for free.  It was amazing, and just re-enforced how cool this city is!
3. Rain!!!  Everyone warned me about hating Vancouver rain, but I love it. <3
4. "There Is A Beauty Here." -- I love discovering random/meaningful sentences in unexpected places.  This one is on the door of Subeez; one of my favourite places to eat.
5. My plush deer "Lime Soda" + "Strawberry Sorbet" (I always name my deer after yummy tasting dessert type foods.)  They were commissioned by Paul Shih, one of my favourite resin artists located in New Zealand.
6. One of my vinyl customs made for a show in Arizona last year.  I named this guy "Loved Unloved", which is reflected by his full and broken heart eyes.
7. Just a little peek at some of the projects I'm working on at the moment.
8. Me as Alice In Wonderland.  I have an obsession with that storybook...
The Questions
What neighborhood do you live in?
Downtown near the library.  I love the central location.  I've been in Vancouver for almost 4 months now and I love this city!
What do you do and where?
I'm an Animator at a visual effects studio.  I've animated on movies, tv shows and commercials.  My most recent work was for Disney's "G-Force". Art is a huge part of what drives me, so I really like that my job lets me be creative all day long.
What are you working on?
In my day to day job I animate characters in a live action visual effects film.  Outside of work I have a ton of personal projects on the go.  I design and sew plush toys for my Etsy shop and gallery shows. I also paint vinyl and resin custom toys.  Right now I'm painting 3 custom limited edition resin casted Tuttz figures for Argonaut Resins, and I was invited to paint a custom for the Ganmetall Celcius Custom Show being held at a gallery in Los Angeles this summer.  I'm also a part of two international art groups which keep me quite busy; Plush Team and Girls Drawing Girls.  When I'm not working in my studio I usually bring one of my 4 cameras out with me to take pics.  I love making art and usually have too many projects on the go! :)
Where can we find your work?
Some of my plush work will be on display in the Animalopolis group show at Ayden Gallery (Tinseltown) from June 11th-July 11th.  You can also see my work online here: