It all started with drawings of dinosaurs and sports figures.  Jay Senetchko never dreamed he'd get to make pictures for a living.  His approach to painting is similar to his approach to life-structure - discipline and a little hard work gets the job done.  His experience with organized sports and his degree in business conditioned him to find comfort in efficiency and routine, demystifying the sometimes perceived glamourous, romantic or lackadaisical lifestyle of an artist. A day in the life of Jay begins early and involves a full-stretch, painting, construction, running, teaching, writing, painting some more and somewhere in there, eating and sleeping.  His abilities with a paint brush are reminiscent of the old masters and his depictions of the human body can bring you to tears.  Draped in no nonsense style and donning a Peterbilt hat at even the most posh events, he's just a redneck with a paint brush and a penchant for the highlife, whimsy and the occasional dragon.
- Bridget Burns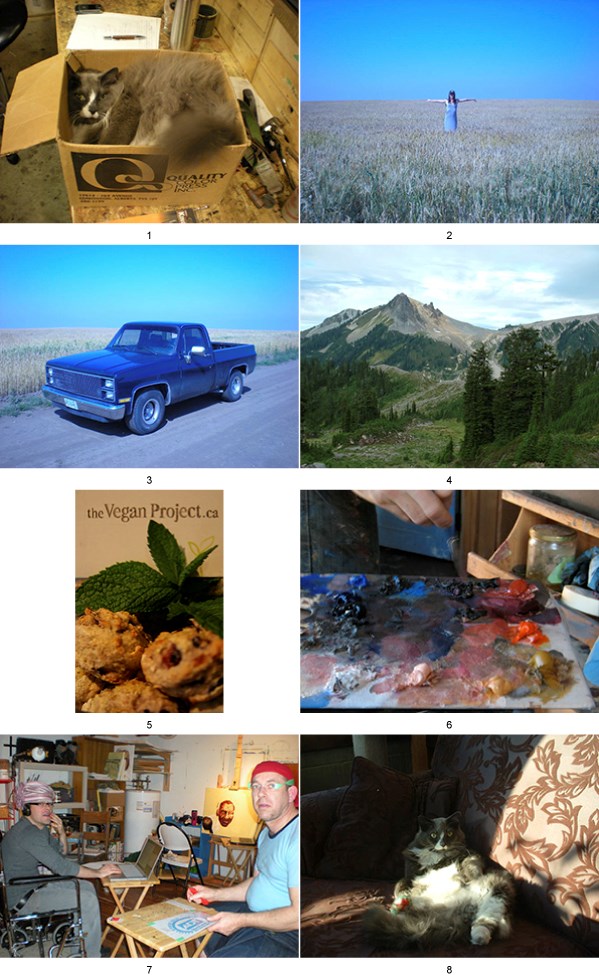 The Proof
01 My cat: Squirrel.  Pretty much the most amazing thing in the universe.
02 My lovely girlfriend Bridget...oh the horror at the prospect of choosing between her loveliness and Squirrel's.
03 My Truck: possibly the most inefficient vehicle on the planet (I'm fairly certain you can hear the environment groan when you turn it over) but man he's fun to drive.  Thankfully I walk or can bike the vast majority of places my life demands of me.
04 Who DOESN'T like climbing to the top of a mountain?  Well...Bridget for one.  I do though...anything outside really is fine by me, but even better if there's something big and rocky to clamber to the top of while I'm out there.
05 Oh man do I love food, especially the food that's both amazing and made for me.  Wouldn't you know that I have an equally amazing lady who loves to cook for me and gets deliriously happy when I inhale her creations.
06 I paint...a lot.  Day in and day out...the studio gets lots of foot traffic in the area where I stand pushing this stuff around.
07 My friends...they're not all as charismatic as these two characters, but good people all.
08 Did I mention how much I like my cat? Really, can you blame me?
The Questions
What neighbourhood do you live in?
South Main
What do you do and where?
One day a week you'll find me at Vancouver Film School inspiring young minds and teaching them how to draw, the rest of the week you'll see me in my studio knee deep in paint and from time to time inspiring the minds of no-specific-age-range while guiding them through the mysteries of the medium.
What are you working on?
I'm always working on new paintings in the studio, and in addition to them I'm finishing a storybook as well as a textbook for the visual arts.  My upcoming project is the Still Life show at Jacana in February 2011.
Where can we find your work?