I met Jen when we were both still teenagers, selling books at Bollum's Books, which was bought by Duthie Books, which then tragically folded and the space became a London Drugs. There have been schools, marriages, babies, jobs, moves, and countless drafts of novels between us. Despite all the changes, one thing has remained the same: Jen is—and always has been—an amazing writer with an especially exquisite gift when it comes to spinning words into stories. Author of The End of East, The Better Mother, and Shelter, CBC Radio darling, dazzling raconteur, and always a poet, Jen Sookfong Lee is a quintessential weirdo worth paying attention to.  
Carrie Mac, author and storyteller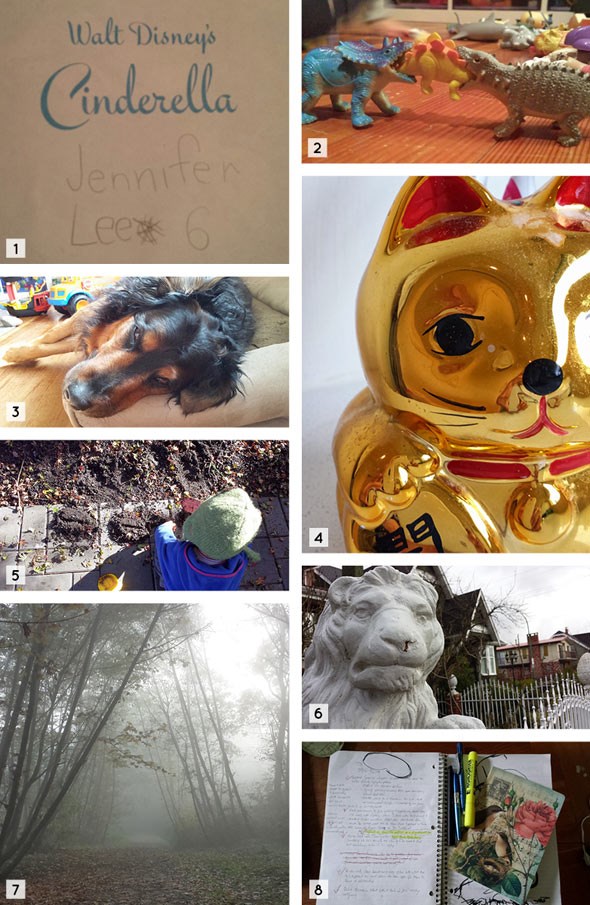 THE PROOF
1. I just discovered my childhood copy of Cinderella in an old chest. As you can see, I was a ruthless self-editor, even at six.
2. I write around my son's schedule, so most of my time during the day is watching him concoct elaborate scenarios with his animals, like this one. That poor stegosaurus never had a chance.
3. This is my dog, Molly. She's ancient. And would probably say scathing things about me if she could.
4. Who doesn't love lucky cats? This one houses our toothbrushes because we all need luck when it comes to dentistry.
5. We're lucky to have big backyard, where my son constructs art installations. He calls this one, "Liminal Dirt."
6. We walk by these stone lions everyday. Are they mad? Sad? Disdainful of my last haircut?
7. We live seven blocks from the Trans Canada Trail, which is gloomy, mysterious and always heartbreakingly beautiful.
8. I'm one of those writers who still occasionally handwrites, especially when I'm brainstorming ideas. My son likes to draw on my notebooks, because he's a three-and-a-half-year-old hoodlum.
THE QUESTIONS
1. What neighborhood do you live in?
Vancouver Heights, and I grew up in Grandview-Woodlands.
2. What do you do and where?
I'm a writer and I work at home in my sweatpants. I also freelance for CBC Radio, where I get to talk about books on The Next Chapter and other shows. I try not to wear sweatpants when I'm in the studio. But then, who would know?
3. What are you working on?
Right now, I'm in the last drafts of my third novel for adults. It's kind of a literary crime novel, which means there is death, betrayal and the rupture of innocence. Like all of my books, it's set in Vancouver, partly in the Downtown Eastside and Chinatown, and partly on the stormy North Shore. Sometimes I think I should write something funny, but then I get an idea about, say, psychopathic children. So I'm only funny in person. When I'm drunk.
4. Where can we find your work?
At most bookstores, online or bricks-and-mortar.
5. Who are your role models?
There are many writers whose work I love, but in terms of a role model for the totality of her career, I would say Zadie Smith, who writes what she wants to write, sexy vampires be damned. And yet, she's not a hermit either—she is very much engaged in our world and is committed to understanding and writing about our contemporary preoccupations. Plus, she always looks presentable! Writers have a sad reputation for looking rumpled, so anyone who doesn't seems especially fancy to me.
My role model in life will always be my grandfather, who came to Canada in 1913 at the age of 17 and lived to be 94. He experienced many things that would break most people, but, even so, he was always impeccably dressed and found joy in small things: calligraphy, hockey on the radio, doughnuts. And bacon. The man loved his bacon.
6. What keeps you going in this industry?
I ask myself this question all the time, which I think a lot of writers do, given how much and how quickly publishing is changing. Ultimately, all I want to do is write stories for people who want to read them. There is so much that we haven't written yet, about race and gender and communities that are undergoing swift and immense metamorphoses. And these untold stories are the ones that I and every other writer are trying to unearth. My job isn't new and isn't necessarily revolutionary, but without storytellers, without the people who create narrative out of the mess of our existence, how are we supposed to understand our place in the world, or the spaces we leave behind?
7. If you had a chance to start your career all over again, how would you do it differently?
I don't think I would do it differently, which is totally boring to say. When I was writing my first novel, The End of East, which took seven years, no one cared about me at all, which seems like it would be sad and pathetic. But, really, it gave me the space to write what I wanted and to do so in complete ignorance of what was happening in publishing at the time. I'm probably looking backward through rose-coloured glasses though. It's quite possible I was angst-ridden and worrying every second of every working day that I was a nobody whom nobody cared about and who would die in obscurity. So maybe I would do it differently. Maybe I would start doing yoga and drinking kombucha.
8. What advice do you wish someone would have given you when you were young?
To expect nothing and celebrate everything. All of us who have dreamt about being writers fantasize about the glamour of being a famous author. We think about winning the Giller Prize, or attending swishy launch parties, or being invited to give a talk at a TED conference. But all of that is out of our control, something we don't quite realize when we're 22 years old and starting to write our first novel and screenplay. We can't control how a book is going to sell, or how well it will be reviewed, or whether it will be reviewed at all. While being a published author is glorious in many ways, it's also demoralizing in an equal number of ways, and it's important to focus on the work and to always make sure you're writing the best possible story at all times. You may get nothing you want in return, but you have to able to recognize success when you see it, even if it's not in the form you expected. So, when things are good, have some champagne. When things are bad, turn back to the writing and resolve to be better.