Joanna Riquett brings the world to our fingertips. Joanna's insatiable passion for travel and storytelling led her to 58 cities in 24 countries (to date!). This curious curator tells stories from around the globe on and off line through Hayo, her luxury, indie print edition, Hayo Magazine, the Huffington Post, and Vancity Buzz. Today, this Colombian native calls Gastown home with her loving husband, Dario, and New York girl rescue dog, Leia.
Joanna's journey to uncovering her passions began several years ago with her first Spanish language blog, Viajes Anacrónicos, recounting stories from living abroad. Observing her surroundings in a new place and endeavoring to understand its dynamics led her beyond taking photos of famous landmarks. Joanna fell in love with cultural discovery, storytelling, and travel.
Joanna's mission for Hayo is to inspire experiencing the world's vast beauty: the people, cities, art, food, and history. Through her travels, Joanna learned we reap what we sow and a positive outlook on life only generates more good in the world. Ultimately for Joanna, traveling is as much about discovering other places as it is about self discovery: "Traveling matters because it's hard to evolve when your surroundings never change and if you are looking to become a better human, you have to lose yourself in new surroundings in order to find another self."
Bettina Khan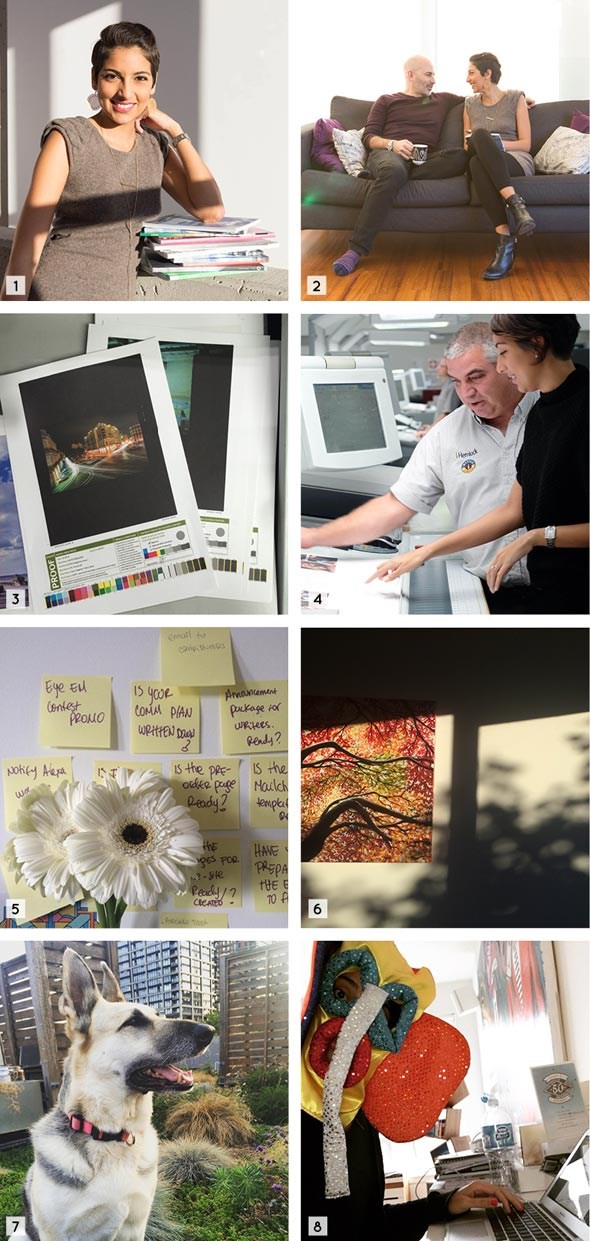 THE PROOF
1. This is just the sample magpile that I carry with.
2. My husband Dario is also my partner at Hayo. He has the business brain and I consult with him on everything.
3. One of the most exciting parts of producing a print magazine is getting the proofs for review. It's the first sneak peek you get before receiving the final product, and when you finally see how the colours and photographs look in the final paper.
4. The final check of the print at the printers plant. This is it, once you sign the sheets it's done, it's sent to print and a week or two later you get the final product in your hands. A terrifying, but super exciting moment.
5. I try to organize my agenda in a notebook, but I when I have way too many things I have to remember, the post-its on a wall are the best reminders. Sometimes I write them so quick or in code that I can't even understand my own letters, but at least it's in my face everyday ;)
6. The afternoon light, when the sun is out, in my apartment is very captivating. When I notice it I like to stop and appreciate the movement of the tree for a few minutes before continuing work.
7. My dog Leia is my daily companion. She is always there with me listening to the crazy things that come to my mind or jumping out of happiness with me when something good happens. She also reminds me that I've been sitting for a long time and asks for some attention and petting every now and then.
8. My sister sent me a few masks of Marimonda, that are traditional at the Carnival of Barranquilla, where I'm originally from. It's fun to play around and make fun of myself when the day seems so long it will never end.
THE QUESTIONS
What neighborhood do you live in and why?
I live in Gastown, because it's vibrant and it has everything you want: bars with the best cocktails, restaurants with amazing food, nightlife, people, galleries, events. It's perfect for a couple without children that want to enjoy the good vibes of a young city.
2. What do you do and where?
I'm the creator of a travel, culture and curiosity coffee table magazine called Hayo and I work from Gastown, mostly from home or Birds and The Beets cafe. In the new year, I'll start sharing a desk at Quietly's cool new office space.
3. Why did you start Hayo?
I started Hayo because, as a travel writer myself, I was tired of pitching the same ideas and stories to different media outlets. I wanted to create a magazine that would give space to literacy, arts, culture, curiosities and excellent photography, without having to worry about clickbait or banners.
4. How is it different than other magazines?
We come from a place of authenticity and uncover the heart and soul of a place through the people that have shared an intimate relationship with it. Hayo is about community, immersion, wanderlust, beautiful photography, inspiration and also practical tips to explore the world on your own. We create a big impact in a niche audience. We care about touching hearts and spreading the travel bug.
5. What are you working on right now?
We just started working on the next print issue Hayo No. 2: East. We released the call for submissions, are looking for brand partners, and we are moving full speed to have it ready by April, which I'm super excited about. I'm also working on other projects related to publishing and magazines that I will talk about when we are ready to share ;-)
6. Where can we get a copy of the magazine?
You can get a copy or a subscription online, in different stores in Gastown like Litchfield (our first ever store!!) or Neighbour Woman, and in Mount Pleasant at the super cute The Pleasant Shop. Soon to be in more stores so you can check the full list here.
7. What is your favourite place to travel to?
Back home to Barranquilla, Colombia where I am right now. I left home about 8 years ago but now it creates an incredible feeling of belonging every time I come back. I also love going to Los Angeles, one of my favorite cities; I enjoy returning to Buenos Aires, my former home, and I loved visiting Tokyo, where I want to live at some point.
8. Is there anything else you would like to share with us?
We love working with artists and other creatives in the city or abroad. We participated in an art show launch with artist Pax North, we released a Holiday Special with the amazing Ola Volo, we interview photographers from all over, and we are always looking for interesting collabs we can do, so if you are interested you can hit us up at info(at)hayo.co and we'd love to talk more!