Katie's diminutive stature is deceptive: she has the energy of a blue star and the speed of a tornado, and somehow her eyeliner is always perfect. She also knows how to throw an incredible party, whether it's a Beyoncé tribute drag show at the Cobalt or a delicious dinner party on her back porch. Anyone who's met Katie can attest to her kindness and warmth, her genuine enthusiasm, her generosity (especially when pouring you a glass of wine), and her great taste in vintage jumpsuits.
Katie joined the SAD Mag family in 2011 as Creative Director fully equipped with a vision for a magazine that was gorgeous, weird, collaborative, and completely unique (all descriptors that apply to her too). Since then she's built a community of hundreds of writers, photographers, artists and designers who are proud to be a part of SAD, while simultaneously working as a Strategist & Copywriter at Make and singing her heart out as a member of the Kingsgate Chorus. She's a beacon of all that is creative and fun in Vancouver, shining a light on the people and projects that make this city an amazing place to live. No matter how grey and rainy it is outside, wherever Katie is standing always looks pretty bright.
Michelle S Reid, Editor in Chief & Co-Publisher of Sad Mag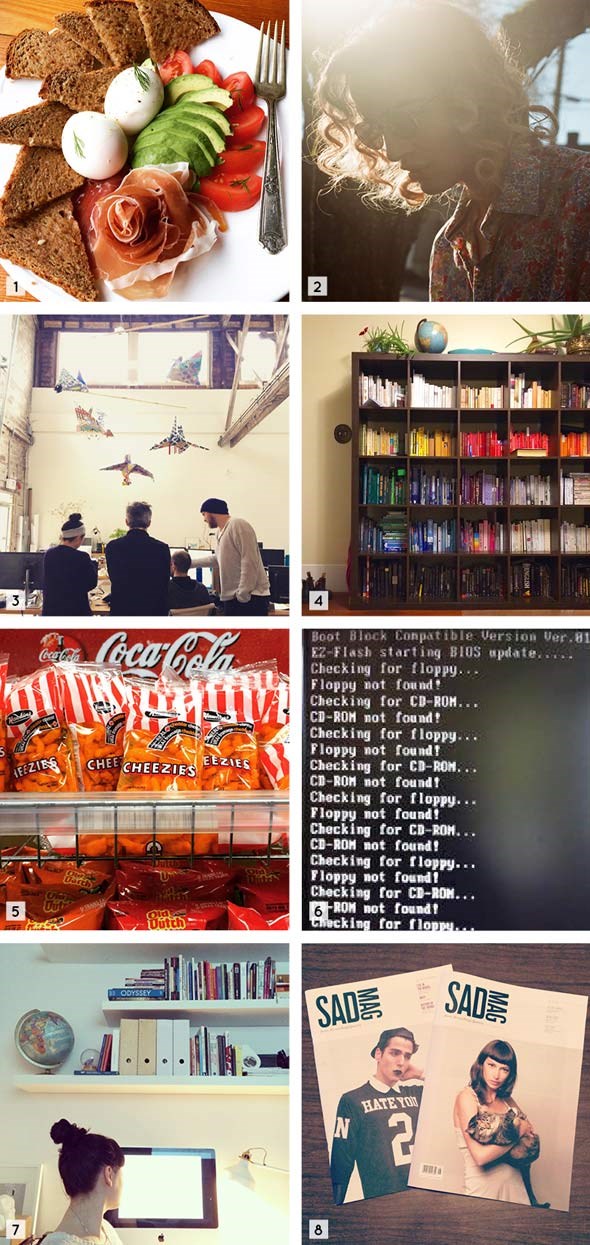 THE PROOF
1. The only roses I want on Valentine's Day are the ones made of meat. Breakie by Finches.
2. Call me a sucker, but I like taking photos of handsome folks. Shot on film of course.
3. I work with an incredible crew of Creatives at Make. Mind the giant birds.
4. The view from where I am sitting while I answer these questions.
5. I have a complicated relationship with Hawkins Cheezies.
6. I have a complicated relationship with technology.
7. The magic behind SAD Mag is being able to dream up something ridiculously wonderful, then actually making it happen.
8. We make rad mags. Maybe we should change the name from SAD Mag to rad mag. We'll see.
THE QUESTIONS
1. What neighborhood do you live in?
I live in Mount Pleasant, dangerously close to the triangle of temptation which is Matchstick, The Faux Bourgeois, and Sal y Limon.
2. What do you do and where?
I am the Creative Director and Co-Publisher of local art mag, SAD Mag by night. And by day I am a Strategist and Copywriter for a boutique creative agency called Make.
3. Why did you start SadMag? How is it different than other magazines?
I actually didn't start SAD Mag, but rather inherited it from the founders, Deanne Beattie and Brandon Gaukel. They started the mag to fill a void in the Vancouver creative scene and to disprove the notion that Vancouver is No-Fun City. Since then, the magazine has grown and evolved into what it is today: an oversized print publication with stunning film-based photography, off-kilter artwork, and witty stories from and about emerging artists and writers in Vancouver.
4. What are you working on?
At the moment we're about to launch the Cat Issue (No, 18!!) which is so, so exciting. The issue is packed with amazing artwork (Andrea Hooge, Ola Volo, Roselina Hung, Pascale Laviolette--the list goes on) and a roster of writers from the creme de la creme of the Vancouver Literary scene including Kristin Cheung (Ricepaper Mag), Dina Del Bucchia (Real Vancouver Writers Series), Cynara Geissler (Arsenal Pulp, Fatties on Ice), and Adrienne Matei (HWY Mag).
5. Where can we get SadMag?
SAD Mag is carried in Chapters Indigio and niche magazine stores across Canada. We're also carried locally by some of the best bookstores in town, including Pulpfiction (Main St. and the Drive), Little Sisters (West End), Nouvelle Nouvelle (gastown), and Blim (Chinatown).
6. What keeps you going in this industry?
Collaborating with some of the brightest, freshest creative talent in the city, being our own bosses, and making shit happen. Oh right, and then when we're done, we have this gorgeous magazine to show for it.
7. If you had a chance to start your career all over again, how would you do it differently?
Honestly, every class I've ever taken and every job I've ever worked has contributed in some way or another to bringing me to where I am today. I am so grateful to every employer who has ever taken a chance on me even though I didn't have the most experience or the best resume, because ultimately, I will work my ass off.
8. What advice do you wish someone would have given you when you were young?
Climb every mountain...no. I just wanted to quote the Sound of Music. But the sentiment is the same: take risks, be an adventurer, quit your job to go traveling, get a bad haircut because hair grows.
____________

WHEN: Sat­ur­day Feb­ru­ary 21, 2014 from 7:00pm — 10:00pm
WHERE: Make Gallery (257 East 7th Ave)
Come cel­e­brate SAD Mag's lat­est release: the Cat issue (no. 18), ded­i­cated to our feline friends (some­body had to do it)!
A 48-page full-colour stunner filled with original art, photography, and stories by Kristin Cheung, Dina Del Bucchia, Ola Volo, and more!
They will be kicking things off with a feline-inspired fashion show, curated by Blim and Keiko Boxall, at 9PM. Then they'll knock your cat-themed socks off with a dance number by the infamous Light Twerkerz dancers ft. MC AutoKrat and DJ Rich Nines.
Party hosted by Cynara Geissler: writer, editor, book publicist, and fierce defender of the selfie. Cynara is a print enthusiast (in both reading material and frocks) and her closet houses a litter of cat dresses. She co-hosts Fatties on Ice, an independent feminist podcast on pop culture, film, and new media.
Sweet beats by Philip Intile of Mode Moderne