I only hang with people who aren't embarrassed by my very loud laugh. When I met Lesli, we BAHAHA'ed over cocktails and it was instant love. Heads-a-turned, we were shot the evil eye and quiet types even asked to move to a new table. When I think something's funny, everyone knows it. And Lesli Boldt is damn funny. Aside from her wicked wit, Lesli is also a fearless entrepreneur, passionate about her politics and an extraordinary communicator. Her ability to tell your story, fight for a cause and brave the elements makes her incredibly intriguing and continually inspiring.
A dynamic marketing communications and public affairs professional, Lesli started Boldt Communications in 2001.  With 20 years of experience under her belt, Lesli quickly established a solid reputation in Vancouver for her expertise in strategic communications planning and project management. A career highlight for Lesli was managing the City of Vancouver's communications plan for the 2010 Winter Games. She was spotted at several live music venues around town during the Games - getting funky and singing at the top of her lungs.
Lesli infuses life with her intellect, compassion and charm – and she does it all with a social conscience which makes her even more loveable. She cares deeply about the work she does, and the people she works with. I adore this woman and all she has to say.  Are you listening? You won't want to miss a word.
Janine Tasaka, organizer/event planner/belly laugher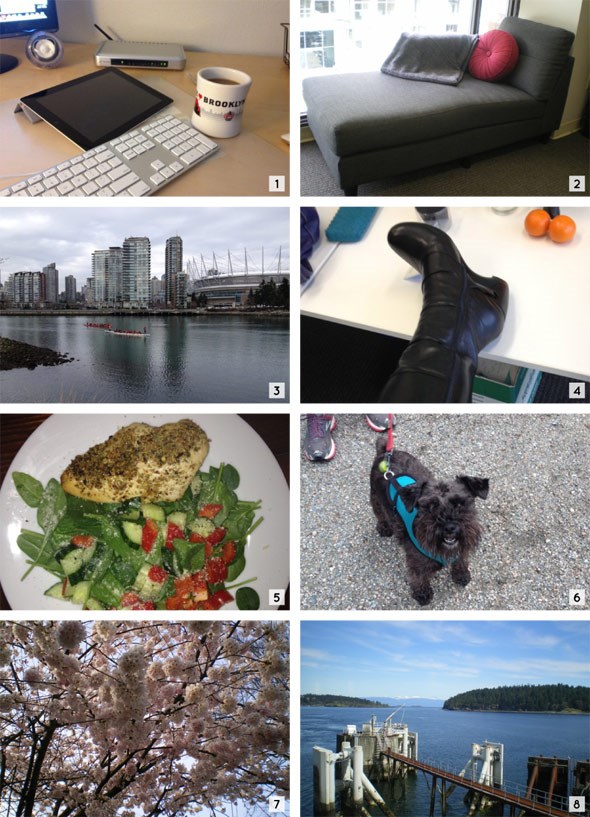 THE PROOF
1. This is what my desk at home looks like every morning.
2. The famous Boldt office chaise lounge, obtained for the express purpose of mid-day naps. #yvrsiesta
3. Dragon boaters on False Creek near Olympic Village.
4. I took a photo of my fabulous new Miz Mooz boots (end of season sale…)
5. All I really want is pizza and (lots of) wine to eat, but this is the kind of food I eat most of the time.
6. Maggie, my friend Eva's miniature schnauzer, who joins us for our trail runs most weekends. Smiling for the shot!
7. Cherry blossoms - a sign that spring is here (but murder on my allergies…)
8. Departure Bay. While I was born and raised in North Vancouver, I spent my 20s on Vancouver Island and many friends and family live there now - I'm an Island girl at heart.
THE QUESTIONS
1. What neighborhood do you live in?
Fairview (or South Granville).
2. What do you do and where?
I am a marketing communications consultant, and own my own boutique firm, Boldt Communications.
3. What are you working on?
I spend a lot of time working on communications, PR and marketing plans for my clients, which tend to be mid-size to larger private Canadian companies and non-profits. I also do a fair amount of issues and crisis management - in other words, helping my clients manage communications problems that could become (big) public issues if they're not communicated clearly, honestly and quickly.
4. Where can we find your work?
I'm kind of like a ghostwriter, so you'll rarely see my byline anywhere, although you may hear me talking about communications or civic affairs in the media from time to time. My work finds its way into the world through the voices (or websites, or advertising) of other people, and I'm totally OK with that. It's my job to help others look and sound as fabulous as they truly are. For me, the reward is helping the people I work with speak well about their work or their companies – I don't need the credit.
5. Who are your role models?
Strong and successful businesswomen and political leaders who've opened doors and set a great example for women like me – women like local communications consultant Nancy Spooner, Vancity's Tamara Vrooman, and politicians like Joy MacPhail and Hillary Clinton are way up there. Also my friend Bob Rennie, for showing me how mutual respect, generosity, kindness and expressing gratitude to one another are the best ways to get the most from the people you work with…and be a happier person, too.
6. What keeps you going in this industry?
Helping the people I work with succeed (or get out of a tough spot). Good friends, smart colleagues and great clients (often, they're one and the same). Chocolate. Also…laughter and really bad (good) puns.
7. If you had a chance to start your career all over again, how would you do it differently?
I think I'd start taking my career and myself less seriously, sooner.
8. What advice do you wish someone would have given you when you were young?
Take lots of chances and (calculated) risks to get what you want, or do what you want to do. I was far too cautious about everything – work, sports, men, life in general – when I was younger, and that held me back in some ways. Now that I'm a much older 29 (ahem), I've learned from experience that even when I mess up, I almost always land on my feet. That's given me the confidence to "go for it" a lot more and not be so worried about the outcomes – and that's also when the really cool opportunities and experiences start to come your way.