LIPSERVICE is just what it says. In no way connected to the familiar idiom, it's a wild lip sync battle event designed to serve and benefit charities and communities around the world. And it's the creation of the trinity of Mitchell Ballentine, Rachel D. Kelly, and Michelle Lazar, known as Meech. 
Inspired by a desire to help a part of the poorer majority of the world, the three put their minds to work looking for a legitimate reason to give others an opportunity to do the same. Let's bring people together, have some fun, make a memorable night, and be sure a good charity gets the best of it. So they decided to give everyday people the experience of being a superstar, lip sync battling in front of hundreds of friends and guests, raising money for charity.
Rachel, the life and energy of the group, is at the heart of making this an epic lip sync battle. Mitchell, the challenger of the band, is key to pushing and grinding to making the event happen. And Meech, the most connected woman in the world (approximately), makes sure no detail is left out. In the first two years the event has raised nearly $40,000 for Imagine1Day, a charity with focus on the growth and education in Ethiopia. It took a lot of planning, a lot of work, and a lot of favours. 
Year 3 is on the way. The fun isn't over
Dylan Ballentine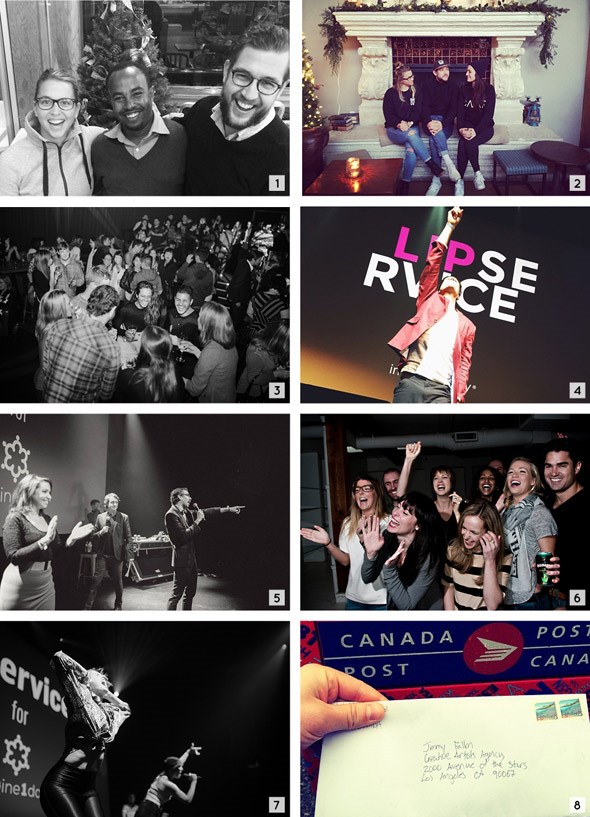 THE PROOF
1. At a team meeting in December we had the opportunity to meet and be inspired by imagine1day's Country Director Seid who is based out of Ethiopia. He shared with us first hand what a huge impact their organization is making.
2. Our team meetings usually start six months out from the event date. We meet often and typically enjoy a beer or two at whatever Vancouver restaurant we make our office for the evening.
3. We love our community! There is no end to our gratitude for the support we get from volunteers, sponsors and attendees.
4. Our performers will blow your minds. Seriously they are amazing.
5. We are huge fans of our mc's The Sunday Service. If you don't know them then you NEED to check out their weekly improve show every Sunday at The Fox Cabaret.
6. Flashback to 2013 when we were just starting out and we brought our friends to a freezing, empty warehouse to get some stock images for our website.
7. Back to our talented performers. They are our everything. Limited 2016 performer spaces available. Register here for a good time.
8. Last year we started a campaign to bring our inspiration Jimmy Fallon to lipservice. We are still mailing him letters and crossing our fingers that he makes it out for 2016. #YoJimmy
THE QUESTIONS
What neighbourhood do you live in?
We all live in different neighbourhoods but when we are together you will most likely find us on Main Street. We love to eat out, hit up the Fox to support The Sunday Service and practice our dance moves at the Biltmore.
What do you do and where?
We are the Org Crew for lipservice, Vancouver's very own lip sync battle for our rad charity partner imagine1day. Our meetings either take place at Mitch's office space in railtown or at restaurants and lounges around the city.
What is a lip sync battle?
Our lip sync battle is inspired by our idol Jimmy Fallon. This video released in 2013 is what started it all. After watching this we were excited about the possibility of hosting the same sort of competition for our Vancouver community. Three years later we can't believe how talented this city is.
What is your favourite celebrity lip sync battle?
The video above obviously holds a special place in our hearts but I would say that Paul Rudd and his rigid and ridiculous dance moves are a close second.
Why did you start lipservice?
We knew we wanted to host a ridiculously fun event to raise money for imagine1day. We love what they are up to and wanted to be a part of it. Once we saw that video on The Tonight Show we knew that we had found the inspiration that we were waiting for. Three years later we are still hosting our annual event in Vancouver and have plans to expand to another Canadian city.
Can you tell us about imagine1day?
They are doing amazing work in Ethiopia enabling primary education and have the goal that by 2030, all Ethiopians will have access to quality education free of foreign aid. They were founded in Vancouver and 100% of every donor dollar goes directly to projects. How awesome s that?! It is our goal in 2016 to make it to Ethiopia and see a few of their 487 partner schools.
Can you give us the rundown of the event?
It's all going down on Saturday, April 2nd, 2016 at the Imperial. Doors at 8pm and the show starts at 9pm. We will have 16 teams going head to head in two rounds and the audience's applause determines the placement of the teams. Each performance is 60 seconds max so performers only have that one-minute to impress. Between performances we can guarantee that our MC's will keep you laughing from start to finish.
Is there anything else you would like to share with us?
We are always keen to partner with local companies, if you are interested in getting involved hit us up here!