Lucy Poskitt is an artist. Most would say a textile artist, but I feel her success in weaving comes from a mastery of many art forms. When I first saw Lucy's weavings I was instantly hooked. The textures, the refined colour pallet and a familiarity that I couldn't explain, not to mention the mystery of a woman who would only show her feet on Instagram. You know that feeling of curiosity you feel about someone whose work has touched or inspired you? Well I felt that for Lucy, I was curious about who she was, what she did, what she did for fun?
When I met Lucy I realized the connection; she studied printmaking. There is something unique about people who make prints. There is a patience and dedication to process (very similar to weaving) but there is also a specific aesthetic that comes from printing almost every matrix in black. There is an appreciation for subtlety, for the differences in texture or slight variations of white. After knowing Lucy for over a year I have an immense appreciation for her art, her work ethic, her drive, her creativity and her wicked sense of humor. Everything Lucy does she does with intention and that is a rare quality.
Anna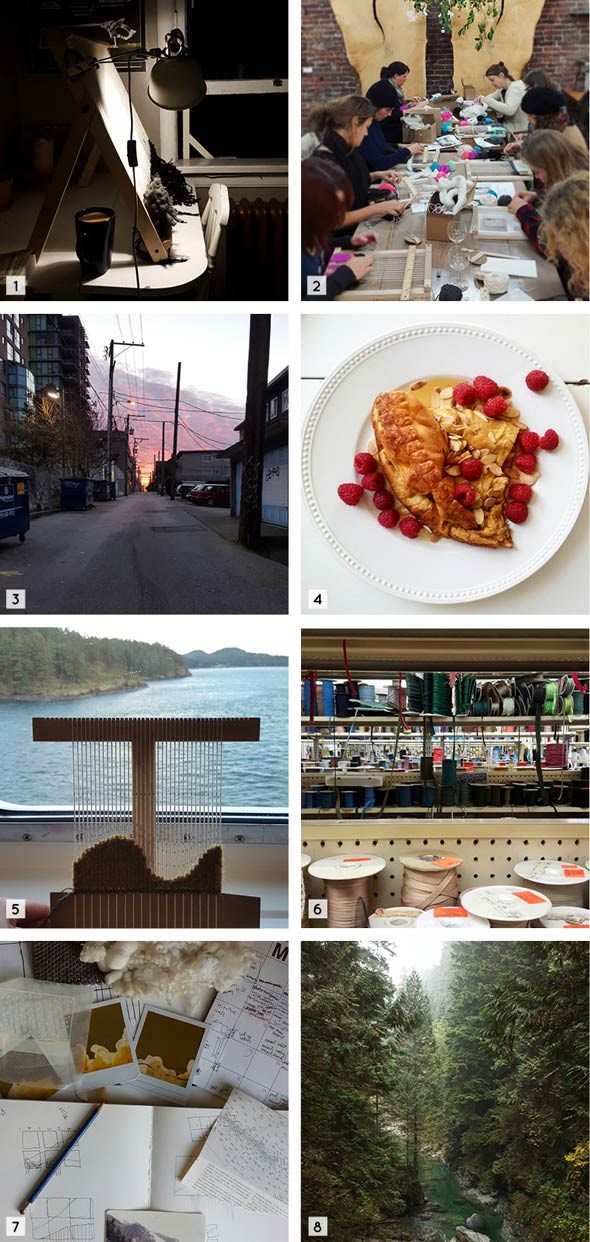 THE PROOF
1. My travelling studio: most of my looms are very portable so I have the luxury of setting up wherever I want to (here I'm at our kitchen table).
2. A lovely workshop night at Studio 126! Anna from Studio 126 also makes all my looms for classes, she's a wood-working magician.
3. A sunrise shot from the alley around my home. I'm a crazy early-riser, often getting up at 5am to get in a few hours of weaving work before I head off to work-work.
4. I cook to relax. Here we have a Dutch baby pancake, but my husband and I also make our own sausages, have a weekly from-scratch pizza night and I bake for my workshops.
5. More travelling studio, this time on the ferry to Victoria where my mom lives. I've made this journey so many times but I never tire of the views (and of dreaming of someday living on one of the islands.)
6. The Dressew basement is one of my favourite places to wander around, so much texture and colour inspiration.
7. I don't keep much of a sketchbook, but I do have a bulletin board of different clippings that speak to me. When I'm ready to put together a piece I shuffle around these little pieces of paper and texture until I'm ready to make a to-scale sketch of the piece.
8: Lynn Canyon, my favourite local hike. I've also gathered fallen lichen from here to dye yarn!
THE QUESTIONS
1. What neighborhood do you live in and why?
I live in Fairview, on the 10th Ave bike route. Being car-less, the convenience of this neighbourhood is hard to beat- I can bike most places in the same time it would take to bus or even drive! It's also surprisingly quiet, has beautiful old buildings and trees, and a lot of cute dogs that I get to creep on.
2. What do you do and where?
I'm a textile artist and teacher. I work out of my home where I'm lucky enough to have a spare room to call my studio, although my work often spreads to all surfaces of the apartment (my ever-patient husband can attest to this), and my "studio" is usually just the place my work gets shoveled into at the end of the day. I teach weaving to groups and individuals 2-3 times per month at wonderful Studio126 in downtown Vancouver and occasionally at other places around town, or privately.
3. What kind of weaving do you do? What kind of material/fabric do you use?
I guess I would call myself a contemporary tapestry weaver. I use traditional weaving methods and techniques but with a looser and more experimental hand and imagery. Most of my weaving education was working on floor looms, creating items such as blankets, rugs, scarves and table runners. As I started making my own work I wanted to create more figurative and textural artwork that could tell a story so I started to incorporate tapestry techniques into my works. All that to say: now I work on a few different frame and floor looms making lightly figurative work with lots of negative space – a sort of a tapestry / textile weaving hybrid.
In my own work I use a lot of natural fibre yarn: wool, mohair, cotton, silk, hemp, linen, etc… but I do practice and teach "conscious consumption" weaving as well, where I work with repurposed materials and textile manufacturing offcuts.
4. What drew you into weaving?
I studied a lot of printmaking at University, which slowly drove me insane. The printmaking studio, as much as I loved it, was a very intense and competitive atmosphere- cold, hard and grey. I'd always wanted to take weaving as an elective but I didn't really expect to love it as much as I did. The weaving studio was like the antidote to the printmaking studio: While still very process-based and rhythmic (something I loved about printmaking), the studio was warm and colourful, tactile and comforting. I loved it from the very first moment!
5. When do your best ideas come to you?
It sounds so cliché but nature is my biggest inspiration, specifically our PNW coastline and moody weather. When I can get out of the city and go for a hike (Lynn Canyon is my favourite), I can feel the stress roll off my shoulders and then the ideas really start to flow.
6. What are you working on right now? Where can we find your work?
I'm always working on prepping materials for classes and I'm about to start on a series of mid to large-scale pieces for Nineteen Ten Home on Main Street. I have a series of eleven small tapestry works up at Cartems downtown until the end of the month, and a few pieces at Merge in Tofino but most of my work is seen on Instagram: @luposkitt
7. If you weren't a weaver, what would you want to be?
I think I would be a baker! I've always loved to cook and considered going to culinary school several times, at the moment homey, butter-laden desserts and pizzas are my specialty. When I was a kid I wanted to live on Salt Spring Island and have a farm and bake bread all day… sometimes I think that's actually what I should be doing but add a weaving studio to that dream, please.
8. Is there anything else you would like to share with us?
I also work part-time at Urban Source, an art store that carries unusual materials from hundreds of different sources, (some of which are collected from local businesses and industries that would normally throw their offcuts into the landfill). It's an affordable way to get open-ended art supplies that spark creativity for anyone of any age and ability. Urban Source is a staple of Main Street – it's been around for 23 years in the same location, a rare thing in Vancouver! I used to come as a kid and I totally credit it as one of the defining experiences that has turned me into the person and artist I am today… Over and out.