I first came across Lukas Peet's work while visiting Roll and Hill's (A high-end lighting manufacturer) studio in Brooklyn. I instantly recognized his Rudi Light in their showroom, which I have admired for a long time. Impressed by it's refined simplicity, I posted the light on my Instagram. This led me to meeting Lukas later in Vancouver.
Lukas is an emerging Industrial Designer that comes from a family of creatives - his father a successful jeweler, and his brother, also an Industrial Designer. His childhood was spent along the Canadian Rockies, making things in his studio attic with his family. Lukas' work draws inspiration from Europe, where he was a graduate of the prestigious Design Academy Eindhoven, and his hometown of Canmore, Alberta.  His designs unite natural materials (influenced by his Canadian surroundings) and European form, minimalism, functionality and colour – breathing new life into product design in Canada, and bringing him international recognition.
Lukas is the most hard working person I know. Mature beyond his years and truly dedicated, Lukas has an unapologetic passion for design. During his off time, whether on a mountain top or at a theatre, his brain is continuously analyzing his surroundings and thinking of ways to improve design and implement ideas. It is inspiring to see these initial ideas flourish into finished product, and the high standards he maintains all the way through. This creative force is the reason why his designs have been hailed as "future classics" by design critics and have been published in publications worldwide. He inspires and participates in my work in a multitude of unique ways, and does the same for the people around him. His vision and motivation is endless.
There is a thick photo album that I have been contributing to of Lukas taking naps in various places throughout our trips. (#lukasnaps) He also has a soft spot for Wire Fox Terriers, photography and hamburgers.
Jennilee Marigomen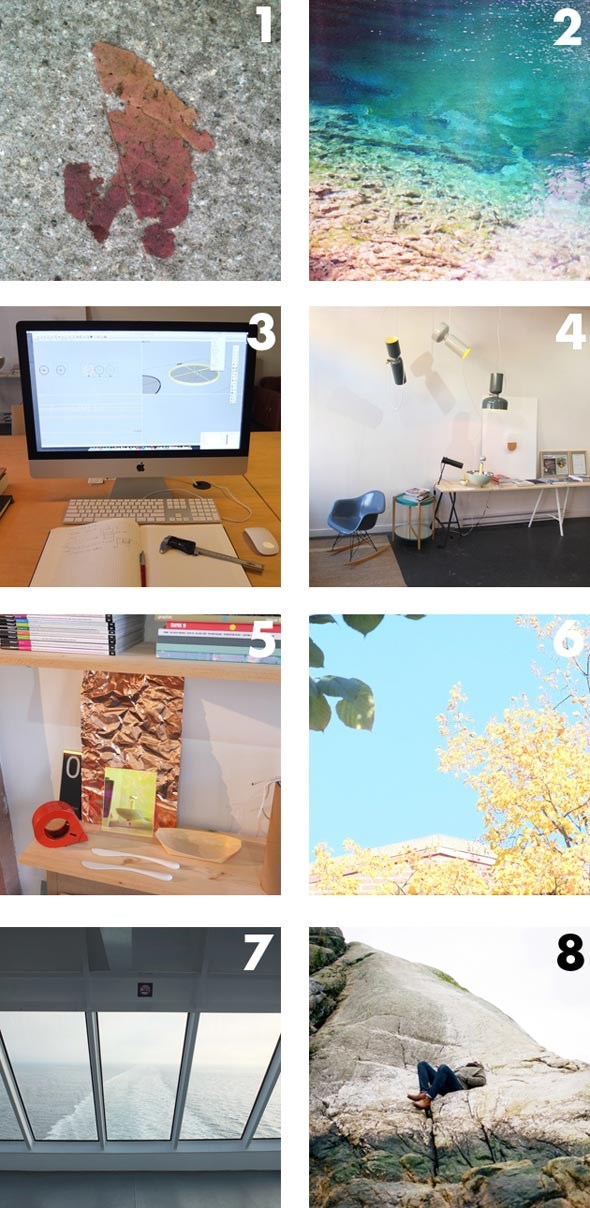 THE PROOF
1. Fall is here.
2. My favourite lake in Alberta (where i grew up).
3. 'Button' light CAD file I'm finishing up for the first round of production this week ! - 'Button" light for AND LIGHT - www.andlight.ca
4. Studio prototype and book display.
5. Detail of my shelf - Shape/Form cutlery knife prototypes, sheet of copper, Colour shifting Plastic acrylic, Veneer bowl, The best tape dispenser from Neighbour and my exhibition plaque from 'Prototypes' exhibition that BurnKit put on a few years ago.
6. View from the studio today.
7. Ferry Trip a few weeks ago.
8. #lukasnaps photo at Whytecliff from Jennilee. I like to nap in nature.
THE QUESTIONS
1. What neighborhood do you live in?
Strathcona
2. What do you do and where?
I am an industrial Designer, I have my own studio in China town where i design for companies including a new Vancouver based lighting company ANDLIGHT - ANDLIGHT.CA , As well this year i will be producing some of my own work and selling it through my website (lukaspeet.com) and select retailers.
3. What are you working on?
Currently I'm working on the first production versions of 2 lights for ANDLIGHT. A project with UMBRA, a new light for ROLL & HILL and a piece for Presentation House fundraiser.
As well as working on refining some of my own designs for 'self' production
4. Where can we find your work?
Currently in Vancouver - you can get my 'Rudi' series of lights for Roll & Hill at Lightform. The rest of my work is around the studio.
Some pieces will be published in some upcoming magazines including WALLPAPER*, BC Living, Gray Magazine, KAZA ( brazil)
5. Who are your role models?
My Father Rudi Peet. Growing up with a goldsmith as a father allowed me to make objects in silver and gold at a very young age, as well as experiment with a lot of mediums. - www.rudipeetgoldsmith.ca
Aldo Bakker - My ex tutor from Design Academy Eindhoven. Amazing work and a great person. - www.aldobakker.com
Niels and Nancy Bendtsen - For the support and the level of quality design objects and events they bring to Vancouver. The biggest force behind the design community in Vancouver. - www.informinteriors.com and www.bensen.ca
Omer Arbel - The Quality and detail of engineering behind his designs and how it is contrasted by the organic forms and process' of production, and the amazing growth of Bocci as a world wide company. As with Niels and Nancy Bendtsen its inspiring to see what can be done locally.  - www.omerarbel.com and www.bocci.ca
6. What keeps you going in this industry?
The possibility I have to create something new every day.
7. If you had a chance to start your career all over again, how would you do it differently?
Nothing, I have no regrets. I choose what i think is the best choice at the time.
8. What advice do you wish someone would have given you when you were young?
Don't know. But my favourite dad advice is
"What ever happens keep smiling" - Rudi Peet
If you were going to recommend a creative to VIA, who would it be? (optional)