If you ever wondered what you could possibly do for your community, Mark already knows. And more than likely has already told you. Mark understands what our little city lacks and needs, but always sees these as opportunities. Mark will always see a way for you to contribute, even if you don't think you can.
With experience, context, and perseverance, Mark has embodied the role of an entrepreneur, but also as a pioneer in not just talking about community issues (as so many of us do), but promoting change by pointing fingers and kicking asses.
As a well respected design professional, creative community activist, and self professed (and indulgent) food fanatic, Mark contributes to the social thread of engagement and inclusivity by utilizing the simple ratio of 2:1, with two ears and one mouth. He hears twice as much as he says. He listens, catches the pauses between lines, sees more than the obvious, then challenges us all to see past what we already know. It is through those experienced lenses of his omnipresent glasses, that he is better able to see the potential, the excitement and all those little things that most of us miss on a daily basis.
When you see and hear Mark, you get a better idea of what you are capable of achieving and contributing to your community. He does this by example, and by encouragement that knows not of the word 'No'. He takes us to places we have not been before, and does so for our benefit, not his own.
Johnathon Vaughn Strebly
Principal, Epix Studios
President (BC), Society of Graphic Designers of Canada
Founding member, CreativeMornings/Vancouver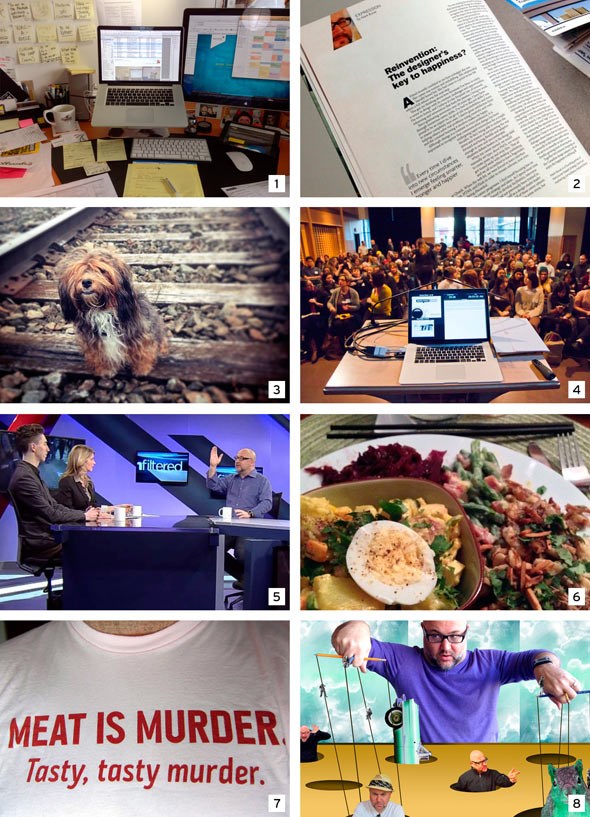 THE PROOF
1. This is my desk on a typical day at Industrial Brand, often a mix of administrative paperwork and creative clutter.
2. A recent article about life as a designer and how reinvention and constant learning are sources of happiness.
3. My cute (and rambunctious) dog Pepper on a recent walk along railway tracks.
4. My view from the stage of a recent CreativeMornings/Vancouver event. (Aren't CMVan crowds good looking?)
5. Here's a screen shot of me ranting (as usual) on Unfiltered with Jill Krop.
6. The "GermAsian" (German meets Asian) meal my wife and I concocted for #DinnerPartyYVR.
7. One of my favourite t-shirts. I love the looks on people's faces when I wear it in public.
8. A silly photo montage one of my staff made to represent me and my crazy life these days. I thought it appropriate somehow.
THE QUESTIONS
1. What neighborhood do you live in?
I "temporarily" moved to East Van a dozen years ago and never left. You can often find me wandering up and down Commercial Drive with my wife and little dog Pepper. There are many great neighbourhoods in Vancouver, but there's something special about the cultural, creative, and community vibe on The Drive.
2. What do you do and where?
I do a lot of things actually and have been labelled designer, strategist, writer, speaker, teacher, community activist, even media commentator. My favourite labels are volunteer, friend and food fanatic. My "day job" is managing partner of a brand strategy and communication design firm called Industrial Brand which I co-founded with Ben Garfinkel 17 years ago. Our funky loft studios are located just off Main Street across from the new Red Truck Brewery and upcoming Emily Carr campus and we always have a fresh pot of Elysian coffee on, so swing by for a visit!
3. What are you working on?
I spend much of my days overseeing business development and client relationships for our firm, although my love remains design and I try to keep my fingers in as many projects as I can. Most of our clients these days are architecture, engineering and other firms related to the built environment who are seeking ways to express their identity and tell their stories in meaningful ways that allow them to thrive in a difficult economy. It's challenging, but rewarding work. I also spend a lot of time serving the the design industry as an executive with the Society of Graphic Designers of Canada as well as volunteering in my city by producing and hosting community engagement events such as Likemind Vancouver, Interesting Vancouver, and CreativeMornings/Vancouver.
4. Where can we find your work?
There are examples of my work scattered around Vancouver, but I suppose one could start at markbusse.ca and follow the various links. If you're interested in design nerdery, start with industrialbrand.com. If you're a food freak, then foodists.ca is for you. Or if you want to connect with interesting Vancouverites for a free breakfast and inspiring talk about creativity, then hit creativemornings.com. Better yet, come visit me and let's show each other our work in person!
5. Who are your role models?
You are. Yup, you. I have been fortunate to have loving parents, daring teachers, and wise mentors in my life and career, but the net result of my journey has been to realize that everyone has the potential to be a role model. My job is to remain open and be a sponge (but not suffer fools obviously). Shout out to my dad though for being a special kind of quiet, intelligent, humble, and wise role model.
6. What keeps you going in this industry?
That's a tough question I'll not be able to articulate well here. I will say that I am fascinated by creativity and how challenging that is for many people. And I am reminded daily that we take so much of the world around us for granted. The application of creativity and craft to solve problems that helps people and companies thrive is addictive. I've had many opportunities to make huge leaps in my career, but always return to the satisfaction I derive from owning my own design consultancy and collaborating with super smart people like my partner Ben and our team.
7. If you had a chance to start your career all over again, how would you do it differently?
Ah yes, the "if you had a time machine" question. I feel like saying I wouldn't do anything differently because I found my way. But if I knew what I know now, I'm pretty sure I would've chosen a different career path. I know I would've cut myself some slack and jumped into more things without the fear of failure. Turns out failure is an awesome learning experience.
8. What advice do you wish someone would have given you when you were young?
Stop talking so much and listen more.