Russell hails from Smithers BC, a small town nestled in the mountains, where his earliest years were spent with his quintessentially Canadian family (his father - a lumberjack, mother - a librarian) in a log cabin complete with a moon-door outhouse. This idyllic mountain upbringing has certainly influenced his artwork, which exudes a calming joy & childlike playfulness. His universe is filled with benevolent creatures who wrap you in a warm smile as they frolic in lakes and climb over mountaintops; their enormous size creating the sense that the world is a wondrous playground to be enjoyed. As one must do, Russell left his hometown for Vancouver in order to fulfill his dream of being a full-time artist. He now has a thriving business in which he can share his feel-good vision with the world through screenprints and greeting cards. He has also exhibited his artwork in BC and the US, and is featured in private collections worldwide.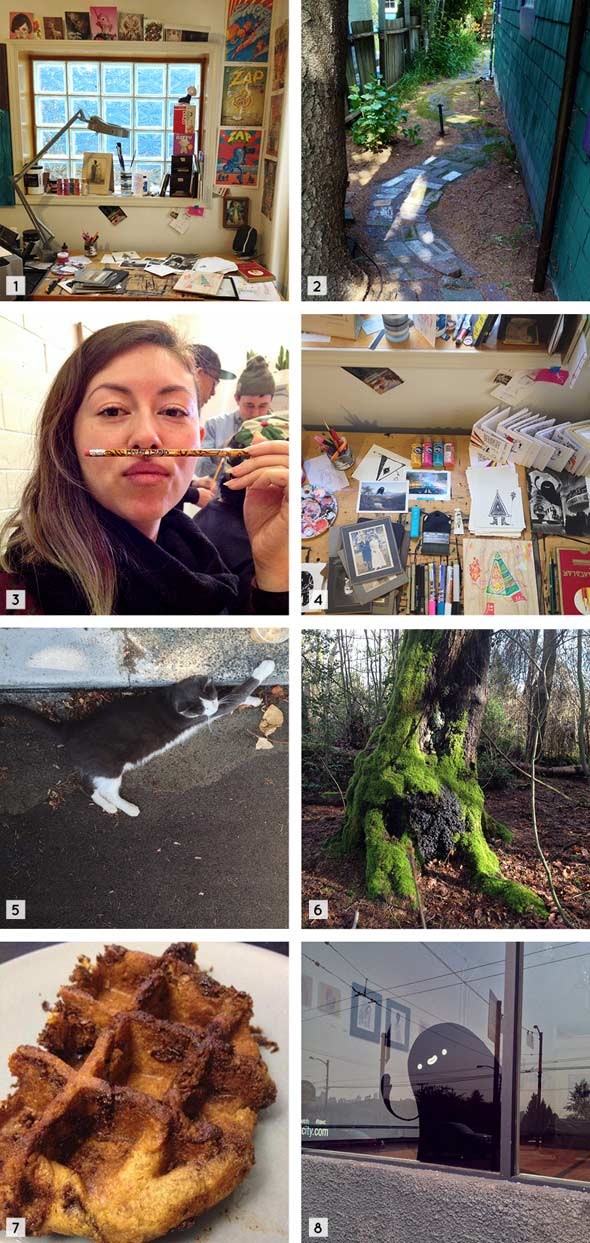 THE PROOF
1. I moved a mountain of paper and found my desk!
2. The secret mossy path from my front door. Looks idyllic until you navigate it in the dark.
3. I'm blessed, because I get to hang out & create with my favourite human every day.
4. Some critical tools & supplies. Not pictured: coffee.
5. A neighborhood cat named Hobo Wayne. I'm allergic to cats so just getting to meet them on the street for a few minutes is nice!
6. Moss & forests are important. I'm lucky to live close to Pacific Spirit Park & love to wander it.
7. Listen. You take the chocolate-chip cookie dough & you put it in a waffle iron. That is all.
8. A friendly Gleep-Glop! He bids you good day & good luck in your adventures.
THE QUESTIONS
1.What neighbourhood do you live in?
I'm in Kits, in a dilapidated old house that doubles as studio space for my partner Mandy & I. It's a very chill neighbourhood. I walk up & down the alleys and sometimes find old books & framed pictures that I use for my art, but mostly I find lots of friendly cats.
2. What do you do?
I'm a full-time artist, so I get to work whenever I like, as long as it's all the time.
3. What are you working on right now? Where can we find your work?
I've just finished work for a collaborative show with Mandy Tsung. Our styles are very different so it's always fun to see how they intertwine! The show is up at Hot Art Wet City until July 25th, so go check it out! Otherwise I recommend you follow my instagram to see my art as it's made, and my website which is updated practically never.
4. How did you come to be a artist?
My parents were very encouraging & facilitating of creative expression since I've been able to scribble. One of my earliest works was drawing all throughout an expensive medical dictionary. As it's always been a part of me, art is a way for me to translate & communicate ideas more effectively than words sometimes can- so I'll always use art to navigate & explain the universe.
5. What inspires your artwork?
Inspiration can come from all sorts of angles; from colour combos to interesting geometric patterns to fashion to the environments you picture yourself in when music is playing, but humor might be #1 for me! If I can picture a way of surprising people & making them smile I'll want to get it down right away. I can't rely on waiting for inspiration, though. You gotta kickstart it by putting pen to paper & just going for it! That's the process I've always used. My drawings & characters & their stories form organically, each line informing the next.
6. When do your best ideas come to you?
Just when I'm falling asleep & my brain is sorting & filing through all the data it's absorbed. I do a lot of note-writing & concept-jotting then. I very rarely read my notes, but the act of writing it down helps solidify ideas in my skullmeat.
7. If you weren't an artist, what would you want to be?
I was pretty certain I'd grow up to be a scientist when I was young. Exploring & discovering more about our planet, the people on it, and the worlds beyond enriches our respect & appreciation of all things, and ideally helps us realize the need to all help each other. So, either that or own a cat café.
8. Is there anything else you would like to share with us?
If you're reading this, I just want you to know that you're capable, wonderful, and we're all rooting for you.