As Stefanie's sister and close confidant, I've always known her to be a self-possessed and determined person who is drawn to unusual and physically demanding challenges. Whether trekking solo in the wilderness to collect soil samples, dangling off the sides of ships in dry docks around the world, or climbing 300-foot cell towers, Stefanie is in her element when she is industriously pursuing her own path.  As a woman and sometimes foreman in heavily male dominated industries, she's had to work exceptionally hard to earn the kind of respect that would automatically be granted to any dude doing the same job.
It's been a privilege to watch the evolution of Stefanie's artistic metal work over the years.  From abstract insect sculptures to modernist flatware and amorphous forms, she is always experimenting with form, textures and finishes, and challenging herself to push her work to new levels. Stefanie's exquisite craft has been featured in numerous publications and shown in many cities. She was the recipient of the BC Creative Achievement Award in 2013.
Melanie Dueck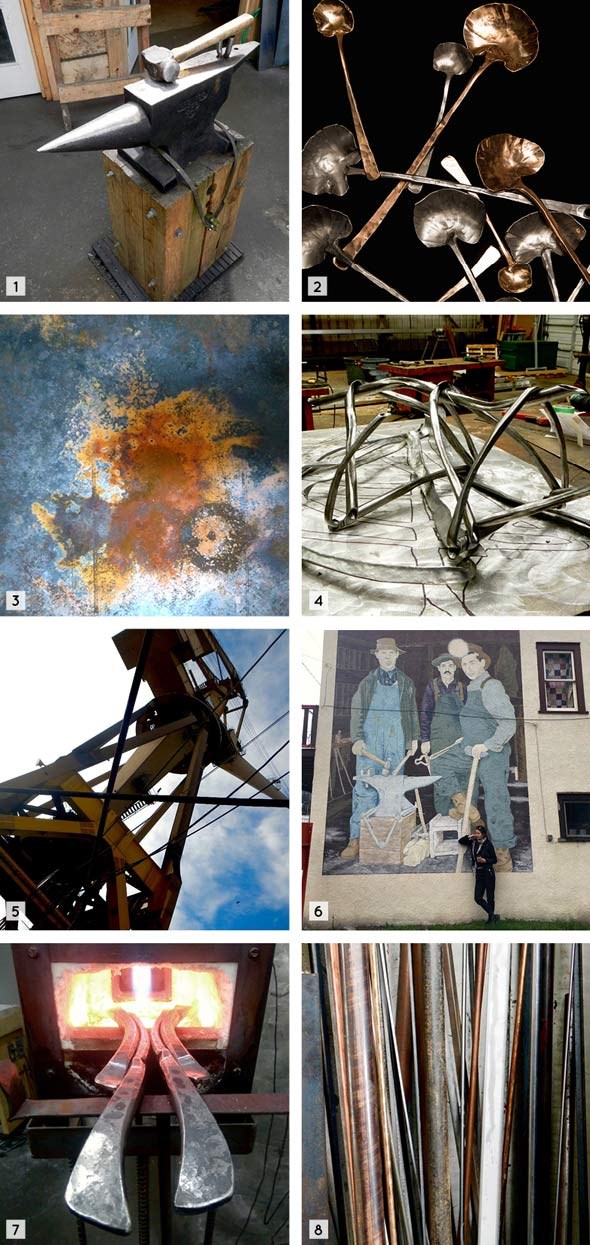 THE PROOF
1. My Anvil, this is where I am stationed for a significant part of the day.
2. "Smash" spoons, in stainless steel and bronze. Photo by Bright Photography.
3. Gun blue and ferric nitrate, my work bench always gets a makeover after working on patinas.
4. A recent sculptural in progress
5. I frequently draw inspiration from industrial settings.
6. Finding my people in Hedley, BC.
7. Custom door handles heating up in the forge.
8. Steel, bronze, stainless steel, copper.
THE QUESTIONS
1. What neighborhood do you live in and why?
I live in Railtown/Downtown Eastside.  I could fill pages with the pros and cons of living in this neighbourhood, but for the most part I enjoy living next to the port and being within cycling distance of most destinations.
2. What do you do and where?
I design and create artistic metalwork, including but not limited to, hand forged flatware, custom hardware, and sculpture, from my studio in East Vancouver.  
3. How did you come to be metal artist? What drew you into forged flatware?
I have always enjoyed working with my hands and was drawn to sculpture from a young age.  I discovered the metal shop in art school, and found that it appealed to both my practical and creative sensibilities.  My first spoons were forged to entice the talented students in the ceramic department to trade their wares with me, and it just kind of snowballed from there.
4. Could you describe your process?
I spend a lot of time doodling and this is where most of my ideas begin.  Next, I will cut up some metal, light the forge, and start hammering.  When developing new products or sculpture, I will often make numerous samples and prototypes.  Though much of these will end up in the scrap bin, I find that dedicating time for experimentation and play is crucial.  Components are then assembled by welding or rivets, and finishes usually involve some combination of sandblasting, chemical patinas, and multiple days polishing in the tumbler. 
5. What is your most cherished tool?
My most cherished tool is my 2.6lb Hofi style rounding hammer.  This was one of my first purchases when setting up my studio and has been my go to hammer ever since.  
6. Which of your designs are you most excited about right now and why?
I am developing a new series of spoons right now called "Smash".  I purchased a power hammer recently and this design came about as I was testing it's capacity.  This is exciting to me because it represents the potential of having mechanical advantage and a whole new method of working.  
7. If you weren't a metal artist, what would you want to be?
An entomologist, conducting field research and collecting specimens deep in the amazon and other remote locations. 
8. Is there anything else you would like to share with us?
Come check out Kate Duncan's Address Assembly, where I will be exhibiting my flatware  alongside over thirty other designer makers.  Hosted this year at the Ellis Building, 1024 Main St, May 25th - 28th.