I first met Steve about five years ago at a conference we both attend annually—Social Venture Institute. He impressed me immediately with his deep, attentive presence and his easy cadence. He seems to pack the wisdom of an octogenarian under his unfathomably tall coif. Steve and I regularly bumped into each other at community events and other conferences over the years, and became friends.
As an entrepreneur, Steve's smart, savvy, and dedicated in his work. His mission-driven clients continually benefit from his innate ability to marry sound strategy and superior technology. When he talks about his business, the first topic is more often his team, and what he's working on to help each team member learn and develop. And when he engages with a client, he inspires them to consider new approaches that make them more effective. It's a degree of caring that Steve carries at every turn.
As a soon-to-be husband, Steve's love for Austin is a beautiful thing to watch. He's mindful and attentive at every turn. It's a mix of respect and adoration that shines through in a way I can describe only as honour. And he's stepping into the role of step-dad with a grace that makes it look easy.
And as a friend, Steve's the kind of guy you want to see succeed in every way, simply because he deserves it. Whether we're catching up over a pint or a meal, walking the neighbourhood of our offices, or hiking in the woods, I always enjoy our conversations and shared time. 
Share some time with Steve Rio, and you'll walk away informed and inspired, with a smile on your face and a spring in your step.
Mike Rowlands
Principal, Junxion Strategy
Ambassador, Social Venture Network
Executive Producer, Social Venture Institute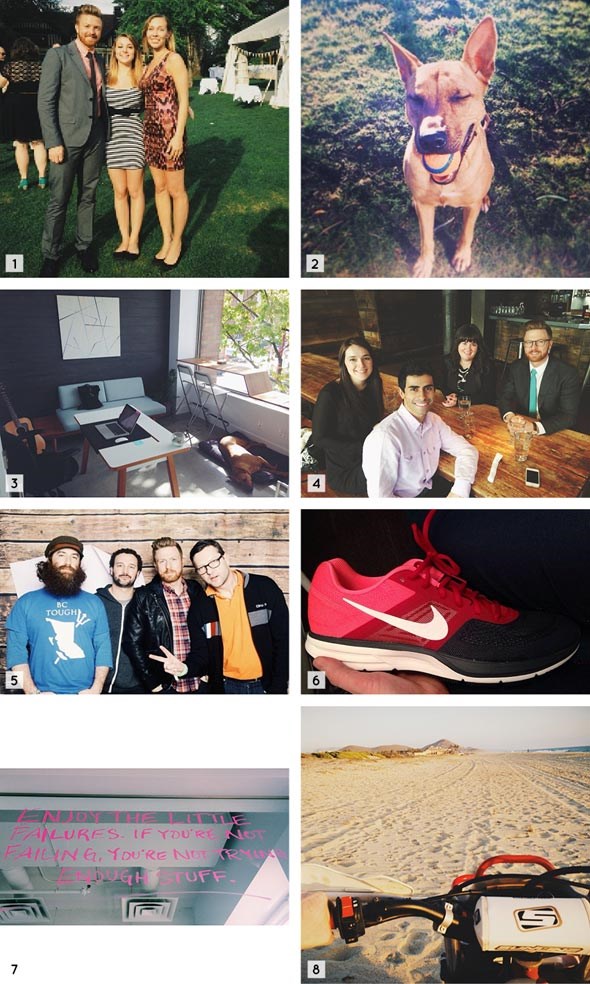 THE PROOF
1. I'm getting married this summer to an incredible woman named Austin. I'm also inheriting a wonderful daughter. 2 for 1. I feel pretty blessed. 
2. Bamboo is my spirit animal and probably the cutest & smartest dog ever. She comes to work with me everyday and is the Director of Interruptions at Briteweb. 
3. This is my office at Briteweb. It's nice to have such a bright, serene spot to think and create from. 
4. Briteweb has an office in NYC, so we're there pretty frequently. Here is a shot of the Briteweb directors post-presentation enjoying a fine bourbon.
5. I travel a lot for work. Lots of conferences. SXSW was a particularly fun one this year.. I partied with these Vancouver celebs a bunch which was a pleasure. (Kris Krug @kk, Malcolm Levy @mal_levy, Mike Tippet @mtippet)
6. I kinda have a sneaker addiction. These were my latest relapse. Probably the most comfortable shoes I've ever put on.
7. I put these messages up on one of the windows in the office every week. Sometimes they're poetry, or quotes or sections of articles/books I'm reading.
8. A happy place from a recent trip down to Mexico with friends. First time riding a motorbike on the beach. 
THE QUESTIONS
1. What neighborhood do you live in?
I live on the water in Yaletown in front of Coopers Park. I love how close we are to everything while living in such a quiet peaceful spot. Bamboo is a big fan of the dog park as well so that's a bonus. 
2. What do you do and where?
I'm Founder & CEO of Briteweb. We work with game-changing leaders and organizations, providing strategic brands, communications and digital solutions. My office is a quick walk or bike ride away in Chinatown. 
3. What are you working on?
Managing team culture and vision of a fast-growth agency and SaaS product company. Re-learning my role and job every time the stakes change. In my personal life I'm working on being the best step-dad I can be.
4. Where can we find your work?
All over the internet! Curated collection at www.briteweb.com.
5. Who are your role models?
Jay-Z is definitely one. Watching how calculated and intelligent he's been in his career and life is an inspiration. He's solid on the home-front as well and carries himself like a gentleman in all situations. Hafiz is another. His work provides grounding and humility and a reminder to always love.
6. What keeps you going in this industry?
Making impact and innovating. The sense of pioneering. Also, my time in the woods, oceans and yoga floors keeps me going.
7. If you had a chance to start your career all over again, how would you do it differently?
Read more. Ask smart people more questions. Focus as much on the relationships as the technical aspects of what I was doing.
8. What advice do you wish someone would have given you when you were young?
There are smart people who've done this before, buy them lunch or beers as often as possible, ask smart questions and listen closely. Vulnerability is your biggest strength. Success is meaningless if you're not grounded enough to enjoy it with the people you love most.