Besides daringly driving off road racing cars dangerously fast right off the road, pumping up pop, rock and jazzy jams on top end boutique stereo systems, scouring kitty corners of the country collecting ceramic bric-a-brac and snazzy nic-nac crafts, lighting his JG Ballardesque glass walled crib with modern Neon-art, impressing gobsmacked dinner party guests with an astonishingly simple and mouth wateringly effective orange reduction, spouting off Tweetables at an alarming rate on a plethora of topics from a vintage Eames throne, lecturing, consulting, brainstorming, curating, rating, and curing, and not really making a lot of stuff because the world has enough stuff already, and all the while rubbing the design community this way and that ;o) Todd is the guy behind The Canadian Design Resource. The site for soaring eyes and Maple infused skies, unflagging patriotism for the flag, the musty must have scent of nostalgia in the old nostrils, and standing avant garde for thee in mukluks. No distinction between high and low, academic and street, corporate and personal, commercial and non-commercial, famous and obscure, cutting edge and cutesy wutesy. One stop Windows shopping for our identity, for our brand – brand old and brand new. 35,000,000 Canadians thank Todd.
Kurt Swinghammer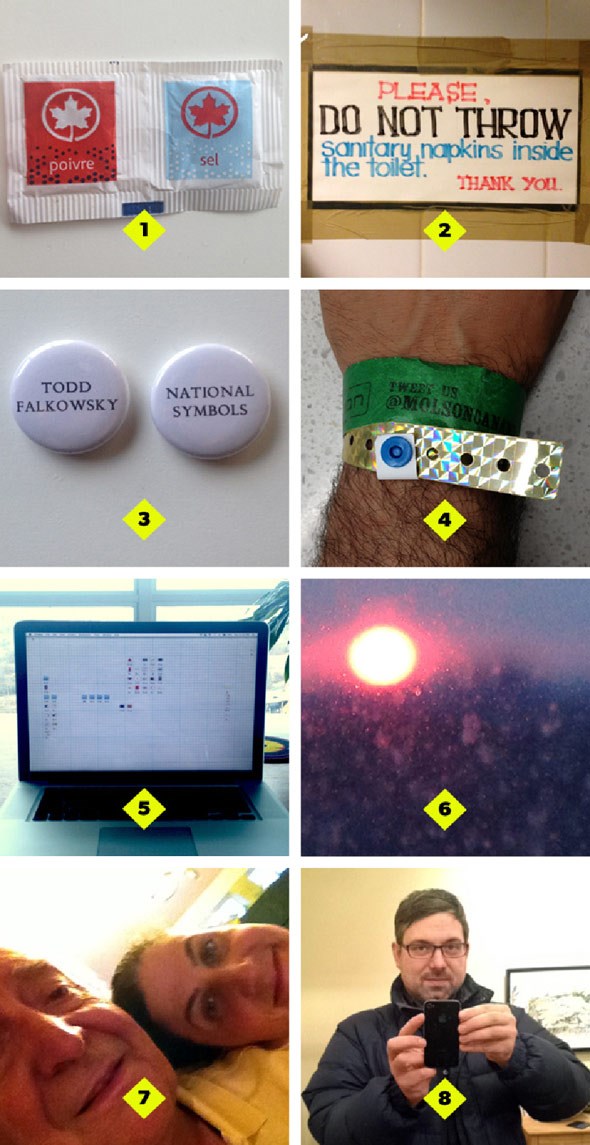 THE PROOF
1. Good design is everywhere. We just need to see it and clebrate it a little by taking note.
2. Bad design is everywhere. Reminding us of why designers exist and of all the places that will benefit from some interaction.
3. Very fun project leftovers (Trampoline Hall). I like keeping these little bits and bobs of projects, the little pieces that remind you of your design life and creative journey.
4. Backstage is best. My secret joy is getting posh treatment...backstage passes, VIP lounges, upgraded reward programmes, bumped up to business class, green rooms, and side entrances. I just like feeling a little rewarded, and on the inside. Seeing things that are hidden.
5. Laptop is my office space not my playground. I do not use my laptop for anything but work. I was using it for everything and have cut back on this now. I want to give my eyes and mind a break. Going for a walk is just as inspired as Googling something.
6. Sunsets should always amaze, relax and inspire us. The natural world is such a stunner...I remind myself daily to see it and take it in. Connecting to it and feeling that I am a part of it, even if we are small like a grain of sand, or a single drop of rain.
7. Some of the people I love most. I am a people person, I want to learn more about the ones that are close to me and work with. Everyone's story is unique and interesting.
8. 'Selfie' for the 'selfie' decade.
THE QUESTIONS
1. What neighborhood do you live in?
I used to live close to Granville Island and kinda miss the waterfront, bloooming flowers, and salty air. Vancouver is all about the waters edge, and being close to the tides rolling in and out, and the trade winds blowing in. I used to want to live in The Cube downtown, love that building so much, but the douchy developerism of it all kept me away. Now I live in a two year old glass tower, ceiling to floor windows, stainless appliances, and lo-flush toilets...feels like a fish bowl and interior decorators wank. I don't live in a neighbourhood, I stare down at one.
2. What do you do and where?
I am a design consultant, always working on a few things simulatniously. I help companies connect and unlock creativity and design, plan thought provoking exhibits and events, create projects that help Canadian design go global, and I publish The Canadian Design Resource to help spread the word on the best design in the country (celebrating its tenth anniversary this year).
3. What are you working on?
I am working on a major project about Brand Canada, planning two events/exhibits for Canada's upcoming 150 anniversary celebration, a business incubator for our First Nations design, a design radio show, and always pushing and growing The CDR.
4. Where can we find your work?
Google me, and head, here and here.
5. Who are your role models?
I continue to learn from my brother, a super bright thinker who keeps me grounded, and my parents (who obviously continue to keep me feeling safe and sound). Professionally I admire the creative lives of Marian Bantjes, Allan Chocinov, Karl Heiselman, and the joy of my life Hannah Wise for keeping me warm and loved.
6. What keeps you going in this industry?
The desire to make things happen and to crank the volume up on Brand Canada. I know the power of design and Canada is just on the edge of really getting it to add up on all fronts; politics, education, product/graphic/fashion design, policy, export/foreign aid, infrastructure, architecture, value adding resources, first nations, and so much more. The imagination gap is narrowing, and a major flip is about to happen. Being so close to the font line during this shift is super exciting, now there are so many of us working to kick Canada into the creative economy, building and evolving this country with thousands of great ideas.
7. If you had a chance to start your career all over again, how would you do it differently?
Hmm, great question. I think that I have had a very broad life, and have tried a few directions as my life unfolded and rolled along the path. I would have liked to have taken more time to enjoy the places that I have been. I can be a little 'grass is greener', and sometimes can get out of synch, looking to the future more than the moment. I would like to be more present, and savour the time I am in.
8. What advice do you wish someone would have given you when you were young?
I am not sure if the young take advice that well. I want younger people to turn off the devices and go out into the real world for their experiences and face to face connections. The world is in need of this first hand contact...empathy, connections to real issues, passion, things you can only get when you stop staring at a screen. We need to light fires, not just click 'like'. Young people, get outside, and fall in love with real things, not just Googled life. We need you to be engaged, not just entertained.