Zoe Pawlak is a contemporary artist working with private clients, interior designers and select brands.
Zoe's work has been featured in Martha Stewart Living, Style at Home, Rue Magazine, House and Home, the Guardian, the Globe and Mail, CBC National News, the BLOCK magazine, Design*Sponge, the Jealous Curator, Oh Joy! and more.
Zoe has worked with The Property Brothers, lululemon, The Cheaper Show and Farmboy Fine Art. Zoe also lectures all over North America on Art and Entrepreneurship. She is represented by Uprise Art in NYC.
Zoe's paintings are in the private collections of Cobie Smulders, Cristina and Trevor Linden, Grace Bonney, Jodi Balfour, Joy Cho and hundreds of private collections internationally.
She is currently showing at the Fig House in L.A. curated by the Jealous Curator and designed by Emily Henderson and will release her first line of rugs with the Burritt Brothers in November, 2013. Her first line of textiles will be coming out in the Spring/Summer of 2014 in collaboration with Nicole Bridger.
Zoe received her BFA from the esteemed NSCAD University and studied painting at Montreal's Concordia University and the Universidad de Las Americas in Cholula, Mexico.
Zoe exhibits her paintings in solo and group shows internationally and is also a sought-after public speaker, consultant and curator drawing innovative connections between today's market and how buyers are collecting art.
Cheri Hanson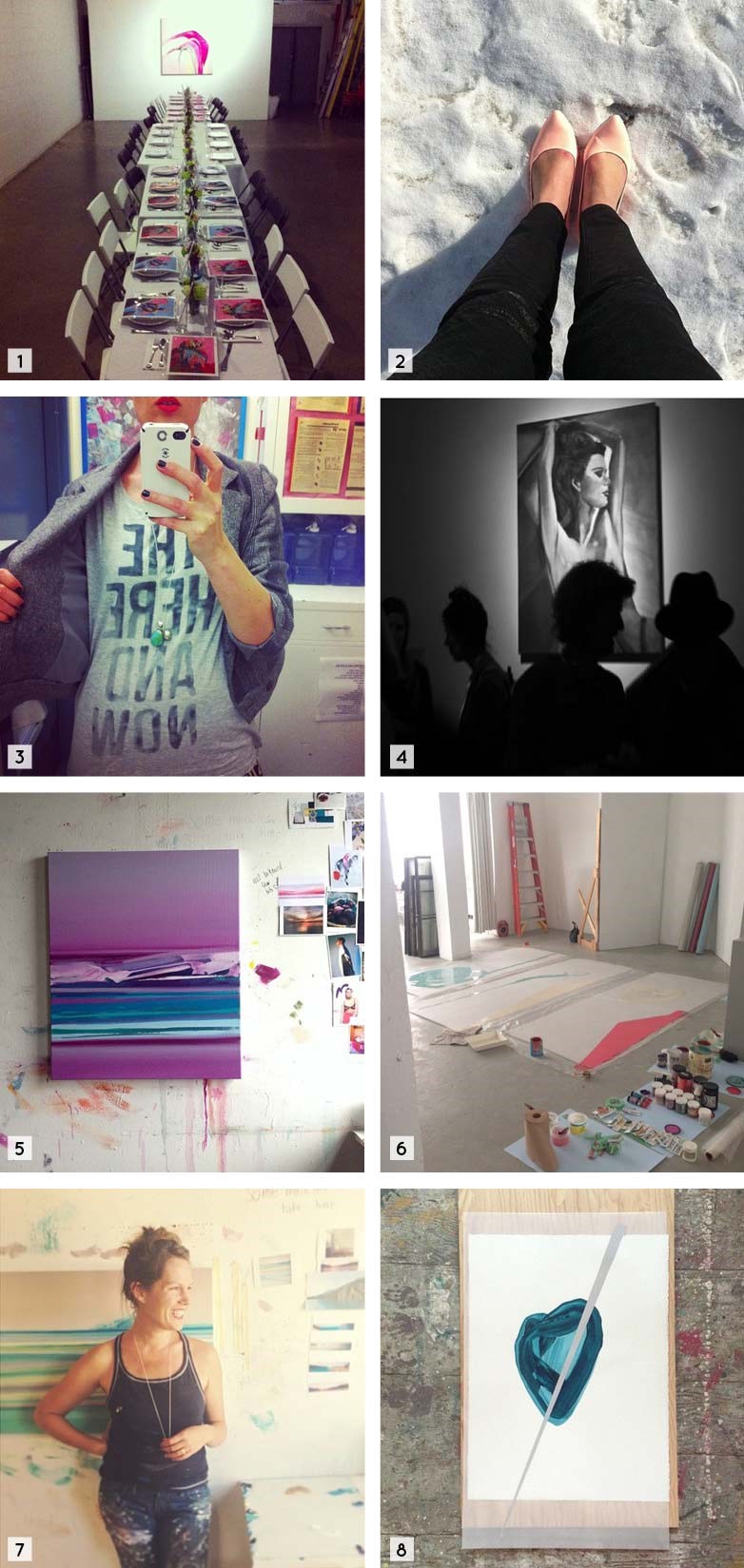 THE PROOF
1. This is a dinner I host every year for my collectors. It's a blast getting the fancy strangers I love all together and eating in community. Too much wine and good times are had by all and it is by far the best night of my year!
2. I love to travel to meet clients and designers. This is a recent trip taken to Calgary where I have made some great new friends and clients!
3. The HERE AND NOW are where i am determined to live. I have spent far too long in other locations.
4. This is my work in a show in Amsterdam earlier this year. What a trip!
5. This is a picture of new work and my studio. It is my most favourite place in the world.
6. I recently got the chance to do the art backdrops/set for a big high-end fashion shoot in Toronto. That was FUN and so much work!
7. Here's me in my studio. I am very happy here.
8. This is new work. Some at in NYC and some are at The Cross.
Follow Zoe on Facebook, Twitter, Instagram and Tumblr.
THE QUESTIONS
1. What neighborhood do you live in?
Strathcona
2. What do you do and where?
I am a painter, public speaker and rug designer working from a beautiful studio at 1000 Parker Street.
3. What are you working on?
I just designed a line of rugs with the Burritt Brothers and some textiles with Nicole Bridger. I am making some paintings for clients in Toronto, Nashville and Boston and speaking at various public events and Universities. The internet is amazing!
4. Where can we find your work?
Locally, you can come to my studio by appointment or find my work at The Cross, in LA, it's at the Fig House and in NYC at various locations curated by my gallery, Uprise Art in New York. I'm just waiting to hear if they are taking my work to Miami.
5. Who are your role models?
Valérie Blass, Shary Boyle, and my grandma. She is SO funny. I want to be that faithful and funny.
6. What keeps you going in this industry?
I love my clients. I get to work with the best people. Plus, it beats waitressing, which was my last job.
7. If you had a chance to start your career all over again, how would you do it differently?
I would follow my intuition more. I am JUST starting to not care about other people's possible judgements and this is most healthy in this career.
8. What advice do you wish someone would have given you when you were young?
I got a ton of great advice early on. I asked everyone who would give me a moment of their time.