If this series we launched in January is meant to highlight books that "give you a greater understanding of the past, present and future of the city, province and country you call home" (it is) then The Walrus and Canadian Geographic's 'The Story of Canada in 150 Objects' is, so far, the best one we could possibly recommend to you. Sure it's technically a magazine and you'll find it next to others on the rack but it's a collectible that I wish would have been released as a hardcover so copies could be better preserved long term; it's the best Canada 150 collectible I've come across.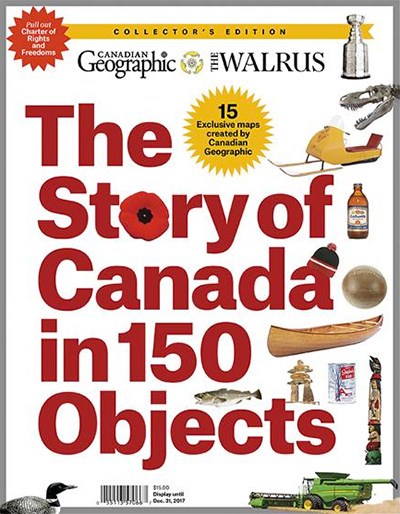 The publication is a partnership between the two organizations who describe it as a "132-page collection of items, ideas and icons that have shaped the country's past, are influencing its present and will define its future". Within its pages you'll find illustrations and maps and photographs accompanying 150 of things that truly unite us all as Canadians. You'll find essays about these things written by some of our country's most talented and thoughtful folks, and you'll also be rewarded with a fold out poster of our Charter of Rights and Freedoms.
The subjects range from the obvious (the snowmobile, Tim Hortons, the toque, totem poles, Blackberry) to the more obscure and niche (the photo that defined the Oka crisis, the Java programming language, the peephole). Some standouts were objects connected to human rights (The Truth and Reconciliation bentwood box, Arrival Kits for refugees, Viola Desmond's movie ticket) and one that particularly stood out to me as a British Columbian was the inclusion of BC Ferries. It's noted that ferries operate in every province and territory, but that ours is "one of the largest passenger ferry fleets in the world" and that it is a big part of Canada's story.
I literally got the chills no less than 20 times while reading this. The good chills; those ones that make the hair stand up on your head because you're so goddamned proud. Every Canadian should get their hands on a copy of this in our sesquicentennial year.
Learn more here and buy a copy for $15 here or here.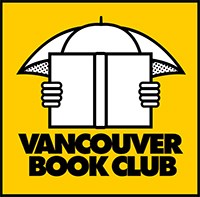 Since 2010 V.I.A.'s Vancouver Book Club has been connecting the city with books and authors through a range of online features and offline events. This post is part of our blog series where we're recommending a book we think you should read, every single week. Mostly non-fiction, these titles will give you a greater understanding of the past, present and future of the city, province and country you call home.
More reviews by Bob Kronbauer:
- 'The Hidden Life of Trees' by Wohlleben
- 'Alison's Fishing Birds' by Roderick Haig-Brown
- 'The Killer Whale Who Changed the World' by Mark-Leiren-Young
- 'We Oughta Know' by Andrea Warner
- 'The Last Gang in Town' by Aaron Chapman
- 'No News is Bad News' by Ian Gill
- 'The Woods: A Year on Protection Island' by Amber McMillan
- 'The Reading Tree' by Dianna Bonder and the VPL
- 'Secret Life: The Jian Ghomeshi Investigation' by Kevin Donovan