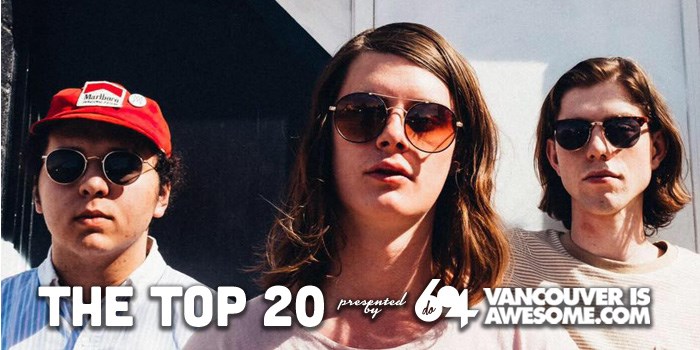 Get those sunglasses when The Velveteins get to The Cobalt because it'll be fun and beachy vibes all night!
Here are the 20 artists you must NOT miss this week in Vancouver, as picked by our city's #knowfun Selectors at Do604.
https://open.spotify.com/user/do604/playlist/3JZh1e5yI2WQI5zTZPLZ9s
Subscribe to the playlist, or return back every Monday to hear who's the best of the best playing Vancouver.
Tues April 4
Desiigner at The Vogue
It's going to be lit when you're vibin' all night with Desiigner.

Kaleo at The Orpheum (Tues & Wed)
Their rockin' bluesy folk with multi-layered dynamics will blow you away.

Wed April 5
Katatonia at Venue
Slip into a world full of rich adventures and endlessly evocative masterwork.

Tinariwen at The Chan Centre
Coming all the way from the Sahara Desert region of northern Mali, meet the grassroots voice of rebellion. 

Thurs April 6
City and Colour at The Queen Elizabeth Theatre
City and Colour's music isn't simply music and lyrics, their layers will uncover the layers of you. 

Frank Nitt at The Alexander
Hear hiphop like you've never heard it before. Full of solid rhymes and crazy hooks.

Gregory Uhlmann at Merge
Find yourself lost in lush, hypnotic chamber pop with compelling, introspective folk tunes.
Black Joe Lewis & The Honeybears at Fortune
If you missed him shredding Red Truck last year, then you definitely don't want to make the same mistake. 

Wire at Imperial
Get a dose of luminous yet punchy post punk vibes that's packed with productivity and inventiveness.

Vanessa Carlton at The Rio
Her hauntingly lush vocals will fill The Rio and send chills down your spine with every note.

Mall Grab at The Waldorf
You don't need to be hella stoned to feel a high. Mall Grab's celestial jams will give you the same effect!

Neck of The Woods at The Shotgun
Feel a rush of adrenaline when you hear Neck of The Woods' complex and unflinchingly heavy metal destroy your ears.

Ötzi at Black Lab
Come out and support Ötzi's first time in Vancouver!

Sat April 8
The Velveteins at The Cobalt
Daydreaming of beachy days and tasty festivals? Get a little taste of it with The Velveteins this week.

Netsky (just 1 of an insane lineup of amazing artists) at Snowbombing
Feeling down? Feel UPLIFTED by Netsky at Snowbombing & jam out to all of your favourite tunes to the biggest mountain festival to ever hit the country.

FKJ at The Fox
Groovy loops, classy rhymes, and a funky bass line means it's going to be a rad night! 

Nico Stojan at MIA
Chase the sun with Nico Stojan's lush sets that'll transport you somewhere exotic and tropical.

Indecent Noise at Harbour Event Centre
Escape to the world of melodic and energizing trance with Indecent Noise. 

Sun April 9
Jacques Greene at Fortune
Conquer the night with Jacques Green's potent songs and infectious atmosphere.

Jack Broadbent at St James Hall
Soulful vocals, phenomenal guitar licks, and a warm energy that will be radiating from St. James Hall.
At anytime check out our Vancouver Events calendar to see the best of what's coming to our city. Never miss another great show!