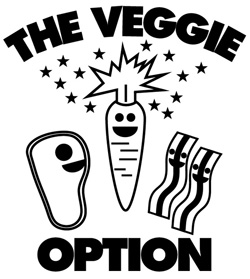 We're The Vegan Project. Our mantra? We're The Vegan "Project," not perfect.
We just love animals and try our best to reduce our consumption of animal products while encouraging others to explore veganism too.When it comes to food, we are unwilling to sacrifice on flavour. We've paid our dues in fries and salad. When we eat out, we are determined to get a satisfying meal that is just as good as the rest of the menu. And if there's no veggie option, we'll make one! We've been living on the "vegan block" in Vancouver for a while now so we're very excited to be documenting our dining experiences as we review vegan cuisine in beautiful Vancouver, BC.www.TheVeganProject.com
For us. For them. For the planet.
Restaurant: Yew Restaurant (Four Seasons Hotel Vancouver), 791 West Georgia Street, www.yewseafood.com
Eaters:
Bridget Burns: Vegan. Food enthusiast.  Always an optimistic diner. Can scan a menu & put together a vegan meal in less than 12 seconds.
Samantha Shorkey: Vegan. Resident fitness freak/bland & healthy dessert addict. Eating anything that isn't plain asparagus, yams or protein powder is a real treat.
Zoe Peled: Vegan.  Tattooed babe.  Always in-the-know on Vancouver's growing vegan scene.
Jaclyn, Christine & Morgan from Vega: Hello corporate vegan powerhouse trio!  We've got Vega's PR rep, social media guru and in-house chef dining tonight.
And...
Collin McDougall: The Vegan Project's newest member and first-ever male!  Get this-- Collin plays for BOTH teams!  Yes, he's the Art Director for both Vega AND The Vegan Project!
When the lovely ladies at Vega asked us to try the vegan menu at The Four Seasons' "Yew Restaurant" with them, we were, of course, stoked!  Vancouver fine dining at its best and there's an entire MENU for us to pick from!?!
Needless to say, the experience from start to finish did not disappoint.  Executive Chef Ned Bell served us a beautiful five-course dinner that was as bright, fresh and alive as his personality.  We found out that he's an avid "Vancouver Aquarium Ocean Wise" supporter and just completed a 900-kilometre bicycle trip across Vancouver Island to raise awareness about the sustainability of BC's food system.  He told us he loves the challenge of vegan cooking and has been creating plant-based masterpieces at YEW since the vegan menu's launch in 2010.
We love how passionate Chef Bell is about sourcing food locally and seasonally, and then focusing on flavour.  The seasoning and flavours of each course paired so nicely with the next.  Each dish was well thought-out and apparently the vegan menu rotates every three months!
Some of what we ate:
Deconstructed Vegan Taco
Baby heirloom tomatoes, cranberries, corn, cucumber, avocado, pickled shallots and pea shoots.  Such great texture with the crispy taco shell.  The pickled shallots added a nice kick!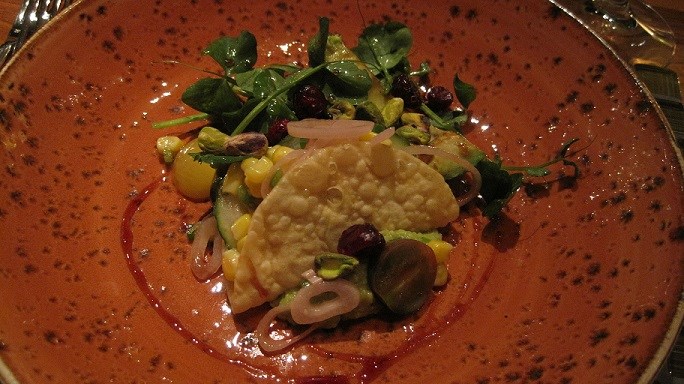 Cauliflower - four different ways
Braised yellow cauliflower.  Roasted purple cauliflower shavings.  Finish it with a white cauliflower pureed cream sauce and a hint of lemon oil.  Amazing.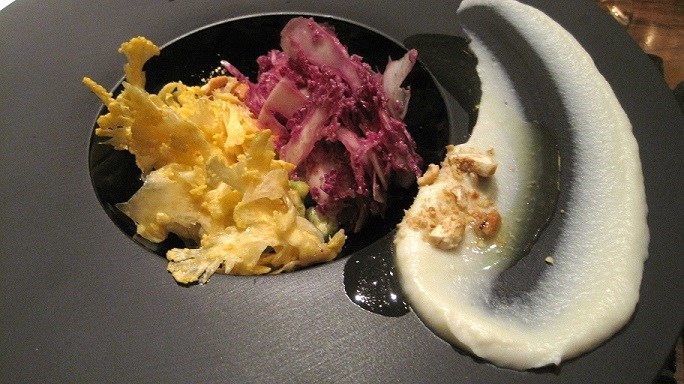 Grilled Fennel Spinach Salad with apples & lentils
A lovely raw, fresh salad.  We especially enjoyed the addition of lentils aka vegan caviar as a good protein source.  The fennel was the star of this salad, appearing in both braised AND pureed form.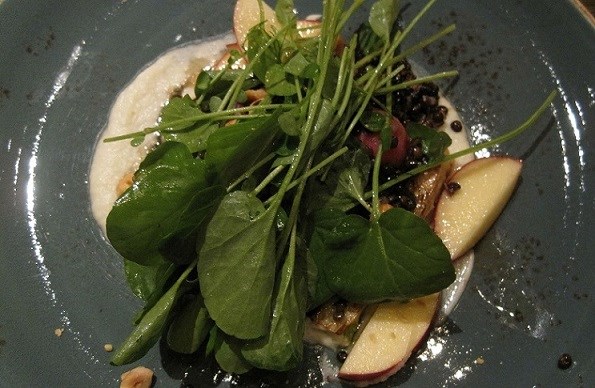 Fresh Raspberry Sorbet - made with the Vega Blender Bike!
The highlight of the night (for us and everyone else at YEW that night) was this fresh raspberry sorbet!  Chef Bell blended a "special" vegan dessert just for us-- and by blended, we mean "cycled" using the infamous Vega Blender Bike.  Not only were we entertained throughout dessert, but we thoroughly enjoyed the layering of this treat.  Dehydrated strawberries on bottom added beautiful texture.  And the sparkling rose that accompanied the sorbet really hit the spot.
The Consensus:
10/10 but did we really expect anything less from a Four Seasons Hotel restaurant?  All in all, it was a high raw and high flavour vegan meal. While most of the dishes we had were not on the regular menu Chef Ned assured us that he regularly prepares vegan tasting menus upon request. What a treat for us vegans!
Below: Black Walnut Manhattan
Veggie Verdict:
Bridget: Chef Ned Bell was so open and progressive in his thoughts on vegan food. I really dig that. I've actually had his Cashew Cream Pasta before and it was delicious, and I was so impressed that a non-veg restaurant knew about cashew cream.
Sam: From the food to the atmosphere and service, 'twas perfection.  Now seriously, how can I get my own Vega Blender Bike?!
Zoe:  This is another great example of a restaurant in the city that can satisfy vegans, vegetarians and meat-eaters all in one place. Not only was every dish amazing, but we even got power cookies to go! (I ate mine before we left the restaurant.)
Collin: For a vegan stud like Collin, dining with 6 veg-eating babes is no big deal. But the food - it was big deal.
Meat Eater Mention: 
Jaclyn from Vega: One theme that resonated through each plate to me was texture; local hazelnuts, lentils, cashews, roasted fennel, dehydrated strawberries.  Ned makes each plate at YEW so exciting to dig into!