A massive, fire engine red penis has been spotted in a Lower Mainland playground — but this time it doesn't belong to Satan.
In September, a guerrilla street artist who goes by the moniker "Obsidian" announced the release of the digital glTF file version of "Penis Satan."
While it only stood in the city for a couple of days in 2014, the fire-engine red statue of the prince of darkness sporting a large erection was hard to miss.
The eyebrow-raising artwork also made international headlines, with many people creating memes and tributes to the seven-foot-tall, fibreglass figure. However, city staff removed the phallic devil a couple of days after.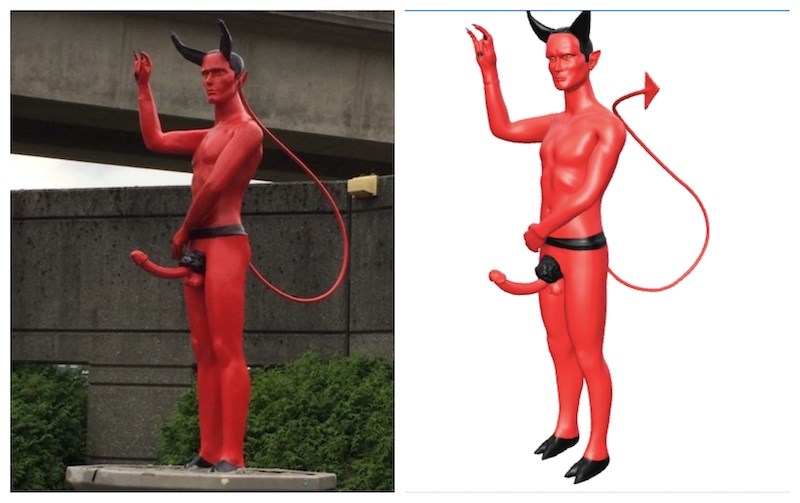 Now, another equally vibrant and raunchy piece has been erected in a Maple Ridge playground.
Movie filming in Maple Ridge
According to Hollywood North Buzz, the phallic slide is part of a set for a new untitled comedy about "four Asian-American women searching for one of their birth mothers in all the wrong places."
Crazy Rich Asians screenwriter Adele Lim is writing the R-rated flick, which stars Ashley Park (Emily in Paris). The movie also stars Sherry Cola, Stephanie Hsu, and Sabrina Wu.
The film is also co-produced by Vancouver-born funnyman Seth Rogen, according to Variety.
Scott Stewart shared an image of the eye-catching installation on Twitter Thursday (Oct. 7), noting that while he isn't sure what movie they were filming, he'd "probably see it."