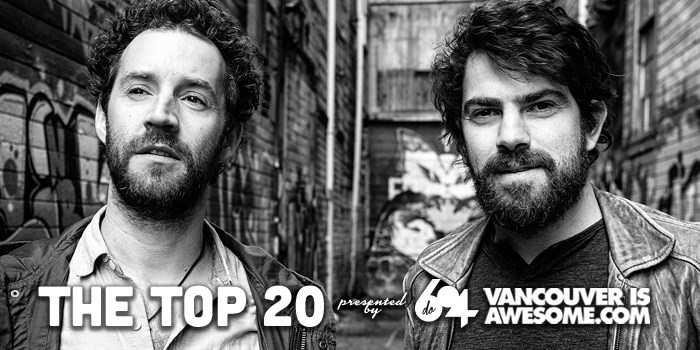 With their brand new album, The Harpoonist & The Axe Murderer continue to expand their blues rock style, pointing them in the direction of international success. Their live show is fiery - don't miss it this week.
They're just 1 of the 20 artists, as recommended by our city's #knowfun Selectors at Do604, that you should not miss if you want this week to be a good one. Check them out...
https://open.spotify.com/user/do604/playlist/3JZh1e5yI2WQI5zTZPLZ9s
Subscribe to the playlist, or return back every Monday to hear who's the best of the best playing Vancouver.
Monday April 17
Banks at Vogue
Massive artist, hope you got tickets!

Ghost Bath at Astoria
Don't drown in this downpour. Rock it out, let it out!

Tuesday April 18
Shura at Fortune
Love Robyn? Get your dance on at The Fox with Shura!

Two Door Cinema Club at the Orpheum
Absolutely irresistibly catchy, fun music. We saw them at SXSW, they're fantastic live, too!

Wednesday April 19
Dan Challis at Cafe Deux Soleils
Appropriately mellow for our grey spring season; get cozy with Challis and his fans on the Drive this Wednesday night.

Thursday April 20
Myke Bogan at Phuk Monday at the Rickshaw
Bogan's got an old school hip hop feel that is so sick. Love The Pharcyde? Then Phuk Monday with Myke Bogan and the P.M. crew.

Low Roar at Biltmore
Yes, San Fermin is headlining, but trust us, you do not want to miss the opening act, Low Roar, especially if you always wanted to hear what Radiohead would sound like blended with Sigur Ros.

Julia Jacklin at Cobalt
A little country, a little folk rock, Jacklin is totally awesome.

Friday April 21
Blank Banshee at the Waldorf
Get 80's computer graphics glitchy weird. This one's gonna be a mind bender.

The Cactus Blossoms at The Fox
Gorgeous vocal harmonies tie The Cactus Blossoms' throwback sound into dreams for a simpler time.

Bad Royale at Celebrities
That's "bad" as in Michael Jackson bad. Because everything Bad Royale touches turns to music gold.

Jazz Cartier at Imperial
Wish Canada had a badder, better hip hop star than Drake? We do, and his name is Jazz Cartier.

Fall City Fall at SBC
Loud, intense, brilliant. Scream goodbye to your exams at SBC this Friday night.

Saturday April 22
The Lunas at The Roxy
Experimental indie rock on a chill tip. Support local. Catch The Lunas live at The Roxy.

The Harpoonist and The Axe Murderer at the Commodore
Local blues rock band keep pushing the envelope of their sound, and their brand new album is a sure sign they're destined for international stardom.

Windhand at Fortune
Think this weather suits a solid night of doom sludge? Us too. See you at Windhand.

Bear Grillz at Red Room
Dubstep is alive and well in Bear Grillz's hands.

Sunday April 23
Me and Mae at The Roxy
Country mixed with rock n roll at it's best. Good times and good vibes with every note.
Good Nature at Studio Records
Like your indie pop laden with diverse instrumentation and sing along lyrics? Incredible talent bursts from this up n coming band.

Saul Williams at WISE Hall
The spoken word superstar comes to Vancouver as part of Verses Festival.

At anytime check out our Vancouver Events calendar to see the best of what's coming to our city. Never miss another great show!