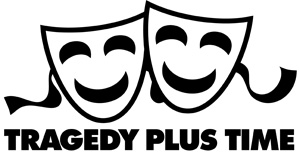 "Comedy is tragedy plus time."
It's been said many times by many comedians. I believe the original usage dates back to the great Carol Burnett. It's a quote I have borrowed from to title this column about the wonderful talent in the comedy community right here in Vancouver.Since I've lived in Vancouver, I've heard a lot of people say that they had a bad experience at a comedy show and never went back. This is as ridiculous as swearing off restaurants as a whole because of one case of food poisoning. It's my hope, that the profiles here will bring back those who have turned away or open the door for those who have never seen live comedy.
Finally, for those out there that don't like to laugh, they might be best served by a quote from another lady of show business, Julia Roberts:
"Show me a person who doesn't like to laugh and I'll show you a person with a toe tag."
**************************************
There are many things that make a good storyteller. Knowing when to exaggerate, knowing what details are merely details and what details deftly color the narrative you are creating. There is an alchemy in figuring out what an ending can be and how to arrive there. Some would argue that it is not the story itself, but the telling of it that matters most. Personally, having lived a life where interesting things happen seems to give any storyteller an edge.
Gary Jones' latest incarnation is as a storyteller. Leading up to this point he has been a long time improviser with TheatreSports, a television writer, an awards show host, a husband, a father, a foreign exchange student host, and a long running character named Walter Harriman on the popular sci-fi series Stargate: SG1.
Telling stories is not the easiest thing in the world for someone who has made getting laughs such a big part of his career. When relaying a story, there can be laughs, but not at the same clip that they would come in an improv show. There are silences, and it takes some restraint just to let them be.
Gary has been delighting audiences while refining his style at the monthly show called The Flame. It is a storyteller showcase inspired by the show The Moth that happens on the first Wednesday of every month at the Cottage Bistro (4470 Main Street). Gary is also the story consultant for the show.
Gary's loose, riffing style can cover anything from celebrity encounters to interactions with his son to his many world travels.
He has decided to make a night of his own tales called "The Hopeful Man Tour" which will be playing for two nights at Presentation House in North Vancouver.
It will be a good chance to see whether the story makes the teller or vice versa.
If you want to know more, you can go to: http://www.gifttool.com/shop/ShopProductDetails?ID=1297&VER=1&LNG=EN&PID=54075&DID=750
Gary was kind enough to answer some questions for Vancouver Is Awesome.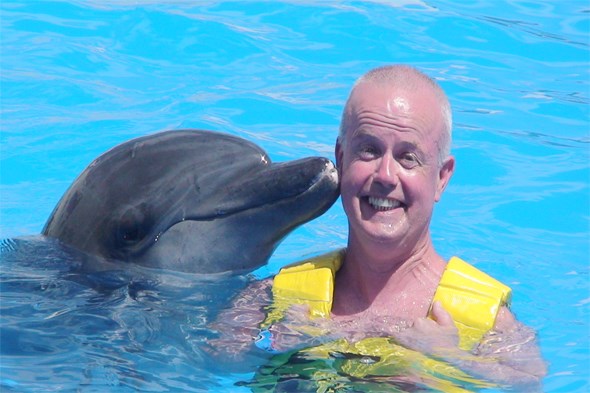 When was the last time you laughed until you cried?
We were in Cancun at a Club Med and I was wave-jumping at the beach with my kids.  My mom, who's partially deaf and 74, strolled down the beach and stood at the edge of the waves.  We all called for her to come in and wave jump with us since my mom's a pretty good sport.  She declined and instead, sat on the beach in a kind of WW II pin-up pose with one arm behind her head.  Then she got smashed into the sand by a rogue wave and all bets were off.  She tried getting up but kept getting hit and rolled around in the surf.  It was really hard to help her while I was laughing so hard.  Finally I got up on the beach and grabbed her hands and tried pulling her up but she kept getting hit by more waves and then her hearing aid fell out and the wire was dangling and it looked like I was hauling this short, grey-haired robot out of the water.  Laughed till I cried.
What is one myth about live comedy you'd like to dispel?
That it's just a form of TV that people can watch but also talk through.
What would be your idea of a perfect venue?
One big enough so that once my show is over, I leave by jet pack.
What do you think is a comedy premise that needs to be retired?
Anything that has Hitler and co-eds I pretty much won't watch any more.
When you look back at your time in improv, what is your proudest achievement?
Back in 1993, I was performing at Vancouver Theatresports and I met another performer named Shawn Macdonald.  We improvised a ton and hung out and then one time we were having dinner and I made some stupid crack about maybe sleeping with his totally hot sister-in-law who was coming out to visit from Regina and then he joked back and I joked back and before we new it, we were improvising the beats for a one-act play on the restaurant napkins.  We put "World's Greatest Guy" into the Fringe and it got into the Pick of the Fringe and Bill Millerd from the Arts Club came to see it and said that if we could make it into a two-act, he'd put it on the Arts Club stage.  So we did and then he did and then it got held over for months and in 1994, it won a Jessie Award for "Best Play."
You are doing storytelling now, what are the differences between this type of performing and your past experiences?
I'm not making this shit up.
Is your comedic voice more the result of looking inward or outward?
I think that it's been more outward but is now becoming more inward.  I used to look for other people to find humour but am now finding out how much there is in me to discover.  See?  Maybe somebody's reading this right now and saying, "This guy's an idiot."  That's from me.
Why is Vancouver a good place for comedy?
Because when you walk out on-stage, you can say, "Hello, Vancomdey!" and it doesn't sound stupid or forced.
Who is one performer/group of performers you think everyone should see at least once?
The UBC Dance Society dancers.  After hauling my mom out of the Mexican surf, I've never laughed so hard.
What is your favorite joke (street of otherwise)?
How do you make God laugh?  Tell him your plans.  Best cosmic joke ever.
Every article about comedy has to have a pun in the title. What would you like yours to be?
Gary Jones:  New and Improv'd