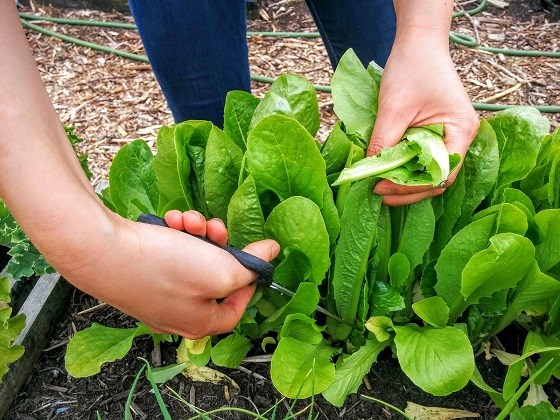 Workshop organizer Megan Lau cuts romaine lettuce from her tiny plot at a community garden. Fresh greens tonight! Photo: Deanna Cheng
The Hua Foundation is hosting a Sprouting Choi workshop, a beginners' workshop on how to grow Chinese greens and vegetables, for urban residents this Saturday. The outdoor class will be held at David Thompson Secondary school from 11 a.m. to 2 p.m.
This workshop is in partnership with Fresh Roots Urban Farm Society and participants will receive a light lunch, seeds, vegetables and a copy of Sprouting Choi, a guide to growing Asian vegetables in the Lower Mainland.
Choi is Chinese for leafy greens or vegetables.
When event organizer Megan Lau was asked to spearhead the workshop series, she was intimidated because she didn't know anything about gardening.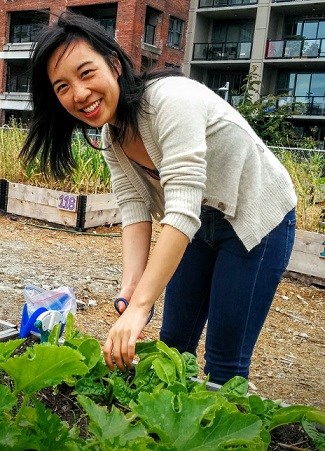 Lau attempts to grow bok choy, a Chinese vegetable known to be a little more finicky than lettuce. Photo: Deanna Cheng
However, with three hours in the dirt and a couple instructions, Lau became more comfortable.
"It's about investing time in learning. Now I'm here [at my plot at the Southeast False Creek Temporary Community Garden] every other day and I have spinach I grew from seed."
The workshop's goal is to empower young adults with knowledge about food, organic gardening methods and health choices.
Lau wants to create a sense of connection and community. Also, provide more information about diverse crops in the world. "We're lucky to have amazing land [in British Columbia] to grow this food on."
The workshop will give enough confidence to start growing. "There's no need to take on lofty ideas," the 29-year-old said.
All it requires is for people to take a chance and start, she said.
Waving a hand over her tiny box of dirt, romaine lettuce and bok choy, Lau said, "All I've used is water to make this happen."
Now she has no need to buy greens for the summer.
With the success she's had, Lau got braver and is currently trying to grow Asian eggplant, edamame (soy beans) and bitter melon.
Participants in the pilot workshop said one of the biggest issue was space. Younger generations are living in condos or apartments with no yard space.
Vancouver has over 75 community gardens and each one has a growing waitlist.
Lau said the workshop is tailored to those with limited space, showing how to grow and care for plants in pots or balcony gardens. "The event is friendly with no pressure – perfectly suited for beginners."
When a garden gets going, it produces more food than one person can eat.
The David Suzuki Foundation said, "Make sure you don't end up throwing out the fruits and vegetables of your hard-earned labour."
Unused food in landfills, it said, is one of the main sources of greenhouse gases.
Instead of throwing produce out, share the surplus with neighbours and friends or donate to a local soup kitchen.
This workshop is one part of the organization's The Choi Project, an initiative to put healthy, local food back on the Chinese dinner table. After June 27, the next workshop will be in the fall.
Registration fee is $15.
For more info, visit Hua Foundation website or contact Megan Lau at megan@huafoundation.org.