One sunny spring morning in Vancouver, you wake up, stumble out of bed and head down Pender Street in Chinatown. You know you need a coffee - but not one of those blended things that are more dessert than coffee. While you're walking, you realize you need a haircut before you go to that wedding tomorrow, and, uh-oh, you definitely need to pick up a wedding present, too. Then, there it is, 230 Pender St. E. You walk in, and, on your right, a man (who spent four years mastering the art of coffee making in Europe and Australia) is serving a perfectly brewed pour over. On your left is a tall bearded fellow talking about vintage audio equipment under a display of giant saws. From the back you hear the faint snip-snip of scissors. The world has worked its magic to solve all your problems. You have arrived...at Long Walk Lodge.
https://flic.kr/p/DLGWCj
Long Walk Lodge is the creation of Clint (the guy behind Spacelab, the vintage store with everything you could ever want), Eldric (Aubade Coffee), and Dustin (The Bootleg Barber). The trio started as a duo, when Clint, wearing a Build and Destroy hat, ran into Dustin, wearing a t-shirt with a super-buff Jesus on it, in line at a Home Depot. From this serendipitous meeting, came the idea of collaborating on a space. Then a friend introduced Eldric to Clint. Eldric had returned from a four year sojourn to explore coffee culture and train beside master baristas around the world. Voilá - Long Walk Lodge was born.
https://flic.kr/p/EUE2aj
Aside from the obvious advantages of sharing rent in a very expensive city, the Lodge was the opportunity to create a "synergy between services [and] ideals." All three embrace the ideal of "appreciating craftsmanship and a love for things done by hand" along with the idea of vibrant shared spaces that people can visit for different reasons. Clint sees this "being the way of the future for many businesses." Eldric's complementary view is that "the traditional view of retail spaces - where you just have a store and you sell things - is outdated. [This] is a new way of looking at business in a very connected world and hearkening back to a past where people would work together in a community."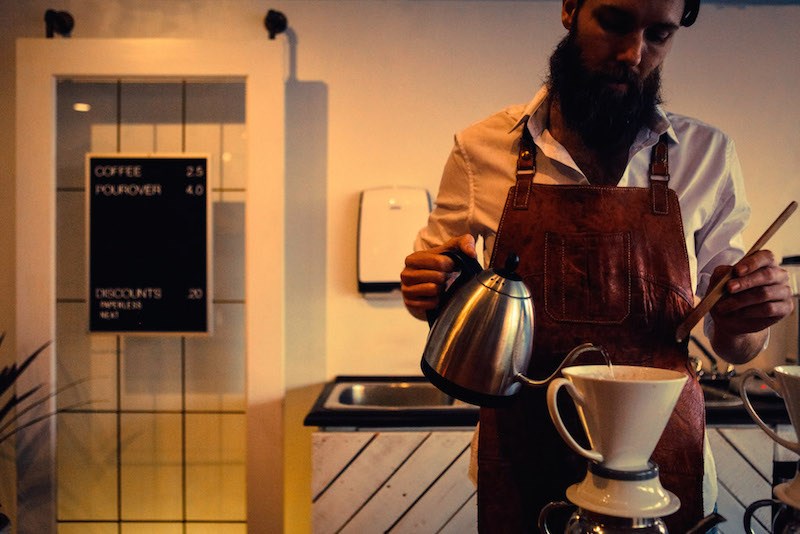 And the space certainly has a unique energy. At any given time, you might find a small group of people discussing and savouring one of Eldric's small batch roasted coffees, a few people chatting with Dustin while getting haircuts, and a dozen or so others exploring the constantly changing goods on offer in Clint's space.
https://flic.kr/p/EourAB
Clint started out as something of a hoarder, because, in his former work in construction management design (with a vintage furniture business on the side), he kept coming across pieces that he envisioned using in future projects. Now for Spacelab, he sources far and wide. His work means that Spacelab is the go-to for people looking for:
Vintage furniture
Vintage lumberjack equipment [The wall display suddenly had us convinced we had to have an axe.]
Restored audio equipment
Antique lighting for a film set (films and tv being some of Spacelab's biggest customers)
And then there are those things that no one ever really knew anyone needed/wanted, but when you see them in the shop, you suddenly imagine perfectly fitting in that space under the window in the bedroom. Think mummified cats (for which there is apparently an unexpectedly large market), wooly mammoth teeth, or even an old whaling harpoon.
https://flic.kr/p/EuRHv5
Whatever it is you need or imagine, Spacelab is likely to have it.
Not only is Space Lab part of a shared space collaborative but Clint also invites guest artists and designers to curate his collection of goods. Past curators include "Jennifer Scott from A Good Chick to Know and Jason Lyn who used to work with Alexander McQueen and has an amazing eye for the stuff in the shop."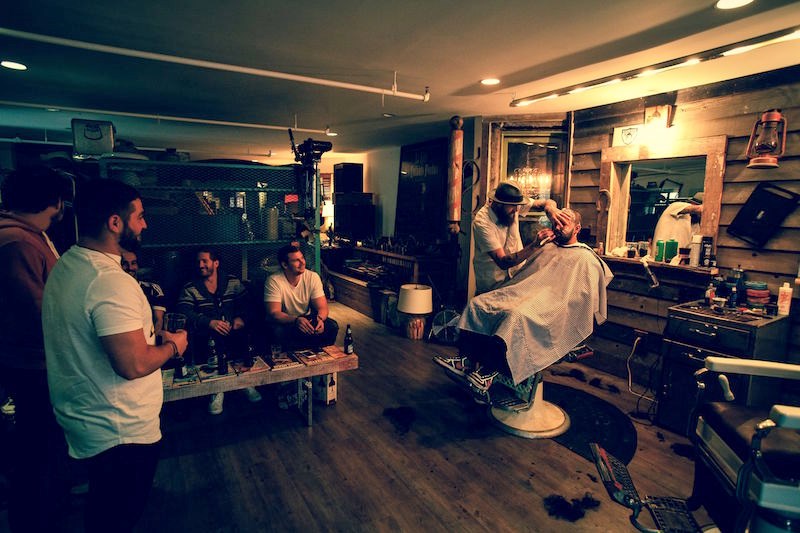 So the next time you need a special present for someone, or something to do on a rainy day, head to Long Walk Lodge to meander through the space and see the potential created by real collaboration.
While sipping on a coffee...
While waiting for your turn in the barber chair...