A new kitty once a week! Click here to find out how your cat can appear on Van City Kitty.
Every month we feature a few kitties who are looking for their forever home. Today we have two adoptable felines from Katie's Place!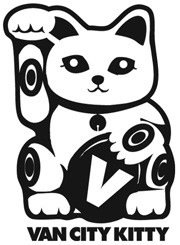 Katie's Place is a volunteer-run no-kill animal shelter in Maple Ridge. Two principals guide them: all life is valuable, and we are responsible for improving the quality of life for all those in our care.They make no judgment on whose life is worth rescuing; the sick, elderly and homely are as precious as the healthy, young and attractive. Katie's Place started helping animals in January of 2001 and became a registered charity in 2005.
Katie's Place funding comes entirely from donations, fundraising and applying for grants. The funds go directly to animal care. Less than 3% is spent on admin/maintenance (eg. phone, bank charges, insurance). They are entirely volunteer run.
SPARTACUS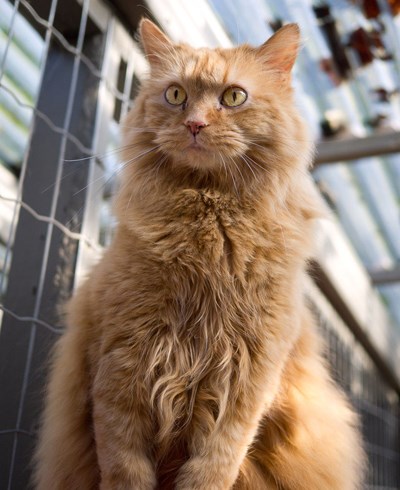 Poor Spartacus was found abandoned in a carrier outside of a veterinary office, along with another kitty. We don't know how long they waited in the cold, but we hope it was short. While we don't know anything about his past, we can certainly share about his present. After the initial shock of being abandoned and finding himself in a shelter with 100+ other cats wore off, Spartacus has shown himself to be a sweet, fluffy love muffin who eagerly leans in to accept chin scritches.
The vets assisting Katie's place estimate this freckle-nosed boy to be about 8 years old and like all cats at Katie's Place, he is neutered, tattooed, vaccinated and has been tested for feline aids and feline leukemia (he is negative for both).
What we hope for Spartacus' future is that he finds a new family who could not fathom leaving him in a carrier in the cold... a family where he can feel safe and loved for the rest of his days. This gentle boy will repay his new people with endless affection and devotion.
BART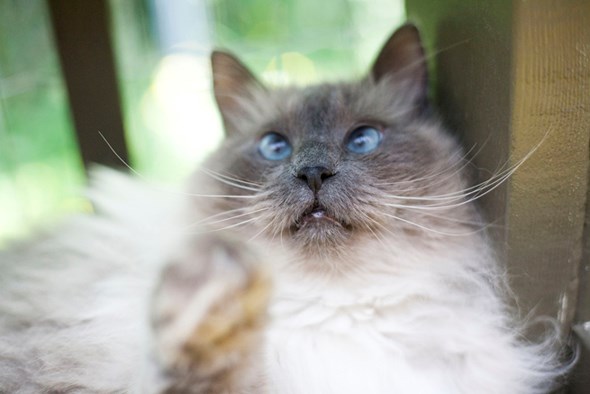 BartBart... aka Bart-a-gan... the Bart-a-lounger... Smart Bart... Bartacus... and, one more for good measure, The Feline Ottoman.
Bart is gorgeous boy with blue eyes that light up a room and an absolutely chill personality. He is so incredibly laid back that nothing phases him... not his feline roommates nor the injections he requires twice a day to deliver the insulin he needs to treat his diabetes.
Bart is easy to treat and even easier to love. If diabetes or providing injections scares you, stop by or call Katie's Place to talk about it.  If the cost of his medication worries you, talk to Katie's Place about it; Bart qualifies for their Permanent Foster Program whereby they would be financially responsible for his vet care.
Bart is hoping there is someone out there looking for an easy going, sweet, furry puff-a-lump to welcome into their heart and home.