The
Vancouver Creatives 2
photo production has now started and we're proud to bring you today the first official portrait of this second edition presenting Danny Berish & Ryan Mah of
Black Rhino Creative
, one of Vancouver's fastest growing media studio!
Black Rhino Creative was picked by our 11 jurors as the top talent in the Cinema/Video industry category and after spending a little time photographing them in the Southeast False Creek neighborhood (West 1st Ave and Cook St) we were struck by this team's artistic passion and professionalism just as models! That alone says a lot about them but please read on below to learn more about Danny and Ryan's life backgrounds below, and mark your calendar on
June 4th
to come admire their portrait as a genuine silver gelatin handprint during the
Vancouver Creatives 2 Exhibition opening at Make Gallery
at 257 E. 7th Ave (Main & 7th)!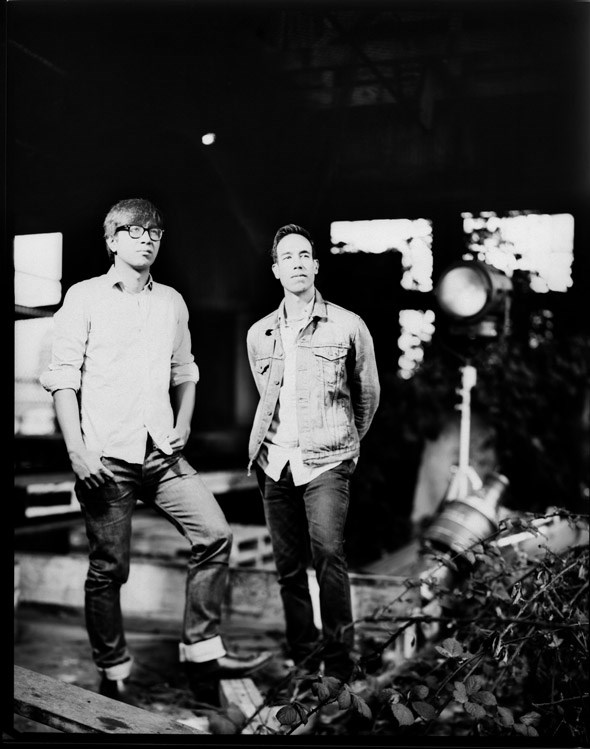 Danny Berish has 10+ years video production experience and has collaborated with Cirque du Soleil, Moment Factory, CBC and IFC. Ryan Mah is a multidisciplinary graphic designer with 8+ years experience in photography and film. In 2013 they combined their love of story-driven filmmaking and co-founded Black Rhino Creative, a Vancouver based production company that shares authentic stories about passionate people and causes.
Most recently, Black Rhino Creative was commissioned by the Canada Council for the Arts to create a video portrait of the 2015 Governor General award winner in Visual Arts. Their passion for Canadian storytelling often connects them to interesting like-minded people. Recently completed was a portrait of notable calligrapher Martin Jackson and they are presently in the post-production phase of a feature length documentary remembering the career of the late Jim Rimmer, a renowned Canadian graphic designer and letterpress printer which they look forward to sharing with the world.