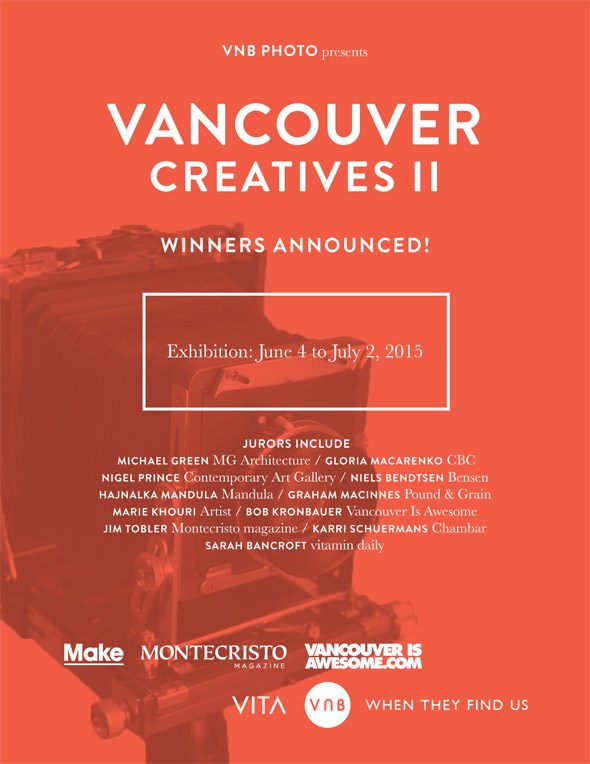 The results are in! We are pleased to announce the names of the creatives selected by our unique jury of 11 illustrious Vancouverites to be portrayed this Spring by us and later featured every week in the same Vancouver Is Awesome columns, then finally exhibited in original handprint form with the 11 jurors at the Make Is Awesome Gallery from June 4 through July 3, 2015! Congratulations to all winners, and thank you to those who entered the Vancouver Creatives 2 Call.
VANCOUVER CREATIVES 2 LAUREATES
1. Marianne Amodio (Architecture)
2. Geoff Vreeken (Advertising)
3. Dan Berish & Ryan Mah/ Black Rhino Creative (Video/Cinema Production)
4. Matt Schroeter (Photography)
5. Isabelle Dunlop (Fashion Design)
6. Studio BUP (Interior/Furniture Design)
7. Mike Seymour (Installation Art)
8. Jarred Greff/ Greff Growler (Product Design)
9. Meghan Robichaud (Illustration/Visual Arts)
WHAT IT IS
Vancouver Creatives 2 is the second opus of a unique-to-Vancouver celebration of entrepreneurial creativity and artistic innovation across a wide range of industries under the form of a historical portfolio and public exhibition. The goal of this original collaboration is to build tomorrow's creative legacy today by vesting some of the best established YVR talents with the task of recognizing and supporting young and emerging creators of significance starting up in our city. Picturing the vivid forces already shaping out Vancouver's future through 9 juried analogue large format portraits photographed and exhibited by VNB, Vancouver Creatives 2 invites all Vancouverites into a future perfect vision of our creative ethos.
THE CALL | January 7 – February 15, 2015:
Launching on January 7, 2015 as an open call to all of Vancouver's core creative forces, Vancouver Creatives 2 welcomes unlimited free submissions until February 15, 2015.
THE JURY
The 11 Vancouver Creatives 2 Jurors are: Michael Green (MG Architecture), Gloria Macarenko (CBC), Nigel Prince (Contemporary Art Gallery), Niels Bendtsen (Bensen), Hajnalka Mandula (Mandula), Graham MacInnes (Pound & Grain), Marie Khouri (Artist), Bob Kronbauer (Vancouver Is Awesome), Jim Tobler (Montecristo magazine), Karri Schuermans (Chambar) and Sarah Bancroft (vitamin daily). You can view the Vancouver Creatives 2 Jury Portfolio presenting each Juror through his/her VNB historical portrait here.
THE EXHIBITION | JUNE 4 – July 3, 2015
The Vancouver Creatives 2 Legacy Exhibition is scheduled to take place at Make Gallery from June 4 through July 3, 2015 at 257 E. 7th Avenue (Make is Awesome at 7th & Main). A free public opening reception will take place on Thursday, June 4, 2015 from 6:00 – 10:00 PM.