VANCOUVER DESIGN WEEK is almost here! To give you a sneak preview of the designers that will participate in the event, we asked Michael Green and Jeff Cutler to share their point of view on design.
http://vimeo.com/105186559
Video by Odette
Odette is currently working with the VDW team to create videos that help showcase local design and highlight the many roles design plays in our day to day lives.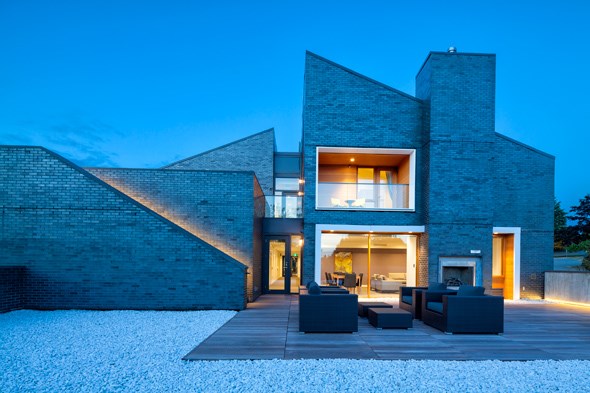 The exterior photo is of Ronald McDonald House BC - 4567 Heather Street Vancouver BC
Original Firm: mcfarlane green biggar ARCHITECTURE + DESIGN
Project Completed by: MGA | Michael Green Architecture
Project Lead Architect: Michael Green, Architect AIBC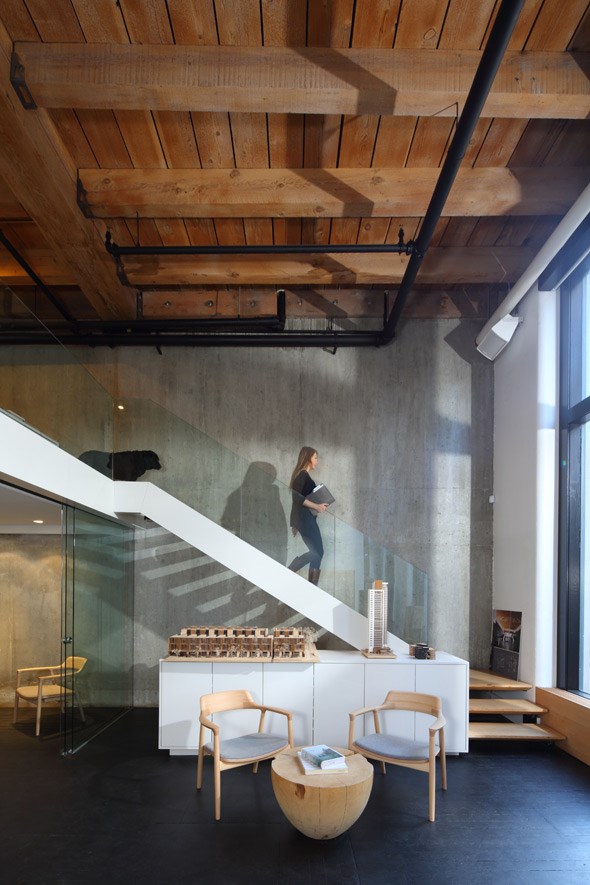 The interior photo is of our Office – 63 East Cordova Street Vancouver BC
MGA | Michael Green Architecture + Design
Photograph by Ema Peter
What is Design to you?
Design is natural. It's within all of us to both be a designer and to engage in design. Every morning we make a design decision in the clothes we choose to put on and the style of toothbrush we use. We get on a bike that speaks to our personality or into a car that does the same. We sit in a chair at work we love or hate and we eat at a restaurant that not only feeds our stomach but that likely feeds our visual senses in one way or another. Design matters. It is inate to humans to somehow respond to our environment by choosing the tools of life that make our day easier – the functions of design, or make our lives better –the joy of design. We hopefully choose to live and work in buildings that do the same.
Design is also natural because more and more we realize our ideas are born within natural systems. More and more we are returning to the wilderness to find both inspiration and innovation. We are turning to things grown by the sun to feed our spirit and ultimately build our homes. Design is natural.
Why does it matter?
Design matters because it influences almost every part of our lives. The tools of ancient cultures were designed, the dwellings of our forefathers were designed if only made of wood and hides, the shoes we put on our feet are designed, the phone we put in our hand is designed, the buildings we spend our day and the skylines that mark our footprints from space are all designed. If design is in everything we make then design not only matters, it is fundamental to all mankind. When design is understood as fundamental to all things we engage with then investing in great designs is equally fundamental.
What is your design philosophy?
I suppose my design philosophy can best be described as Darwinian. Evolution in the natural world of flora and fauna has created enormous beauty (and curiosities) but that beauty is no accident. Evolution has developed beauty as an act of survival and endurance. The flower is beautiful to attract the bee, not by chance but by design. Great design should be reductive, searching for the simplest solution to any problem. In simplicity we find endurance. In simplicity we discover a kind of beauty that resonates with us because it seems natural; IT IS NATURAL. Returning us to the beginning: DESIGN IS NATURAL.
https://vimeo.com/105188087
Video by Odette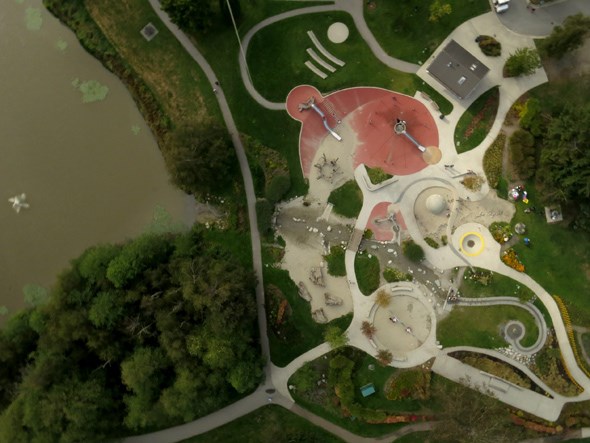 Garden City Play Environment, Richmond, British Columbia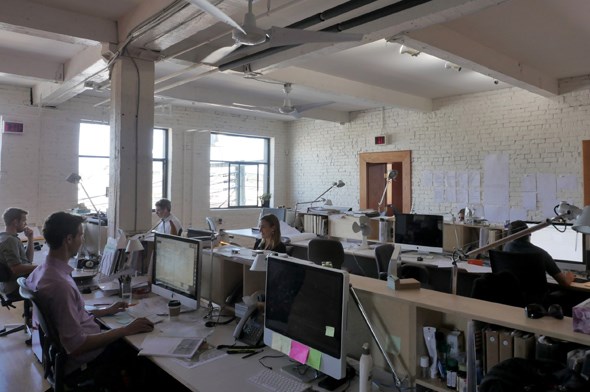 The interior photo is of our Office – space2place design inc.
What is Design to you?
I am a Landscape Architect with a focus on public places that connect people with the environment. While design is often characterized of in terms of an object or a thing, I think of design as a process with an outcome that results in an object, place or interesting solution. Design is similar in many ways to a puzzle. Each project has many pieces that relate to each other in many ways to create a unified composition. The design process provides a comfortable environment that encourages participants to take risks and test many alternate solutions to identify the best response a problem. While there will be failures and unsuccessful ideas along the way, a good design process will learn from these to result in a stronger outcome.
Why does it matter?
Our society is facing challenges that are more complex than ever. These challenges are typically beyond the expertise of individuals, and specific disciplines. The design process is a tool to integrate the expertise of many people across disciplines and social barriers to collectively identify unique solutions challenges we are facing today.
What is your design philosophy?
Regardless of whether I am designing a public park, playground or infrastructure project I follow the same design process. Each project starts with a discovery period where we spend time to gain understanding and clarify the intent or purpose of the project. This is followed by the most abstract phase of a project where we explore ideas and how the pieces of the project fit together. Once a preferred concept is identified the last phase of the project is focused on implementing the solution.
When I start a new project I might not know what the final result will look like, but I know how I will arrive at a successful outcome.
____________

Vancouver Design Week is city-wide platform, invitation and call to action - to celebrate established and emergent design talent; to spotlight broad spectrum design innovation; to cross-pollenate and empower designers and design-thinkers across disciplines, and to leverage the potential of design for transformative agency and holistic capital, in Vancouver, and beyond.
For 14 days, Vancouver Design Week will turn the city into a petridish of design process, practice, and perspectives; through a wide range of independent and collaborative programming. From talks to tours, exhibits to workshops, parties to pop-ups, design across disciplines will open its doors for conversations, installations and celebrations of all scales.
Uncover the unique design ecosystem that shapes, defines and sustains our city. Don't miss the chance to join in, speak up and stand out in shaping Vancouver's future!