Vancouver Is Awesome is a proud media partner of Vancouver Draw Down 2013. The Drawing is Awesome project here on the blog showcases prominent Vancouverites participating in the Online Daily Drawing Project...

Name & Occupation: Veda Hille is a musician.
Daily Drawing Project: " Recycle and Draw! " (From Day 8 Online Daily Drawing.) Plastic bottles become fleecies! Draw an item in your blue box & how it will be recycled.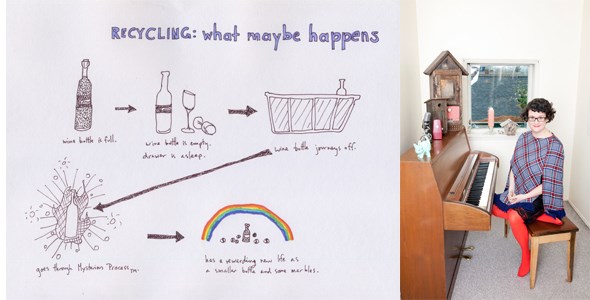 Veda Hille - 
"i chose assignment #2, largely because i did not have a tetrapak handy.
before this i drew a rat and a stegosaurus who are friends, with my son.
i want to point out that i still have absolutely no idea what happens at the recycling plant.  but it all ends in rainbows."
Visit the Online Daily Drawing Project running June 5 – June 14 in the 10 days leading up to Vancouver Draw Down, an annual daylong celebration of drawing on June 15 that offers free drawing workshops at over 35 locations around Vancouver.
Click here to check out past daily drawings by other prominent Vancouverites!