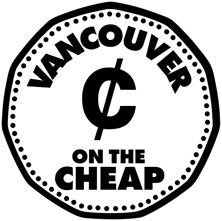 Not only cheap but FREE! The Toque Sessions are a series of mid-winter concerts Thursday and Friday nights at the CBC studios downtown Vancouver (775 Cambie Street).
This proves once again how awesome the CBC truly is - when it gets too cold and rainy to go outside, they look out for us by rounding up some of the best musicians in town and putting on an awesome show. It reminds me of those old holiday specials where some singer (let's say Amy Grant) is busily contending with all their holiday obligations when they get stuck in a wee little town with no hope of escape. After sulking and stressing for a while, they hunker down and put on an impromptu free concert for the locals, thus reminding everyone of the true meaning of Christmas. Except this is a much larger scale and has nothing to do with any holidays or their "true meanings".
The only catch: pre-registration is necessary, and a lot of concerts are already booked up! That means that if you, like me, just found out about this phenomenon, we are in the same boat. That boat is named sadness, and it has a great view of another boat (probably named joy) that is bringing people to see the likes of Mother Mother and Yukon Blonde later this month. Never fear, however! There are still lots of great acts to come.
The lineup of concerts with tickets left is listed below, but double check the CBC BC Community Blog for updates on schedule changes and ticket availability. To register, just email rsvp.radio@cbc.ca with the name of the concert you want to attend in the subject line.
Upcoming Concerts with Tickets Available:
Rococode - Friday, February 17 at 5:30 PM
Hey Ocean! - Thursday, February 23 at 7:30 PM
Adonis Puentes - Thursday, March 1 at 7:30 PM
Zimbamoto - Friday, March 2 at 7:30 PM
Adaline - Thursday, March 8 at 5:30 PM
Acres of Lions - Friday, March 9 at 5:30 PM
Frazey Ford Memphis Project - Thursday, March 29 at 7:30 PM
Colleen Brown - Friday, March 30 at 5:30 PM
Chad Brownlee - Friday, March 30 at 7:30 PM